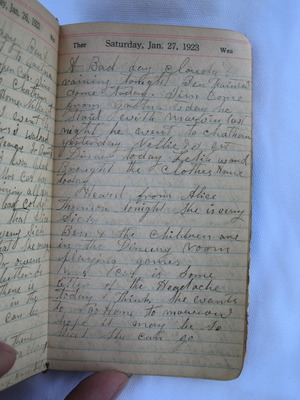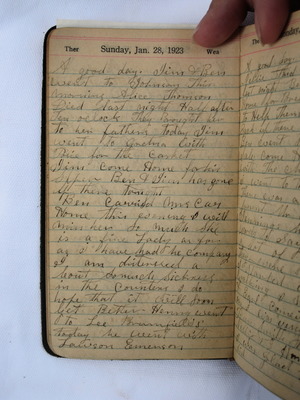 A good day. Jim and Ben went to Johnsons this morning. Alice Thomson died last night half after ten oclock. They brought her to her fathers today. Jim went to Gretna with ??? for the casket. Jim come home for his supper. Ben and Jim has gone up there tonight. Ben carried Mrs Carr home this evening. I will miss her so much. She is a fine lady as fars as I have had the company. I am distressed about so much sickness in the countery. I do hope that it will soon get better. Henry went to Lee Brumfields today. He went with Lawson Emerson.
Last edit almost 9 years ago by
Nathani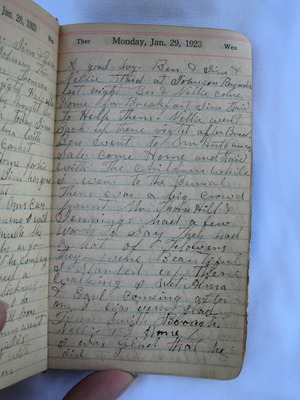 A good day. Ben and Jim and Nellie staid at Johnson Reynols last night. Ben and Nellie come home for breakfast. Jim staid to help them. Nellie went back up there right after breadfast. Ben went to Mr. Hutchensons sale. Come home and staid with the children while I went to the burial. There was a big crowd present. Mr. Thornhill and Jennings had a few words to say. They had a lot of flowers. They were beautiful. I started up there there walking and met Alma and Earl coming after me. I was very glad. R?? Smith brought Nellie and I home. I was glad he did.
Last edit about 4 years ago by
Trisha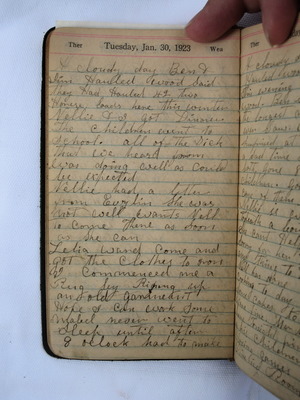 A cloudy day. Ben and Jim hauled wood. Said they had hauled 42 two-horse loads here this winter. Nellie and I got dinner. The children went to school. All of the sick that we heard from was doing well as could be expected. Nellie had a letter from Evylin. She was not well. Wants Nell to come there as soon as she can. Lelia Ward come and got the clothes to iron. I commenced me a rug by ripping up an old garment. Hope I can work some. Mabel never went to sleep until after 8 oclock. Had to make [nothing written further]
Last edit about 7 years ago by
mkstewart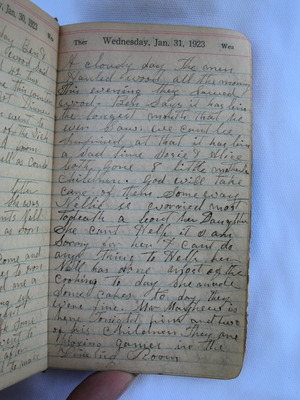 A cloudy day. The men hauled wood all the morning. This evening they sawed wood. Ben says it has bin the longest month that he ever saw. We can't be surprised at that. It has bin a sad time. Josie and Alice both gone. 8 little children motherless children. God will take care of them some way. Nell is is worried most to death a bout her daughter. She can't help it. I am sorry for her and can't do any thing to help her. Nell has done most of the cooking to day. She made some cakes to day. They were fine. Mr. Mayhew is here tonight him and two of his children. They are playing games in the dining room.
Last edit almost 9 years ago by
Nathani
Displaying Page 31 - 35 of 374 in total