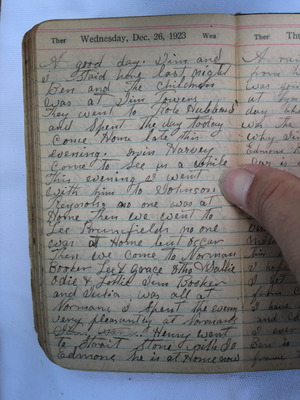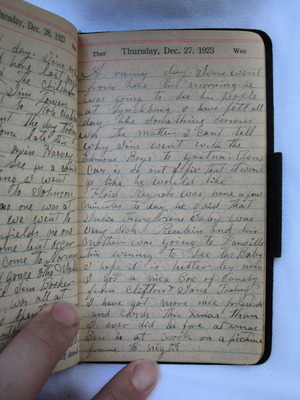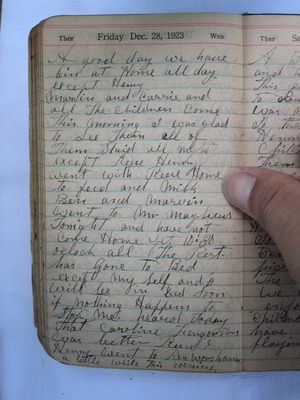 A good day. We have bin at home all day except Henry. Marvin and Carrie and all the children come this morning. I was glad to see them. All of them staid all night except Reese. Henry went with Reese home to feed and milk. Ben and Marvin went to Mr. Mayhew's tonight and have not come home yet. 10:30 o'clock. All the rest has gone to bed except myself and I will be in bed soon if nothing happens to stop me. Heard today that Caroline Fergerson was better. Reese and Henry went to Ren Worsham's a little while this evening.
Last edit over 3 years ago by
Sara Brumfield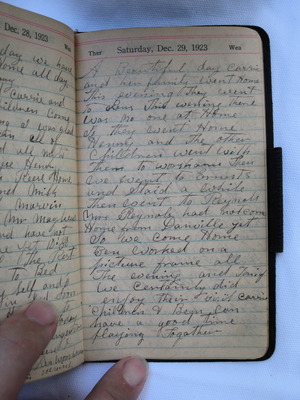 A beautiful day. Carrie and her family went home this evening. They went to Ren's this evening. There was no one at home so they went home. Henry and the other children went with them to Worsham's. Then we went to Ernest's and staid a while. Then went to Reynol's. Mrs. Reynols had not come home from Danville yet so we come home. Ben worked on a picture frame all the evening and tonight. We certainly did enjoy their visit. Carrie['s] children and Bens can have a good time playing together.
Last edit about 7 years ago by
Nathani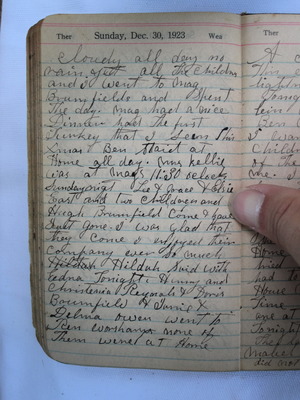 Cloudy all day. No rain yet. All the children and I went to Mag Brumfield's and spent the day. Mag had a nice dinner. Had the first turkey that I seen this Xmas. Ben staid at home all day. Mrs. Kellie was at Mag's. 11:30 o'clock Sunday night. Lee and Grace and Elsie East and two children and Hugh Brumfield come and have just gone. I was glad that they come. I enjoyed their company ever so much. Hildah staid with Edna tonight. Henry and Christenia Reynols and Doris Brumfield and Jamie and Delma Owen went to Ren Worsham's. None of them were at home.
Last edit about 7 years ago by
Nathani
Displaying Page 366 - 370 of 374 in total