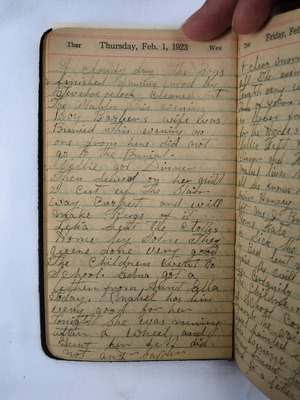 A cloudy day. The boys finished sawing wood by twelve oclock. Cleaned out the stables this evening. Boy Barbers wife was buried this evening. No one from here did not go to the burial. Nellie got dinner. Then sewed on her quilt. I cut up the stair way carpet and will make rugs of it. Lelia sent the clothes home by John. They were done very good. The children went to school. Edna got a letter from Aunt Ella today. Mabel has been very good for her. Tonight she was running after a wheel and hurt her self. Did not any supper.[sic]
Last edit almost 9 years ago by
Nathani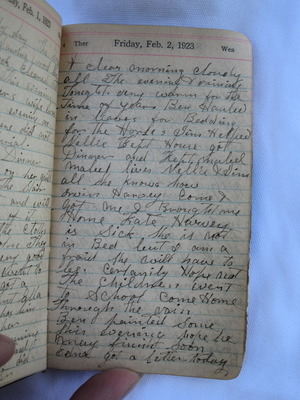 A clear morning. Cloudy all the evening and raining tonight. Very warm for the time of year. Ben hauled in leaves for bedding the horses. Jim helped. Nellie kept house, got dinner and kept Mabel. Mabel lives Nellie and Jim all she knows how. Irvin Harvey come and got me and brought me home. Kate Harvey is sick. She is not in bed but I am a fraid she will have to be. Certainly hope not. The children went to school. Come home through the rain. Ben painted some this evening. Hope he may finish soon. Edna got a letter today.
Last edit almost 9 years ago by
Nathani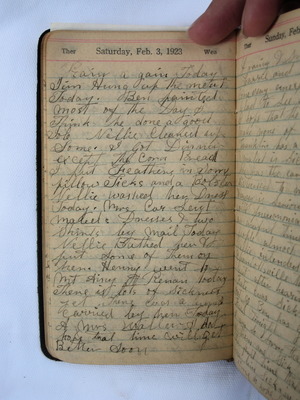 Last edit almost 9 years ago by
Nathani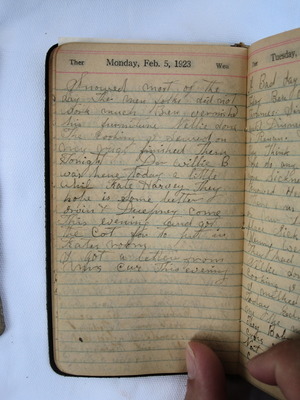 Snowed most of the day. The men folks did not work much. Ben varnished his furniture. Nellie done the cooking and sewed on my rugs. Finished them tonight. Dr. Willie B[rumfield?] was here today a little while. Kate Harvey they hope is some better. Irvin and Duepney(?) come this evening and got the cot for to put in Kate's room. I got a letter from Mrs. Carr this evening.
Last edit almost 9 years ago by
Nathani
Displaying Page 36 - 40 of 374 in total