Vol 575 1882 and 1883 repairs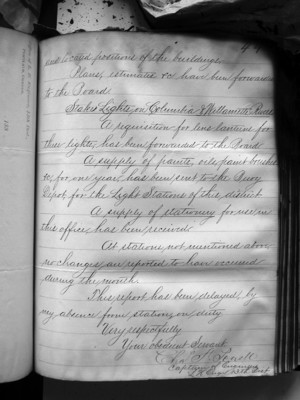 and located positions of the buildings. Plans, estimate &c have been forwarded to the Board. Stakes Lights on Columbia & Willamette Rivers A requisition for lens lanterns for three lights, has been forwarded to the Board. A supply of paints, oils, point brushes &c, for one year, has been sent to the Buoy Depot, for the Light Stations of this district. A supply of stationary for use in this office, has been received. At stations not mentioned above, no changes are reported to have occurred during the month. This report has been delayed, by my absence from stations on duty. Very respectfully Your obedient Servant Chas F. Lowell Captain of Engineers L.H. Engr. 13th Dist.
Last edit about 3 years ago by
Friends of Yaquina Lighthouses
Coast Guard District narrative histories 1945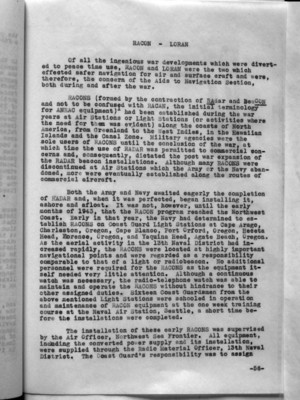 Of all the ingenious war developments which were diverted to peace time use, RACON and LORAN were the two which effected safer navigation for air and surface craft and were, therefore, the concern of the Aids to Navigation Section, both during and after the war.
RACONS (formed by the contraction of RAdar and BeaCON and not to be confused with RACAN, the initial terminology for ANRAC equipment)¹ had been established during the war years at Air Stations or Light Stations (or activities where the need for them was evident) along the coasts of North America, from Greenland to the West Indies, in the Hawaiian Islands and the Canal Zone. Military agencies were the sole users of RACONS until the conclusion of the war, at which time the use of RADAR was permitted to commercial concerns and, consequently, dictated the post war expansion of the RADAR beacon installations. Although many RACONS were discontinued at Air Stations which the Army or the Navy abandoned, more were eventually established along the routes of commercial aircraft.
Both the Army and Navy awaited eagerly the completion of RADAR and, when it was perfected, began installing it, ashore and afloat. It was not, however, until the early months of 1943, that the RACON program reached the Northwest Coast. Early in that year, the Navy had determined to establish RACONS on Coast Guard Light Stations at Cape Arago, Charleston, Oregon, Cape Blanco, Port Orford, Oregon, heceta Head, Florence, Oregon, and Yaquina Head, Agate Beach, Oregon. As the aerial activity in the 13th Naval District had increased rapidly, the RACONS were located at highly important navigational points and were regarded as a responsibility comparable to that of a light or radiobeacon. No additional personnel were required for the RACONS as the equipment itself needed very little attention. Although a continuous watch was necessary, the radio-telephone watch was able to maintain and operated the RACONS without hindrance to their other assigned duties. Sixteen Coast Guardsmen from the above mentioned Light Stations were schooled in operation and maintenance of RACON equipment at the one week training course at the Naval Air Station, Seattle, a short time before the installations were completed.
The installation of these early RACONS was supervised by the Air Officer, Northwest Sea Frontier. All equipment, including the converted power supply and its installation, were supplied through the Radio Material Officer, 13th Naval District. The Coast Guard's responsibility was to assign
-56-
Last edit over 3 years ago by
Wjhoward