1918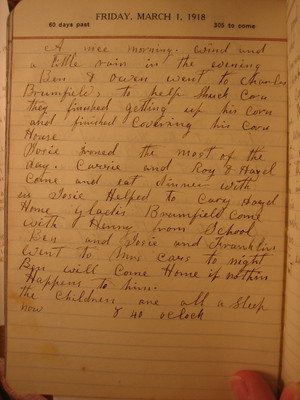 1920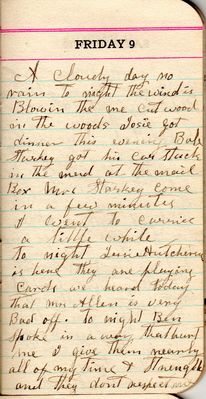 1922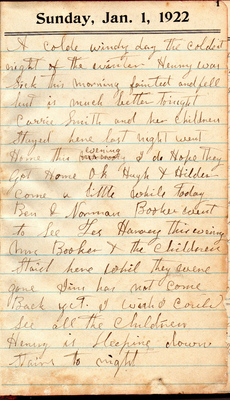 A colde windy day. The coldest night of the winter. Henry was sick this morning fainted and fell but is much better tonight. Carrie Smith and her children stayed here last night. Went home this evening. I do hope they got home ok. Hugh & Hildes [?] come a little while today. Ben & Norman Booker went to see Les Harvey [?] this evening. Mr. Booker & the children staid here whil they were gone. Jim has not come back yet. I wish I could see all the children. Henry is sleeping down stairs to night.
Last edit about 7 years ago by
Ben W. Brumfield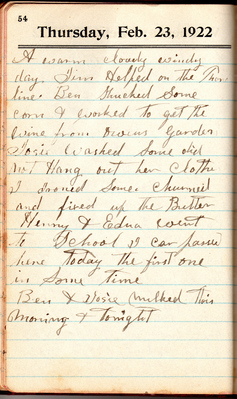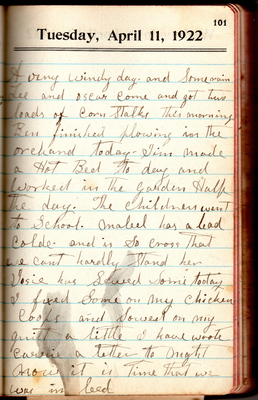 A very windy day and some rain. Lee and Oscar come and got two loads of corn stalks this morning. Ben finished plowing in the orchard today. Jim made a hot bed to day and worked in the garden half the day. The children went to school. Mabel has a bad colde and is so cross that we cant hardly stand her. Josie has sewed some today. I fixed some on my chicken coops and sewed on my quilt a little. I have wrote Carrie a letter to night. Now it is time that we was in bed.
Last edit about 7 years ago by
mkstewart