1918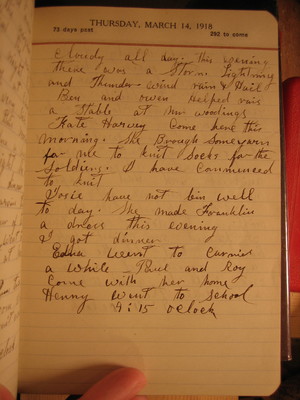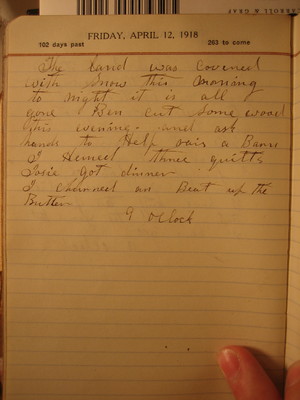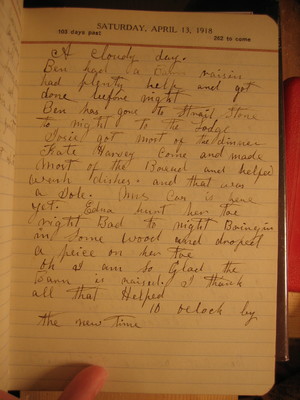 A cloudy day.
Ben had a barn raisin had plenty help and got done before night.
Ben has gone to Strait Stone to night to the lodge.
Josie got most of the dinner. Kate Harvey come and made most of the bread and helped wash dishes and that was a job. Mrs Carr is here yet. Edna hurt her toe right bad to night bringin in some wood and dropped a piece on her toe.
Oh I am so glad the barn is raised. I thank all that helped.
10 oclock by the new time
Last edit about 11 years ago by
Ben W. Brumfield
1919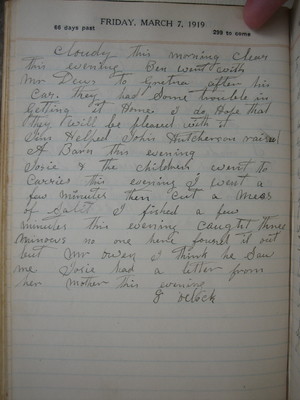 Cloudy this morning. Clear this evening. Ben went with Mr Dews to Gretna after his car. They had some trouble in getting it home. I do hope that they will be pleased with it. Jim helped John Hutcherson raise a barn this evening.
Josie & the children went to Carries this evening. I went a few minutes then cut a mess of Salit I fished a few minutes this evening. Caught three minows. No one here found it out but Mr Owen. I think he saw me. Josie had a letter from her mother this evening.
8 oclock
Last edit over 7 years ago by
dy957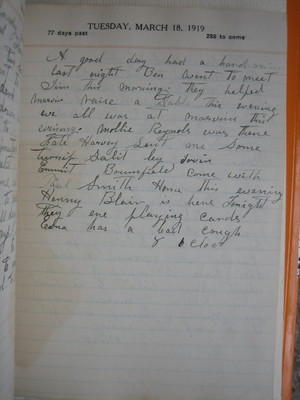 Displaying Page 1 - 5 of 7 in total