1919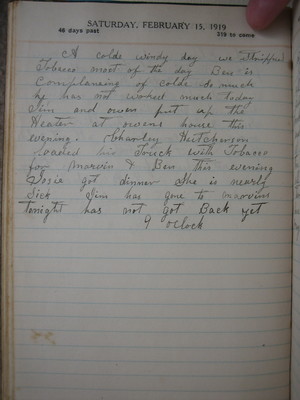 1922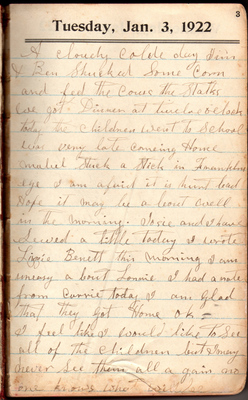 A cloudy colde day. Jim & Ben shucked some corn and fed the cows the stalks. We got dinner at twelve oclock today. The children went to school was very late comeing home. Mabel stuck a stick in Franklins eye. I am afraid it is hurt bad. Hope it may be a bout well in the morning. Josie and I have sewed a little today. I wrote Lizzie Benett this morning. I am uneasy a bout Lonnie. I had a note from Carrie today. I am glad that they got home ok. I feel like I would like to see all of the children but I may never see them all a gain. No one knows what will be.
Last edit about 7 years ago by
mkstewart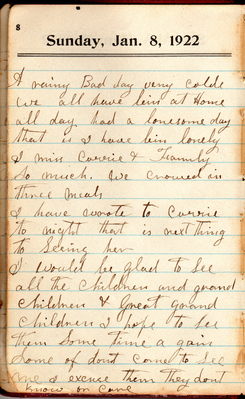 A rainy bad day very colde. We all have bin at home all day. Had a lonesome day. That is I have bin lonely. I miss Carrie and family so much. We crowed in three meals. I have wrote to Carrie to night. That is next thing to seeing her. I would be glad to see all the children and grand children and great grand children. I hope to see them some time a gain. Some of dont come to see me. I excuse them. They dont know or care.
Last edit about 7 years ago by
mkstewart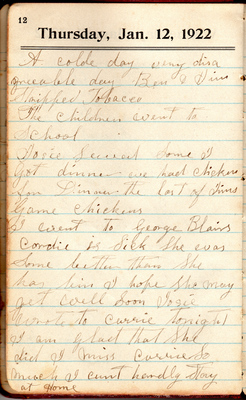 A colde day. Very disa greeable day. Ben & Jim stripped tobacco. The children went to school. Josie sewed some. I got dinner. We had chicken for dinner. The last of Jims game chickens. I went to George Blairs. Cordie is sick. She was some better than she has bin. I hope she may get well soon. Josie wrote to Carrie tonight. I am glad that she did. I miss Carrie so much I cant hardly stay at home.
Last edit about 7 years ago by
mkstewart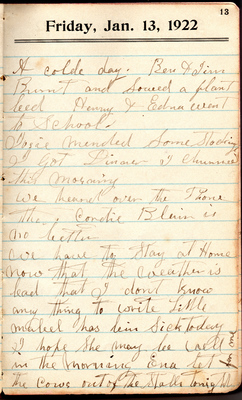 Displaying Page 1 - 5 of 16 in total