1923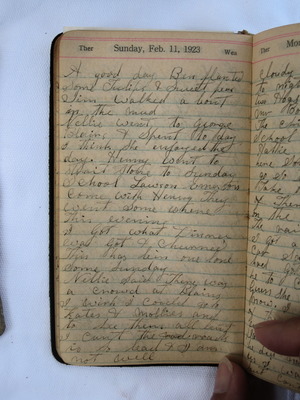 A good day. Ben planted some tulips and sweet peeas. Jim walked about in the mud. Nellie went to George Blairs and spent today. I think she enjoyed the day. Henry went to Straightstone to Sunday school. Lawson Emerson come with Henry. They went some where this evening. I got what dinner was got and churned. This has been one lonesome Sunday. Nellie said there was a crowd at Blairs. I wish I could go to Kates and Mollies and to see them all but I can't. The roads is so bad and I am not well.
Last edit over 7 years ago by
starrsum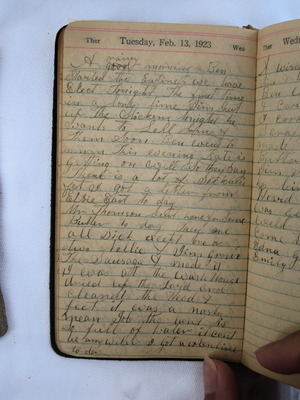 A rainy morning. Ben started the engine. We have elect tonight. The first time in a long time. Jim shut up the chickens tonight. He wants to sell some of them soon. Ben went to Renan this evening. Kate is getting on well so they say. There is a lot of sickness yet. I got a letter from Elsie East today.
Mr. Thomson sent here for some butter today. They are all sick except for one or two. Nellie and Jim ground the sausage and made it . I was at the wash house. [??iled] up the lard and cleaned the heads and feet. It was a nasty mean job. The lard is so full of water. It can't be any wetter. I got a valentine today.
Last edit almost 8 years ago by
Nathani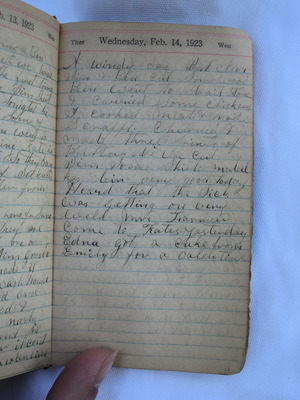 Last edit almost 8 years ago by
Nathani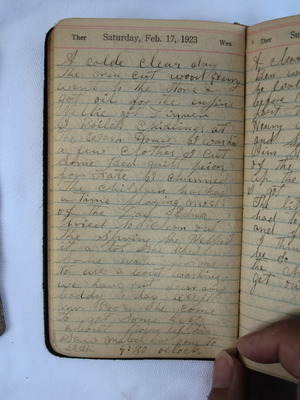 A cold clear day. The men cut wood. Henry went to the store and got oil for the engine. Nellie got dinner. I boiled chitterlings at the wash house. I washed a few clothes. I cut some bed quilt pieces for Kate. I churned. The children has had a time playing most of the day. Edna tried to clean out the spring. She helped it a lot. She dipped some water for me to use about washing. We have not seen anybody today except for Booker. He come to get some help about fixing up his saw. Mabel has gone to sleep. 9:30 oclock
Last edit over 7 years ago by
Nathani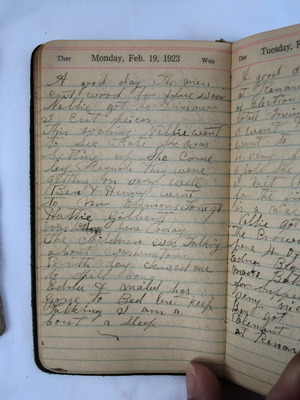 A good day. The men cut wood for flue wood. Nellie got the dinner. I cut pieces. This evening Nellie went to see Kate. She was sitting up. She come by Reynols. They were getting on very well. Ben and Henry went to Mr. Edmonds tonight. Hattie Gilbert was here today. The children was talking about Washingtons birthday. Caused me to spell [?ong]. Edna and Mabel has gone to bed but keep talking. I am about asleep.
Last edit over 7 years ago by
Nathani