1923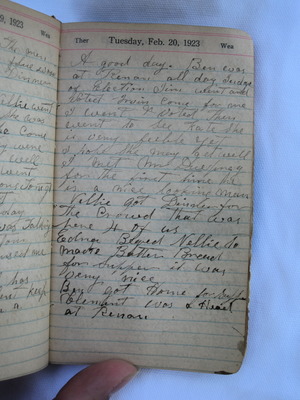 A good day. Ben was at Renan all day judge of electon. Jim went and voted. Irvin come for me. I went and voted. Then went to see Kate. She is very feeble yet. I hope she may get well. I met Mr. [Duepney?] for the first time. He is a nice looking man. Nellie got dinner for the crowd that was here. 21 of us. Edna begged Nellie to make batter bread for supper. It was very nice. Ben got home for supper. [Clement?] was ahead at Renan.
Last edit about 8 years ago by
Nathani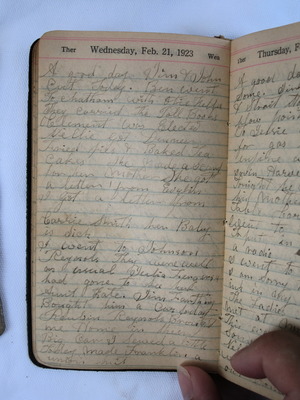 Last edit about 8 years ago by
Nathani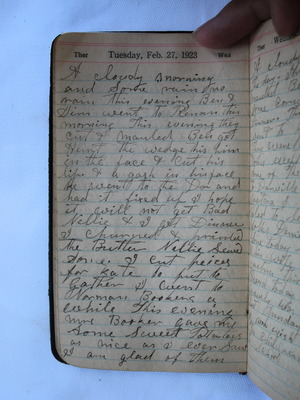 Last edit over 3 years ago by
Trisha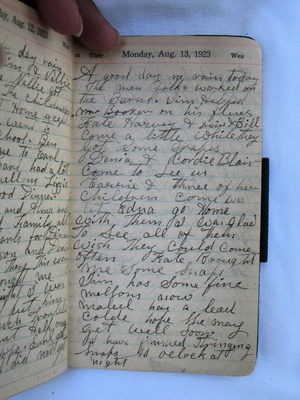 A good day. No rain today. The men folks worked on the barns. Jim helped Mr. Booker on his flues. Kate Harvey and Irvin and Bill come a little while. They got some grapes. Denia and Cordie Blair come to see us. Carrie and three of her children come. We let Edna go home with them. I was glad to see all of them. Wish they could come often. Kate brought me some snaps. Jim has some fine mellons now. Mabel has a bad colde. Hope she may get well soon. I have finished stringing snaps. 10 oclock at night.
Last edit about 7 years ago by
Ben W. Brumfield