1918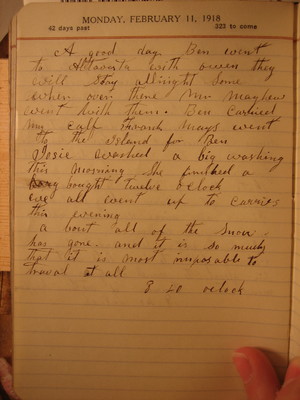 A good day. Ben went to Altavista with Owen. They will stay allnight some where over there. Mr Mayhew went with them. Ben carried my calf. Frank Mays went to the Island for Ben.
Josie washed a big washing this morning. She finished a bought twelve oclock.
We all went up to Carries this evening.
A bout all of the snow has gone and it is so muddy that it is most impossible to travel at all.
8 40 oclock
Last edit over 12 years ago by
Ben W. Brumfield
A good day. Ben and Josie and I went to Mrs Carrs this morning. Josie and Franklin staid with Mr Carr. Ben Mrs Carr and I went to Altavista on business. Got back to Mrs Carrs at two oclock. We eat dinner and come home. Got home a bout four oclock. Henry went to school. Edna went to Marvins.
Lizzie Bennett and Ola and Gordon come down to see us all. I would of bin glad to see them and would of bin at home if I had of knowed that they would come. I was at Carries a little while this evening. Heard to day that poor Charles is worse off want to go and see him soon.
9 oclock
Last edit about 11 years ago by
Ben W. Brumfield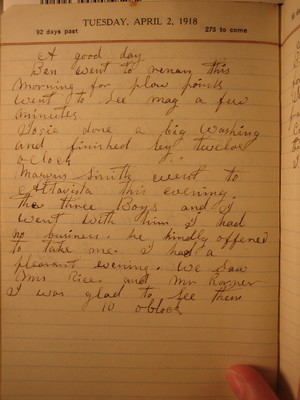 A good day.
Ben went to Renan this morning for plow points. Went to see Mag a few minutes.
Josie done a big washing and finished by twelve oclock.
Marvin Smith went to Altavista this evening. The three boys and I went with him. I had no business. He kindly offered to take me. I had a pleasant evening. We saw Mr Rice and Mr Rorer. I was glad to see them.
10 oclock
Last edit over 12 years ago by
Ben W. Brumfield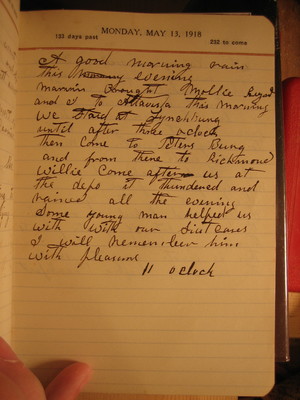 Displaying Page 1 - 5 of 40 in total