1918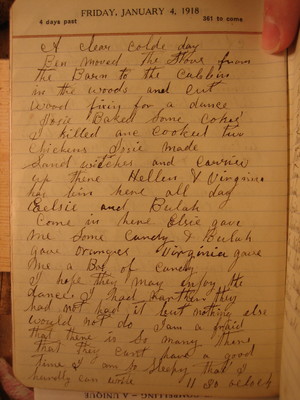 A clear colde day. Ben moved the stove from the barn to the cabbin in the woods and cut wood fixin for a dance. Josie baked some cakes. I killed and cooked two chickens. Josie made sand witches and carried up there. Hellen and Virginia has bin here all day. Elsie and Bulah come in here. Elsie gave me some candy and Bulah gave oranges. Virginia gave me a box of candy.
I hope they may enjoy the dance. I had rather they had not had it but nothing else would not do. I am a fraid that there is so many there that they cant have a good time. I am so sleepy that I hardly can write.
11 30 oclock
Last edit over 11 years ago by
Ben Brumfield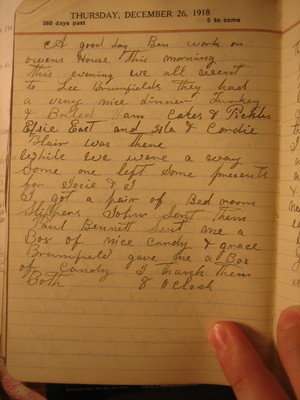 1919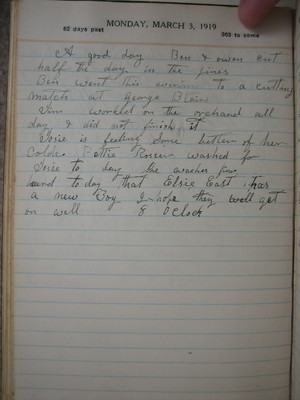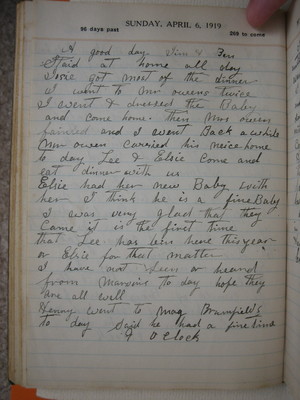 A good day. Jim & Ben staid at home all day.
I went to Mr. Owens twice. I went & dressed the baby and come home. Then Mrs Owen fainted and I went back a while. Mr Owen carried his neice home to day. Lee & Elsie come and eat dinner with us.
Elsie had her new baby with her. I think he is a fine baby. I was very glad that they came. It is the first time that Lee has bin here this year or Elsie for that matter.
I have not seen or heard from Marvins to day. Hope they are all well.
Henry went to Mag Brumfields to day. Said he had a fine time.
9 oclock
Last edit over 10 years ago by
Ben Brumfield