1919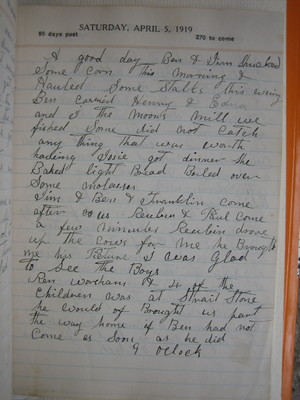 Last edit almost 7 years ago by
dy957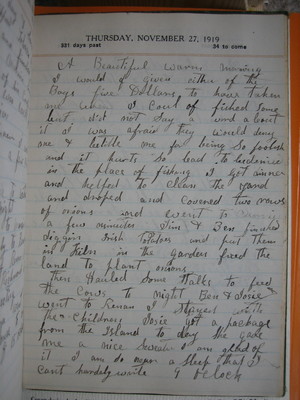 A beautiful warm morning. I would of given either of the boys five dollars to have taken me where I could of fished some but did not say a word about it. I was afraid they would deny me & belitle me for being so foolish and it hurts so bad to be denied. In the place of fishing I got dinner and helped to clean the yard and draped and covered two rows of onions and went to Carries a few minutes.
Jim & Ben finished diggin Irish potatoes and put them in kiln in the garden. Fixed the land to plant onions.
Then hauled some stalks to feed the cows. To night Ben & Josie went to Renan. I stayed with the children. Josie got a package from the island to day. She gave me a nice sweater. I am glad of it. I am so near a sleep that I cant hardely write.
9 oclock
Last edit almost 7 years ago by
dy957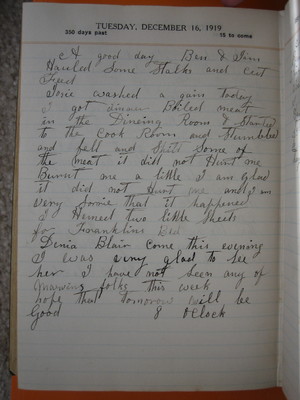 A good day. Ben & Jim hauled some stalks and cut feed.
Josie washed a gain today.
I got dinner. Boiled meat in the dineing room & started to the cook room and stumbled and fell and spilt some of the meat. It did not hurt me. Burnt me a little. I am glad it did not hurt me and I am very sorrie that it happened.
I hemed two little sheets for Franklins bed.
Denia Blair come this evening. I was very glad to see her. I have not seen any of Marvins folks this week. Hope that tomorrow will be good.
8 oclock
Last edit about 11 years ago by
Ben Brumfield
1921