1921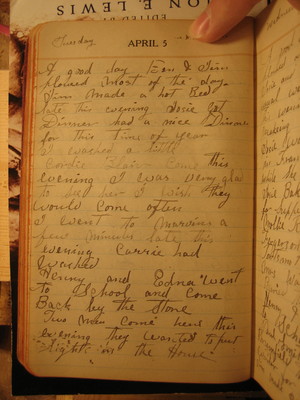 A good day. Ben & Jim plowed most of the day. Jim made a hot bed late this evening. Josie got dinner. Had a nice dinner for this time of year. I washed a little.
Cordie Blair come this evening. I was very glad to see her. I wish they would come often. I went to Marvins a few minutes late this evening. Carrie had washed.
Henry and Edna went to school and come back by the store.
Two men come here this evening. They wanted to put lights in the house.
Last edit about 10 years ago by
Ben Brumfield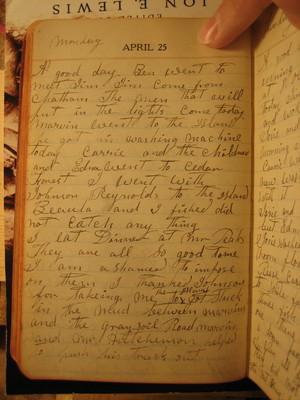 Last edit over 6 years ago by
dy957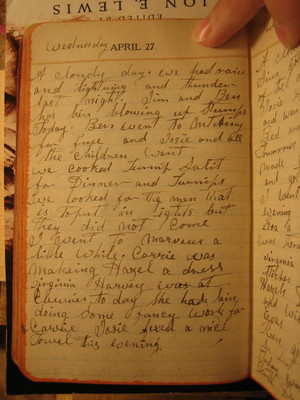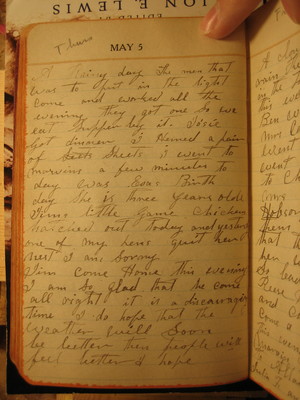 A rainy day. The men that was to put in the light come and worked all the evening. They got one so we eat supper by it. Josie got dinner. I hemed a pair of sheets. I went to Marvins a few minutes. To day was Evas birth day. She is three years olde. Jims little game chickens hatched out today and yesterday. One of my hens quit her nest. I am sorry.
Jim come home this evening. I am so glad that he come all right. It is a discouraging time. I do hope that the weather will soon be better. Then people will feel better I hope.
Last edit about 10 years ago by
Ben Brumfield