1921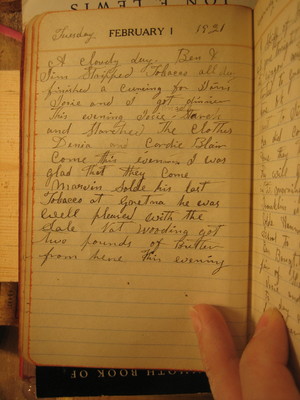 Last edit over 3 years ago by
Trisha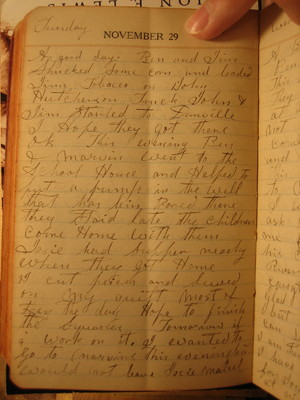 1920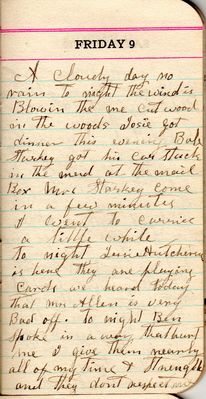 1922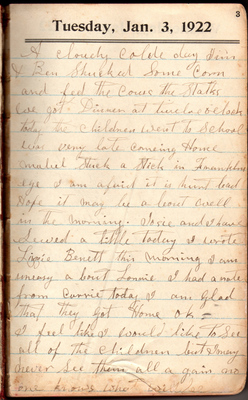 A cloudy colde day. Jim & Ben shucked some corn and fed the cows the stalks. We got dinner at twelve oclock today. The children went to school was very late comeing home. Mabel stuck a stick in Franklins eye. I am afraid it is hurt bad. Hope it may be a bout well in the morning. Josie and I have sewed a little today. I wrote Lizzie Benett this morning. I am uneasy a bout Lonnie. I had a note from Carrie today. I am glad that they got home ok. I feel like I would like to see all of the children but I may never see them all a gain. No one knows what will be.
Last edit about 7 years ago by
mkstewart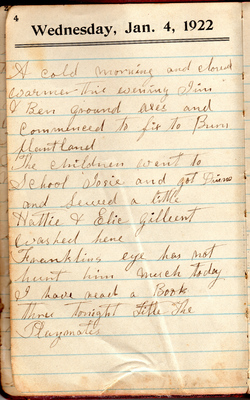 A cold morning and cloud. Warmer this evening. Jim & Ben ground axes and commenced to fix to burn plant land. The children went to school. Josie and got dinner and sewed a little. Hattie and Elie Gilbert washed here. Franklins eye has not hurt him much today. I have read a book thru tonight. Title The Playmates.
Last edit about 7 years ago by
mkstewart
Displaying Page 1 - 5 of 60 in total