1922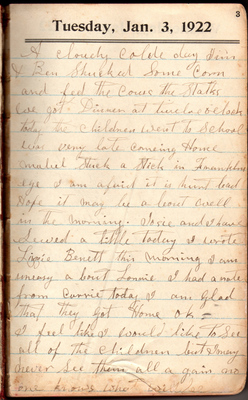 A cloudy colde day. Jim & Ben shucked some corn and fed the cows the stalks. We got dinner at twelve oclock today. The children went to school was very late comeing home. Mabel stuck a stick in Franklins eye. I am afraid it is hurt bad. Hope it may be a bout well in the morning. Josie and I have sewed a little today. I wrote Lizzie Benett this morning. I am uneasy a bout Lonnie. I had a note from Carrie today. I am glad that they got home ok. I feel like I would like to see all of the children but I may never see them all a gain. No one knows what will be.
Last edit about 7 years ago by
mkstewart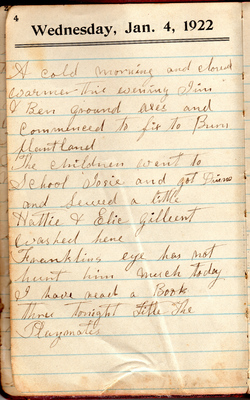 A cold morning and cloud. Warmer this evening. Jim & Ben ground axes and commenced to fix to burn plant land. The children went to school. Josie and got dinner and sewed a little. Hattie and Elie Gilbert washed here. Franklins eye has not hurt him much today. I have read a book thru tonight. Title The Playmates.
Last edit about 7 years ago by
mkstewart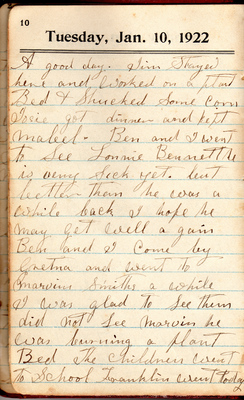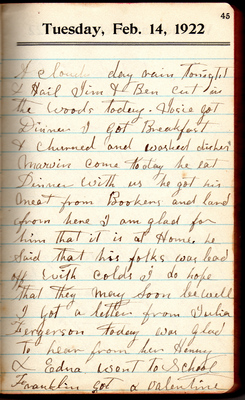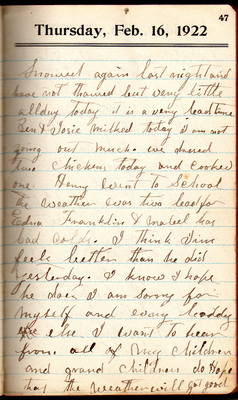 Snowed again last night and have not thawed but very little allday. Today it is a very bad time. Ben & Josie milked today. I am not going out much. We dressed two chickens today and cooked one. Henry went to school the weather was two bad for Edna. Franklin & Mabel has bad colds. I think Jim feels better than he did yesterday. I know I hope he does. I am sorry for myself and every boddy esle [crossed out] else. I want to hear from all of my children and grand children. Do hope that the weather will get good.
Last edit about 7 years ago by
mkstewart
Displaying Page 1 - 5 of 14 in total