1921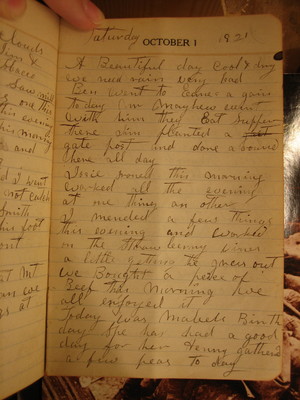 A beautiful day cool and dry. We need rain very bad. Ben went to Eanes a gain today. Mr Mayhew went with him. They eat supper there. Jim planted a gate post and done a round here all day.
Josie ironed this morning. Worked all the evening at one thing an other. I mended a few things this evening and worked on the straw berry vines a little getting the grass out. We bought a peice of beef this morning. We all enjoyed it.
Today was Mabels birth day. She has had a good day for her. Henry gathered a few peas to day.
Last edit about 9 years ago by
Ben W. Brumfield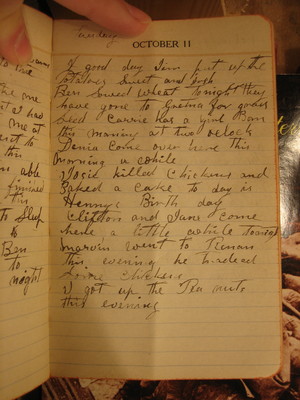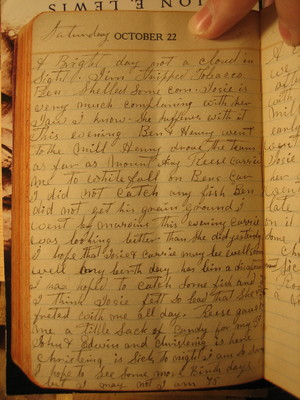 A bright day. Not a cloud in sight. Jim stripped tobacco. Ben shelled some corn. Josie is very much complaining with her jaw. I know she suffers with it.
This evening Ben & Henry went to the mill. Henry drove the team as far as Mount Airy. Reese carried me to White Fall on Bens car. I did not catch any fish. Ben did not get his grain ground. I went by Marvins this evening. Carrie was looking better than she did yesterday. I hope that Josie & Carrie may be well soon.
Well my birth day has bin a disapointment. I had hoped to catch some fish and I think Josie felt so bad that she freted with me all day. Reese gave me a little sack of candy for my birthday. John & Edwin and Christenia is here. Christenia is sick to night. I am so sorry. I hope to see some more birth days but I may not. I am 75.
Last edit about 7 years ago by
dy957