1919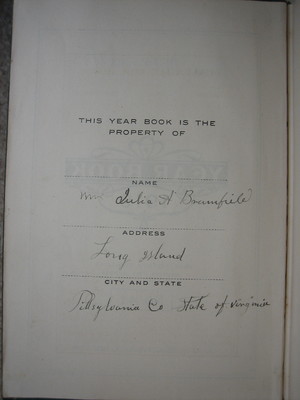 THIS YEAR BOOK IS THE PROPERTY OF
NAME
ADDRESS
CITY AND STATE
Pittsylvania Co State of Virginia
Last edit over 3 years ago by
Sara Brumfield
1922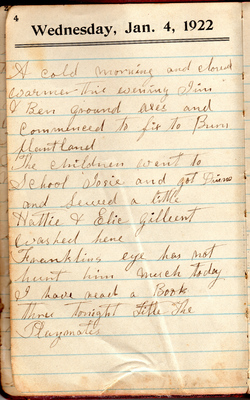 A cold morning and cloud. Warmer this evening. Jim & Ben ground axes and commenced to fix to burn plant land. The children went to school. Josie and got dinner and sewed a little. Hattie and Elie Gilbert washed here. Franklins eye has not hurt him much today. I have read a book thru tonight. Title The Playmates.
Last edit about 7 years ago by
mkstewart
1923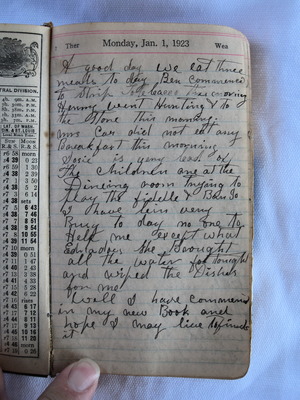 A good day. We eat three meals to day. Ben commenced to strip tobacco this morning. Henry went hunting & to the store this morning.
Mrs Car did not eat any breakfast this morning.
Josie is very bad off.
The children are at the dining room trying to play the fiddle & banjo.
I have bein very busy to day no one to help me except what Edna does. She brought all the water for tonight and wiped the dishes for me.
Well I have commenced in my new book and hope I may live to finis[h] it.
Last edit over 3 years ago by
Sara Brumfield