1922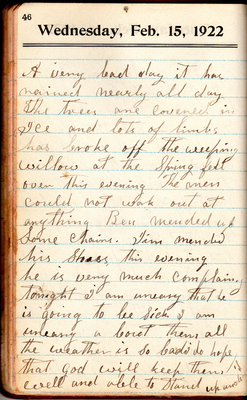 A very bad day. It has rained nearly all day. The trees are covered in ice and lots of limbs has broke off. The weeping willow at the spring fell over this evening. The men could not work out at anything. Ben mended up some chairs. Jim mended his shoes this evening. He is very much complaining tonight. I am uneasy that he is going to be sick. I am uneasy a bout them all. The weather is so bad. I do hope that God will keep them well and able to stand up under it.
Last edit almost 7 years ago by
mkstewart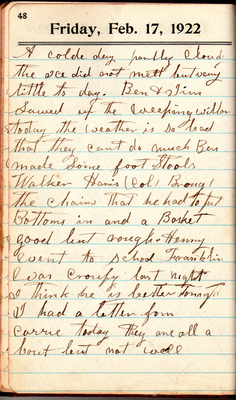 A colde day. Partly cloudy. The ice did not melt but very little to day. Ben & Jim sawed up the weeping willow. Today the weather is so bad that they cant do much. Ben made some foot stools. Walker Haris [(Col)?coloured man] brought the chairs that he had to put bottoms in and a basket good but rough. Henry went to school. Franklin was croupy last night. I think he is better though. I had a letter from Carrie today. They are all a bout but not well.
Last edit almost 7 years ago by
mkstewart