Search for Woodruff* "I. C. Woodruff" "Gen. Woodruff" "Colonel I. C. Woodruff" "Genl. I. C. Woodruff"
1871-1872 keeper selection and LH building Vol. 336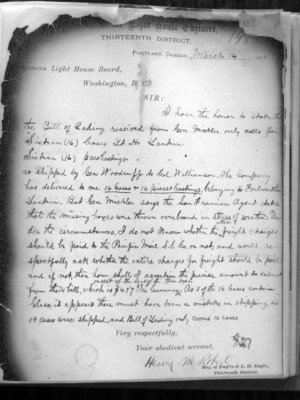 Office of the Light House Engineer Thirteenth District
Portland, Oregon March 14", 1873
Chairman Light House Board Washington D. C.
Sir:
I have the honor to state that the Bill of Lading, received from Gen Michler, only calls for Sixteen(16) cases Lt Ho Lantern Sixteen (16) pces Castings " " as shipped by Gen Woodruff to Col Williamson. The company has delivered to me 16 Cases & 16 pieces Castings, belonging to Foulweather Lantern. But Gen Michler says the San Francisco Agent states that the missing boxes were thrown overboard in stress of weather. Under the circumstances, I do not know whether the entire freight charges should be paid to Pacific Mail SS Co, or not, and would respectfully ask whether the entire charges for freight should be paid; and if not, then how shall I ascertain the precise amount to deduct from their bill, which is $417 29/100 Currency on acc't of the loss of the three boxes. As 3 of the 16 cases contain Glass, it appears there must have been a mistake in shipping, as 19 cases were shipped, and Bill of Lading only covers 16 cases.
Very respectfully, Your obedient servant
Henry M Robert Maj. of Eng'rs & L.H. Eng'r Thirteenth District
Last edit over 1 year ago by
Jayk
p-3 letters HM Roberts 1872-1875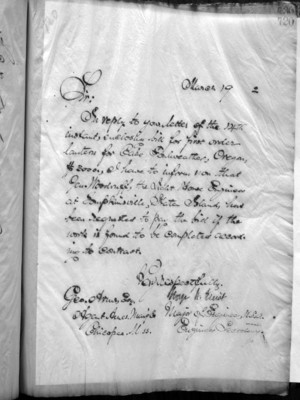 March 19 2
Sir:
In reply to your letter of the 14th instant, enclosing bill for first order lantern for Cape Foulweather, Oregon, $3000, I have to inform you that Gen. Woodruff, the Light House Engineer at Soupkinsville, Staten Island, has requested to pay the bill if the work is found to be completed according to contract.
Very respectfully,
George H. Elliot Major of Engineers, U.S.A. Engineer Secretary
George ??? Esq. Agent Ames Man'g Co. Chicopee, Mass.
Last edit almost 3 years ago by
bbarker
Visitor Logs August 15th 1887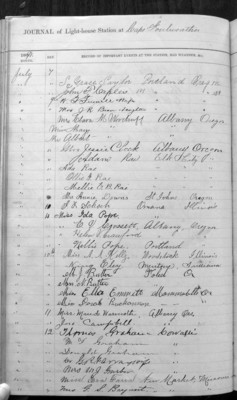 1891
July 7 S Grace Saylor Portland OregonJohn F Caples 181 Portland OregonJuly 9W F Furnell & wife Portland OregonMrs J R Bean & daughter Portland OregonMrs Clara M Woodruff Albany OregonMiss May Woodruff Albany OregonMr Albert Woodruff Albany OregonMrs Jessie Cleek Albany OregonAdam Rae Elk City OregonAda Rae Elk City OregonOllie J Rae Elk City OregonMellie E B Rae Elk city OregonMrs Annie Downs St John OregonJuly 10J F Schock Oreana IllinoisMiss Ida Pope Oreana IllinoisMiss E V Crossett Albany OregonMiss Helen V Crawford Albany OregonMiss Nellie Pope Portland OregonMiss A A Kellz Woodstock IllinoisNina Eley Mentoue IndianaM J Butter Toled OregonMrs N Butter Toled OregonMiss Ella Emmitt Mammabitte OrMiss Sarah BuckannonJuly 11Miss Maud Wammoth Albany OreJno CampbellJuly 12Thomas Graham CowalleM F GrahamDonald GrahamDr G R Farra_oifeMrs M J FurberMiss Era Farrar Fur Market MissouriMrs G S Bryant
Last edit 8 days ago by
BrightWings