Search for "Yaquina Bay Light House"
p-3 letters HM Roberts 1872-1875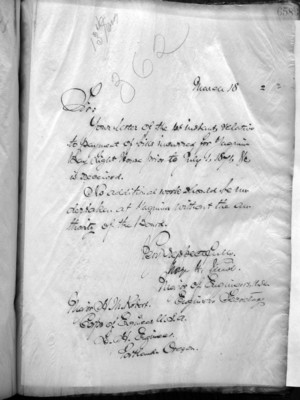 March 18 2
Sir:
Your letter of the 1st instant, relative to payment of bills incurred for Yaquina Bay Light House prior to July 1, 1871, ???, is received.
No additional work should be undertaken at Yaquina without the authority of the Board.
Respectfully,
George H. Elliot Major of Engineers, U.S.A. Engineer Secretary
Major H.M. Robert Corps of Engineers U.S.A. L.H. Engineers Portland, Oregon
Last edit over 2 years ago by
bbarker
1870-73 Lighthouse Board Annual Reports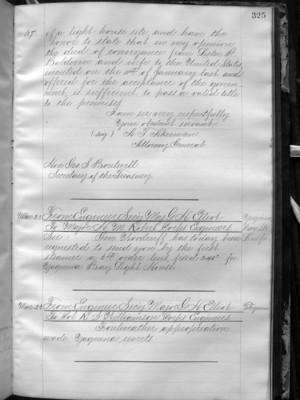 Correspondence of LH board 1901-1910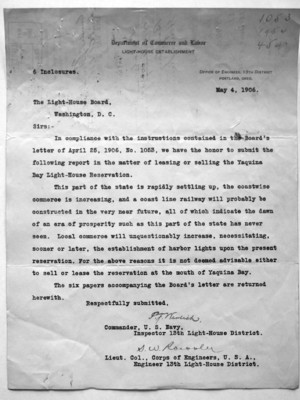 Department of Commerce and Labor Light-House Establishment Office of Engineer, 13th District Portland, Oreg. May 4, 1906
6 Inclosures
The Light-House Board, Washington, D.C.
Sirs:
In compliance with the instructions contained in the Board's letter of April 25, 1906, No. 1053, we have the honor to submit the following report in the matter of leasing or selling the Yaquina Bay Light-House Reservation.
This part of the state is rapidly settling up, the coastwise commerce is increasing, and a coast line railway will probably be constructed in the very near future, all of which indicate the dawn of an era of prosperity such as this part of the state has never seen. Local commerce will unquestionably increase, necessitating, sooner or later, the establishment of harbor lights upon the present reservation. For the above reasons it is not deemed advisable either to sell or lease the reservation at the mouth of Yaquina Bay.
The six papers accompanying the Board's letter are returned herewith.
Respectfully submitted,
F.J. Werlich Commander, U.S. Navy Inspector 13th Light-House District.
S.W. Roessler Lieut. Col., Corps of Engineers, U.S.A. Engineer 13th Light-House District.
Last edit over 2 years ago by
bbarker