Search for milked* milke* milk* Milkin*
1923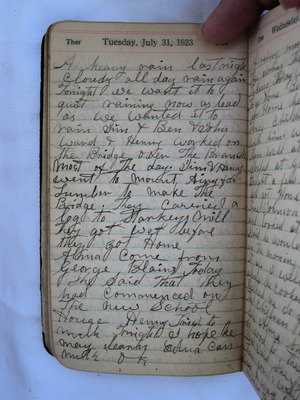 A heavy rain last night. Cloudy all day. Rain again tonight. We want it to quit raining now as bad as we wanted it to rain. Jim and Ben and John Ward and Henry worked on the bridge over the branch most of the day. Jim and Henry went to Mount Airy for lumber to make the bridge. They carried a log to Starkeys mill. They got wet before they got home. Alma come from George Blains today. She said that they had commenced on the new school house. Henry tried to milk tonight. I hope he may learn. Edna can milk ok.
Last edit over 6 years ago by
Nathani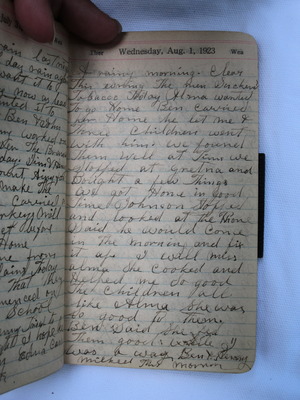 A rainy morning. Clear this evening. The men suckered tobacco today. Alma wanted to go home. Ben carried her home. He let me and three children went with him. We found them well at Jims. We stopped at Gretna and bought a few things. We got home in good time. Johnson stopped and looked at the phone. Said he would come in the morning and fix it up. I will miss Alma. She cooked and helped me so good. The children all like Alma. She was so good to them Ben said she fed them good while I was a way. Ben and Henry milked this morning.
Last edit over 6 years ago by
Nathani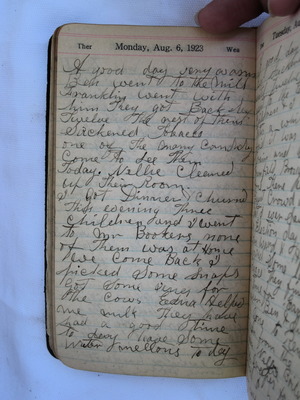 A good day. Very warm. Ben went to the mill. Franklin went with him. They got back by twelve. The rest of them suckered tobacco. One of the [Mary or many] [Candidy?] come to see them today. Nellie cleaned up their room. I got dinner and churned this evening. Three children and I went to Mr Bookers. None of them was at home. We come back. I picked some snaps. Got some vines for the cows. Edna helped me milk. They have had a good time to day. Have some water mellons to day.
Last edit over 6 years ago by
Nathani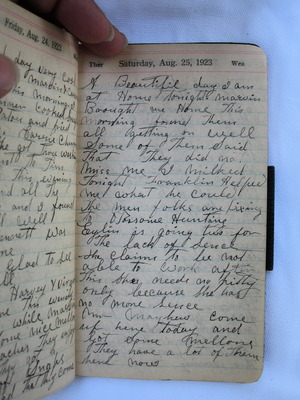 A beautiful day. I am at home tonight. Marvin brought me home this morning. Found them all getting on well. Some of them said that they did not miss me. I milked tonight. Franklin helped me what he could. The men folks are fixing to opossome hunting. Evelyn is going two for the lack of sence. She claims to be not able to work. After this she needs no pitty only because she has no more sence. Mr. Mayhew come up here today and got some mellons. They have a lot of them here now.
Last edit over 6 years ago by
Nathani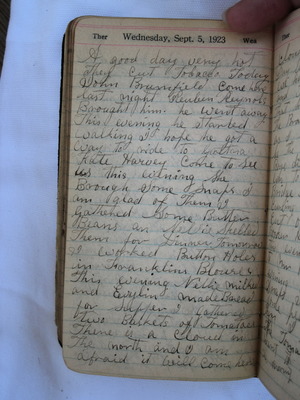 A good day. Very hot. They cut tobacco today. John Brumfield come here last night. Reuben Reynols brought him. He went away this evening. He started walking. I hope he got a way to ride to Gretna. Kate harvey come to see us this evening. She brough some snaps. I am glad of them. I gathered some butter beans and Nellie shelled them for dinner tomorrow. I worked button holes in Franklins blouse. This evening Nellie milked and Evelyn made bread for supper. I gathered two baskets of tomatoes. There is a cloud in the north and I am afraid it will come here.
Last edit over 6 years ago by
Nathani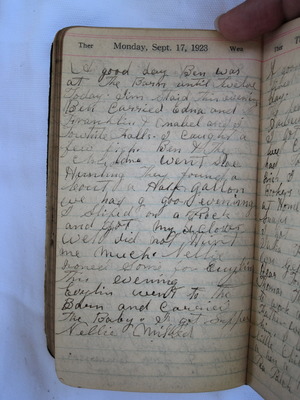 A good day. Ben was at the barn until twelve today. Jim staid this evening. Ben carried Edna and Franklin and Mabel and I to White Falls. I caught a few fish. Ben and the children went sloe hunting. They found a bout a half gallon. We had a good evening. I sliped on a rock and got my clothes wet. Did not hurt me much. Nellie ironed some for Evylin this evening. Evylin went to the barn and carried the baby. I got supper. Nellie milked.
Last edit over 6 years ago by
Nathani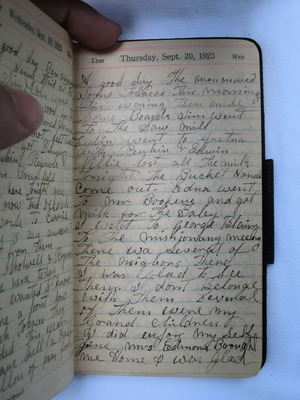 A good day. The men moved some tobacco this morning. This evening Ben made some boards. Jim went to the saw mill. Evylin went to Gretna. Nellie lost all the milk tonight. The bucket handle come out. Edna went to Mr. Bookers and got milk for the baby. I went to George Blains to the missionary meeting. There wa[sic] several of the neighbors there. I was glad to see them. I don't belonge with them. Several of them were my grand children. I did enjoy my self fine. Mrs. Edmons brought me home. I was glad.
Last edit over 6 years ago by
Nathani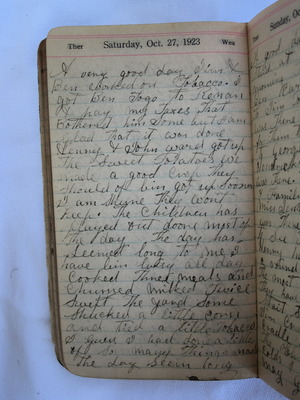 A very good day. Jim and Ben worked on tobacco. I got Ben to go to Renan and pay my taxes. That bothered him some but I am glad that it was done. Henry and John Ward got up the sweet potatoes. We made a good crop. They should of bin got up sooner. I am sure they won't keep. The children has played out doors most of the day. The day has seemed long to me. I have bin busy all day. Cooked three meals and churned. Milked twice. Swept the yard some. Shucked a little corn and tied a little tobacco. I guess I had done a little of so many things [and?] the day seem long.
Last edit about 6 years ago by
Nathani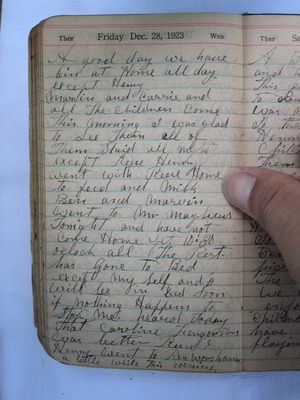 A good day. We have bin at home all day except Henry. Marvin and Carrie and all the children come this morning. I was glad to see them. All of them staid all night except Reese. Henry went with Reese home to feed and milk. Ben and Marvin went to Mr. Mayhew's tonight and have not come home yet. 10:30 o'clock. All the rest has gone to bed except myself and I will be in bed soon if nothing happens to stop me. Heard today that Caroline Fergerson was better. Reese and Henry went to Ren Worsham's a little while this evening.
Last edit over 2 years ago by
Sara Brumfield