Search for medicine*
1918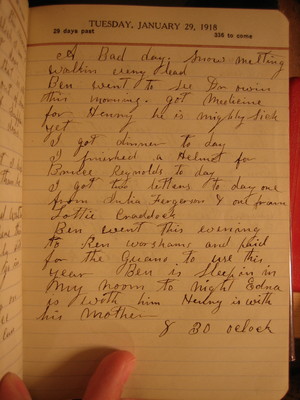 1921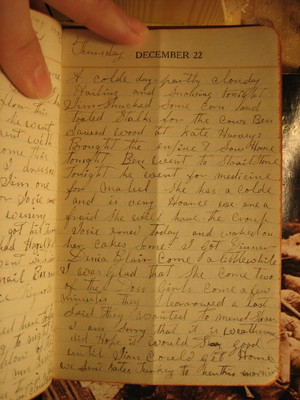 A colde day partly cloudy. Hailing and snowing tonight. Jim shucked some corn and toated stalks for the cows. Ben sawed wood at Kate Harveys. Brought the engine & saw home tonight. Ben went to Strait Stone tonight. He went for medicine for Mabel. She has a colde and is very hoarse. We are a fraid she will have the croup. Josie ironed today and worked on her cakes some. I got dinner. Denia Blair come a little while. I was glad that she come. Two of the Doss girls come a few minutes. They borrowed a last. Said they wanted to mend shoes. I am sorry that it is weathering. Did hope it would stay good until Jim could get home. We sent Kates turkey to her this morning.
Last edit over 10 years ago by
Linda Tucker
1920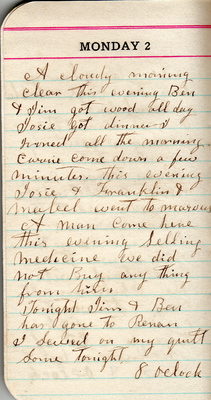 A cloudy morning. Clear this evening. Ben & Jim got wood all day. Josie got dinner. I ironed all the morning. Carrie come down a few minutes. This evening Josie & Franklin & Mabel went to Marvins. A man come here this evening selling medicine. We did not buy any thing from him. Tonight Jim & Ben has gone to Renan. I sewed on my quilt some tonight.
8 oclock
Last edit about 10 years ago by
Linda Tucker
1922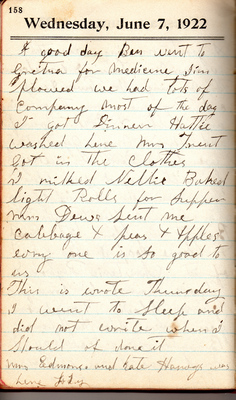 A good day. Ben went to [Gretna?] for medicine. Jim plowed we had lots of company most of the day [and] got dinner [...] washed [...] Mrs [Trent?] got in the clothes
I milked Nellie. Baked light rolls for supper Mrs [Dews?] sent me cabbages & peas * apples [every?] one is so good to us.
This is wrote Thursday. I went to sleep and did not write when I should of done it. Mrs [Edmonds?] and Kate [H?] was here today.
Last edit over 6 years ago by
mia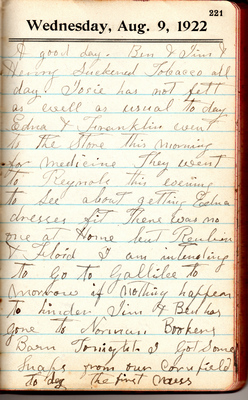 A good day. Ben & Jim & Henry suckered tobacco all day. Josie has not felt as well as usual today. Edna & Franklin went to the Store this morning for medicine. They went to Reynols this evening to see about getting Edna dresses fit. There was no one at home but Reubin & Floid[?]. I am intending to go to Gallilee to morrow if nothing happens to hinder, Jim & Ben has gone to Norman Bookers barn tonight. I got some snaps from our cornfield the first [....?]
Last edit about 6 years ago by
mkstewart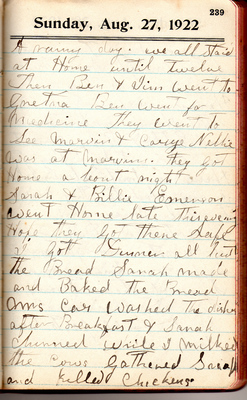 A rainy day. We all staid at home until twelve. Then Ben & Jim went to Gretna. Ben went for medicine. They went to see Marvin & Carrie. Nellie was at Marvin's. They got home about night. Sarah & Billie Emerson went home late this evening. Hope they got there safe. I got dinner all but the bread. Sarah made and baked the bread. Mrs Car washed the dishes after breakfast & Sarah churned while I milked the cows gathered snaps and killed chickens.
Last edit about 6 years ago by
mkstewart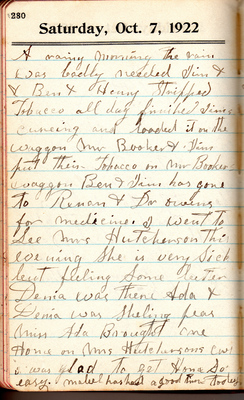 A rainy morning. The rain was badly needed. Jim & Ben & Henry stripped tobacco all day finished Jim's cureing and loaded it on the waggon. Mr Booker & Jim put their tobacco on Mr Bookers waggon. Ben & Jim has gone to Renan & Dr Owens for medicine. I went to see Mrs Hutcherson this evening. She is very sick but feeling some better. Denia was there. Ada & Denia was sheling peas. Miss Ada brought me home on Mrs Hutcherson's car. I was glad to get home so easy. Mabel has had a good time today.
Last edit almost 6 years ago by
mkstewart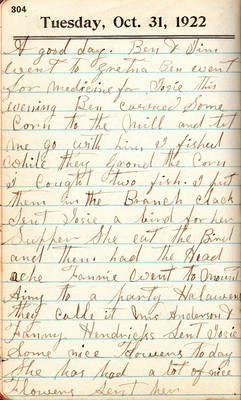 A good day. Ben & Jim went to Gretna. Ben went for medicine for Josie this evening. Ben carried some corn to the mill and let me go with him. I fished while they ground the corn. I caught two fish. I put them in the branch clack. Sent Josie a bird for her supper. She eat the bird and then had the head ache. Fannie went to Mount Ainy[?] to a party. Halawene they called it. Mrs Anderson & Fanny Hendricks sent Josie some nice flowers today. She has had a lot of nice flowers sent her.
Last edit almost 6 years ago by
mkstewart
1923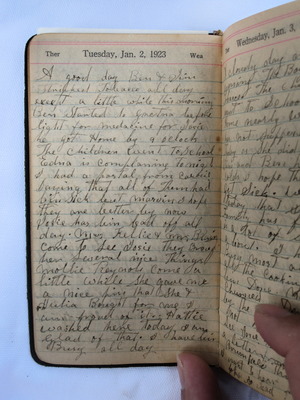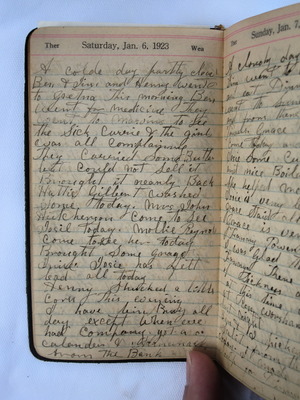 A colde day partly cloud Ben & Jim and Henry went to Gretna this morning Ben went for medicine They went to Marvins to see the sick Carrie & the girl was all complaining They carried some butter but could not sell it Brought it meanly back Hattie Gilbert washed some today. Mrs John Hutchenson come to see Josie today. Mollie Reynold(?) come to see her today Brought some grape juice(?). Josie has felt bad all today
Henry shucked a little corn this evening I have bin busy all day except when we had company. Got a calander & almanack (?) from the bank
Last edit over 7 years ago by
Nathani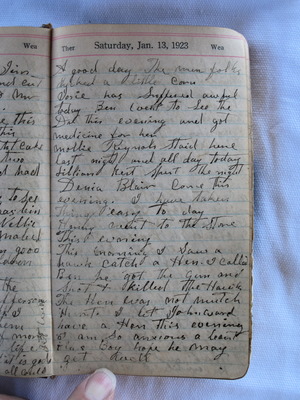 A good day. The men folks shucked a little corn. Josie has suffered awful today. Ben went to see the dr. this evening and got medicine for her. Mollie Reynolds staid here last night and all day today. Lillian Kent spent the night. Denia Blair came this evening. I have taken things easy to day. Henry went to the store this evening. This morning I saw a hawk catch a hen. I called Ben. He got the gun and shot and killed the hawk. The hen was not much hurt. I let John Ward have a hen this evening. I am so anxious a bout ??? boy. Hope he may get well.
Last edit over 7 years ago by
Nathani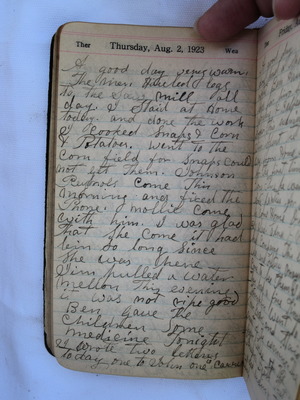 A good day. Very warm. The men hauled logs to the saw mill all day. I staid at home today and done the work. I cooked snaps and corn and potatoes. Went to the corn field for snaps. Could not get them. Johnson Reynolds come this morning and fixed the pohn. Mollie come with him. I was glad that she come. It had been so long since she was here. Jim pulled a water mellon this evening. It was not ripe good. Ben gave the children some medicine tonight. I wrote two letters today. One to John. One to Carrie.
Last edit over 6 years ago by
Nathani