Search for "hogs feet" feet*
1918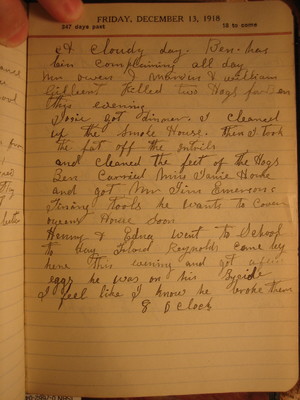 1919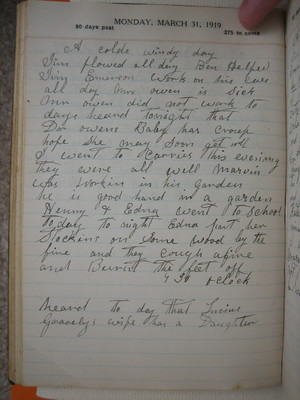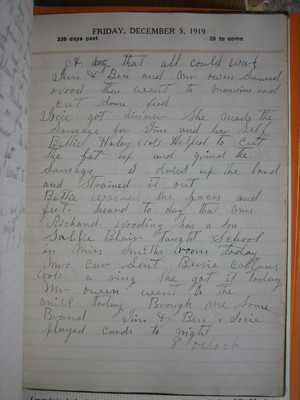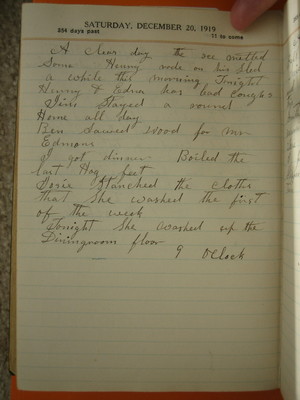 1921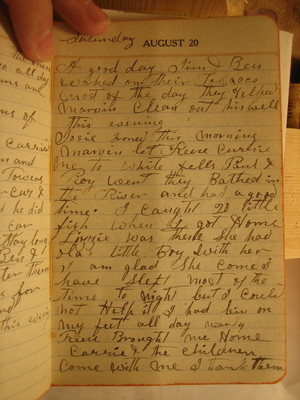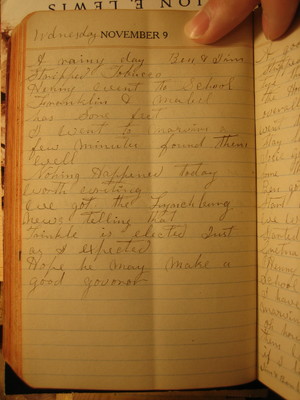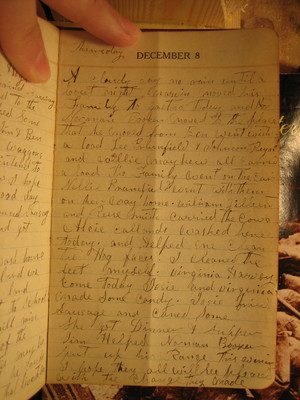 A cloudy day. No rain until a bout night. Marvin moved his family to Gretna today and Norman Booker moved to the place that he moved from. Ben went with a load. Lee Brumfield & Johnson Reynolds and Willie Mayhew all carried a load. The family went on the car. Nellie Brumfield went with them on her way home. William Gilbert and Reese Smith carried the cows. Alcie Callender washed here today and helped me clean the hog faces. I cleaned the feet myself. Virginia Harvey come today. Josie and Virginia made some candy. Josie fried sausag and caned some. She got dinner & supper. Jim helped Norman Booker put up his range this evening. I hope they all will be pleased with the change they made.
Last edit over 10 years ago by
Linda Tucker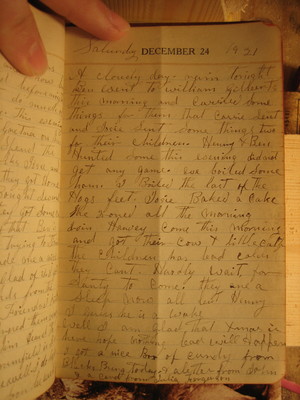 A cloudy day. Rain tonight. Ben went to William Gilberts this morning and carried some things for them that Carrie sent and Josie sent some things two for their children. Henry & Ben hunted some this evening. Did not get any game. We boiled some ham. I boiled the last of the hogs feet. Josie baked a cake. She ironed all the morning. Irvin Harvey come this morning and got their cow & little calf. The children has bad colds. They cant hardly wait for Santy to come. They are a sleep now all but Henry. I guess he is a wake. Well I am glad that Xmas is here. Hope nothing bad will happen. I got a nice box of candy from BlacksBurg today & a letter from John & a card from Julia Fergerson.
Last edit over 10 years ago by
Linda Tucker
1922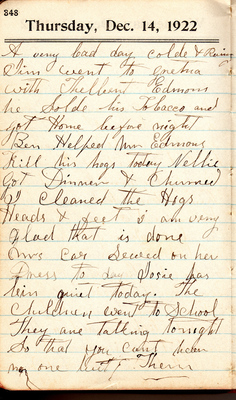 A very bad day colde and raining. Jim went to Gretna with [Thellbert?] Edmons. He solde his tobacco and got home before night. Ben helped Mr Edmons kill his hogs today. Nellie got dinner & churned. I cleaned the hogs heads & feet. I am very glad that is done. Mrs Car sewed on her dress to day. Josie has bin quiet today. The children went to school. They are talking tonight so that you cant hear no one but them.
Last edit almost 6 years ago by
mkstewart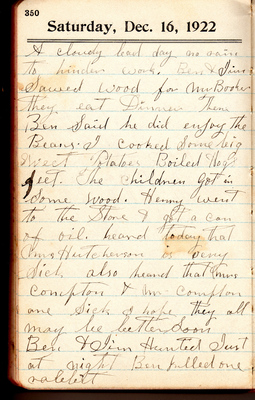 A cloudy bad day. No rain to hinder work. Ben & Jim sawed wood for Mr Booker. They eat dinner there. Ben said he did enjoy the beans. I cooked some big sweet potatoes. Boiled hogs feet. The children got in some wood. Henry went to the store & got a can of oil. Heard today that Mrs Hurcherson is very sick. Also heard that Mrs Compton & Mr Compton are sick. I hope they all may be better soon. Ben & Jim hunted just at night. Ben killed one rabbit.
Last edit almost 6 years ago by
mkstewart
1923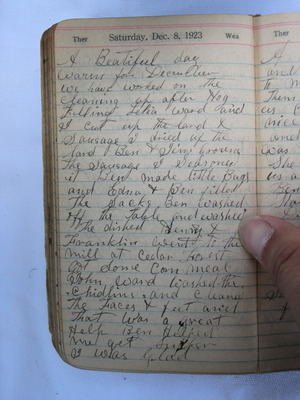 A beautiful day. Warm for December. We have worked on the cleaning up after hog killing. Lelia ward and I cut up the lard and sausage. I dried up the lard. Ben and Jim ground the sausage. I seasoned it. Ben made little bags and Edna and Ben filled the sacks. Ben washed off the table and washed the dished[?]. Henry and Franklin went to the mill at Cedar Forest. Got some corn meal. John Ward washed the chidlins and cleaned the faces and feet and that was a great help. Ben helped me get supper. I was glad.
Last edit almost 6 years ago by
Nathani