Search for "Richard Wooding"
1918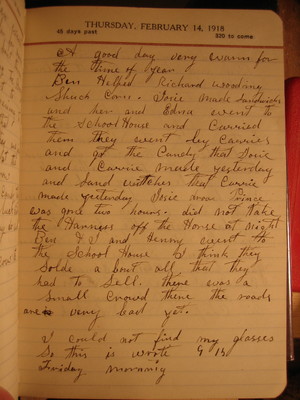 A good day very warm for the time of year.
Ben helped Richard Wooding shuck corn. Josie made sandwichs and her and Edna went to the School House and carried them. They went by Carries and got the candy that Josie and Carrie made yesterday and sand witchs that Carrie made yesterday. Josie drove Prince was gone two hours. Did not take the harness off the horse at night. Ben and I and Henry went to the School House. I think they solde a bout all that they had to sell. There was a small crowd there. The roads are very bad yet.
I could not find my glasses so this is wrote 9 15 Friday morning.
Last edit over 11 years ago by
Ben Brumfield
1919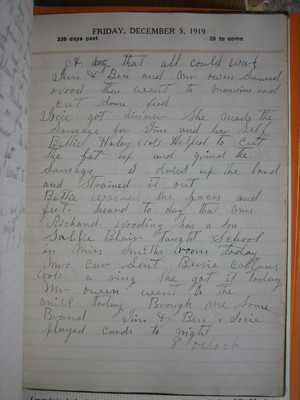 1921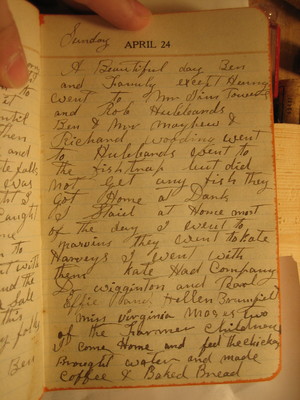 1920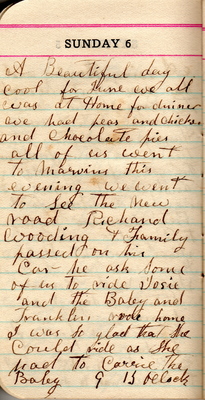 A beautiful day. Cool for June. We all was at home for dinner. We had peas and chicken and chocolate pies. All of us went to Marvins this evening. We went to see the new road. Richard Wooding & family passed on his car. He ask some of us to ride. Josie and the baby and Franklin rode home. I was so glad that she could ride as she had to carrie the baby. 9 15 oclock
Last edit about 10 years ago by
Linda Tucker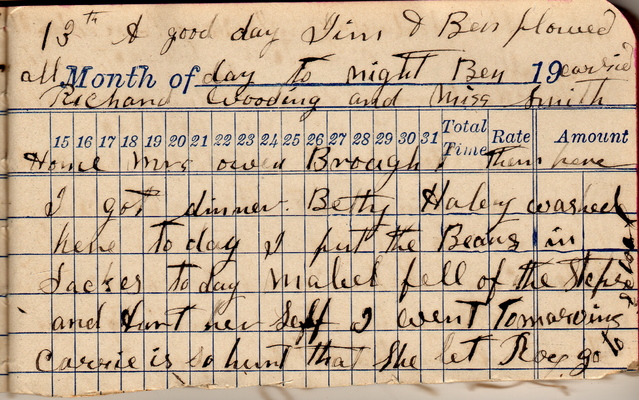 13th A good day. Jim & Ben plowed all day. To night Ben carried Richard Wooding and Miss Smith home. Mrs Owen brought them here. I got dinner. Betty Haley washed here to day. I put the beans in sackes to day. Mabel fell of the step and hurt her self. I went to Marvins. Carrie is so hurt that she let Roy go to school.
Last edit over 9 years ago by
Linda Tucker