Search for fertilizer* ferterlizer*
1923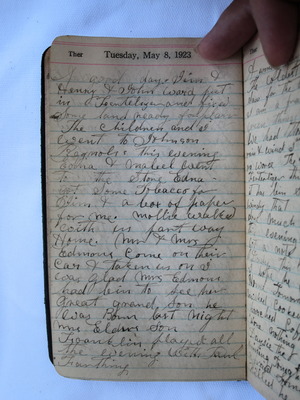 A good day. Jim and Henry and John Ward put in fertilizer an fixed some land ready for planting. The children and I went to Johnson Reynolds this evening. Edna and Mabel went to the store. Edna got some tobacco for Jim and a box of paper for me. Mollie walked with us part way home. Mr. and Mrs. Edmons come on their car and taken us on. I was glad. Mrs Edmons had bin to see her great grand son. He was born last night. Mrs Elders son. Franklin played all the evening with Paul Farthing.
Last edit almost 7 years ago by
Nathani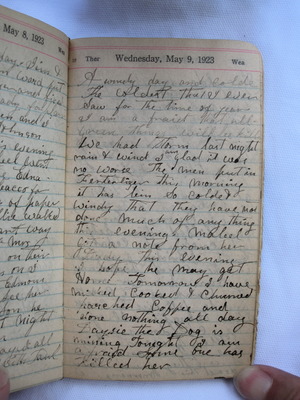 A windy day and colde. The coldest that I ever saw for the time of year. I am a fraid that all green things will be killed. We had storm last night. Rain and wind. I am glad it was no worse. The men put in fertilizer this morning. It has bein so colde and windy that they have not done much of any thing this evening. Mabel got a note from her daddy this evening. I hope he may get home tomorrow. I have milked, cooked, and churned, parched coffee and done nothing all day. Daysie the dog is missing tonight. I am afraid some one has killed her.
Last edit almost 7 years ago by
Nathani