Search for buggy*
1919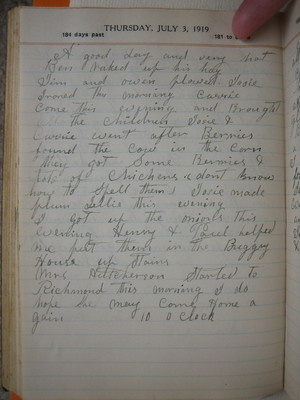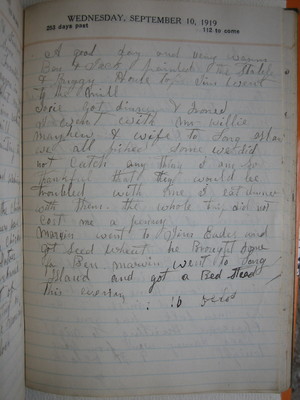 Last edit over 6 years ago by
dy957
1920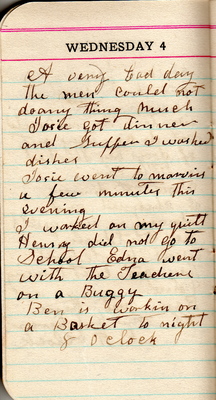 A very bad day. The men could not do any thing much.
Josie got dinner and supper. I washed dishes.
Josie went to Marvins a few minutes this evening.
I worked on my quilt.
Henry did not go to school. Edna went with the teachers on a buggy.
Ben is workin on a basket to night. 8 oclock
Last edit about 10 years ago by
Linda Tucker
1922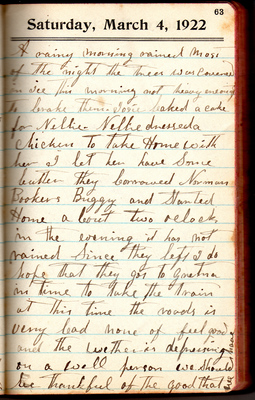 A rainy morning. Rained most of the night. The trees was covered in ice this morning. Not heavy enough to brake them. Josie baked a cake for Nellie. Nellie dressed a chicken to take home with her. I let her have some butter. They borrowed Norman Bookers buggy and started home a bout two oclock in the evening. It has not rained since they left. I do hope that they got to Gretna in time to take the train. At this time the roads is very bad. None of feel good and the wether is depressing on a well person. We should be thankful of the good that we have.
Last edit about 6 years ago by
Ladybug1492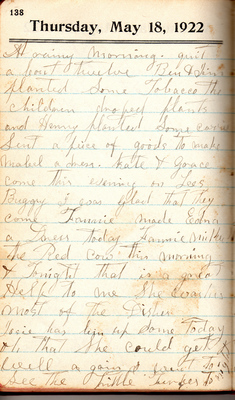 Rainy morning. quit about twelve Ben + Jim planted some tobacco the children choped ptants and Henry planted some carie Sent a piece of goods to make Mabel a chess. Kate + Joace come This evening on Lees buggy I was glad that they come Fannie made Edna a dress today Farmie milk the red cow this morning + tonight that is a gmea help to one she coasties most of the dishes Jose has begin wh doing today oft that she could get well again
Last edit almost 7 years ago by
erinblasco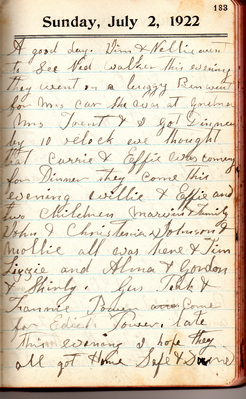 A good day. Jim & Nellie went to see Ned Walker this evening. They went on a buggy. Ben went for Mrs. Car. She was at [?] Mrs. Trent & I got dinner by 10 oclock. We thought that Carrie & Effie was coming for dinner. The come this evening. Willie & Effie and two children [?] & family [?] Mollie all was here & Jim Lizzie and Alma & Gordon & [Shirly?]. [?] Fannie [?] [?] come for Edieth. [?] late this evening. I hope they got home safe & sound.
Last edit about 6 years ago by
gutterpeach2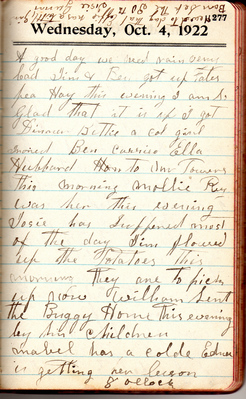 A good day. We need rain very bad. Jim & Ben got up Kates pea hay this evening. I am so glad that it is up. I got dinner. Bettie a col girl ironed. Ben carried Ella Hubbard to Mr Towers this morning. Mollie Rey[nolds?] was here this evening. Josie has suffered most of the day. Jim plowed up the potatoes this morning. They are to pick up now. William sent the buggy home this evening by his children. Mabel has a colde. Edna is getting her lesson 8 oclock.
Heard today that Effie has a little girl Born Sep the 30th Josie Gunn.
Last edit almost 6 years ago by
mkstewart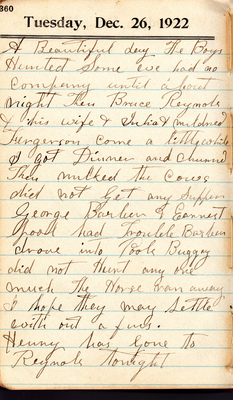 A beautiful day. The boys hunted some. We had no company until about night then Bruce Reynolds and his wife & Julia & Mildred Fergerson come a little while. I got dinner and churned then milked the cows. Did not get any supper. George Barber and Earnest Pool had trouble. Barber drove into Pools buggy. Did not hurt any one much. The horse ran away. I hope they may settle with out a fuss. Henry has gone to Reynols tonight.
Last edit almost 6 years ago by
mkstewart
1923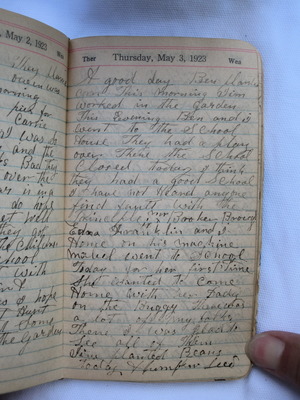 A good day. Ben planted corn this morning. Jim worked in the garden. This evening Ben and I went to the school house. They had a play over there. The school closed today. I think they had a good school. I have not heard anyone find fault with the principle. Mr. Booker brought Edna Franklin and I home on his machine. Mabel went to school today for her first time. She wanted to come home with her dady on the buggy. There was was a lot of my folks there. I was glad to see all of them. Jim planted beans today and pumpkin seed.
Last edit almost 7 years ago by
Nathani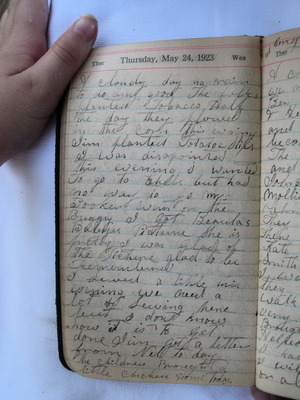 A cloudy day. No rain to do any good. The folks planted tobacco half the day. They plowed in the corn this evening. Jim planted potatoe slips. I was disapointed this evening. I wanted to go to [Ehels?] but had no way to go. Mrs Booker went on the buggy. I got [Beaulas?] babyes picture. She is pretty. I was glad of the picture. Glad to be remembered. I sewed a little this evening. We need a lot of sewing here but I dont know how it is to get done. Jim got a letter from Nel to day. The children brought a little chicken home today.
Last edit over 6 years ago by
Nathani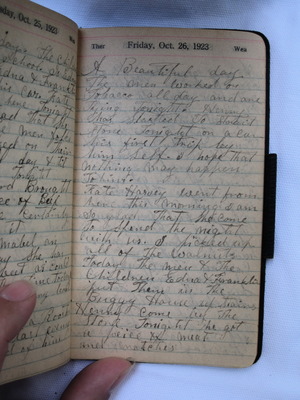 A beautiful day. The men worked on tobacco all day and are tying tonight. Henry has started to Straight Stone tonight on a car his first trip by him self. I hope that nothing may happen to him. Kate Harvey went from here this morning. I am so glad that she come to spend the night with us. I picked up all of the walnuts today. The men and the children Edna and Franklin put them in the buggy house up stairs. Henry come by the store tonight. He got a piece of meat and matches.
Last edit about 6 years ago by
Nathani