Search for yard*
1918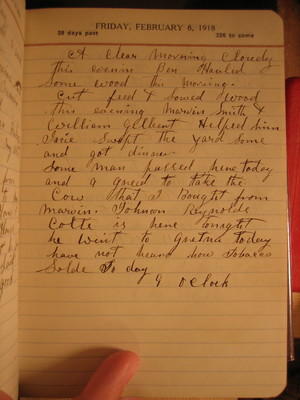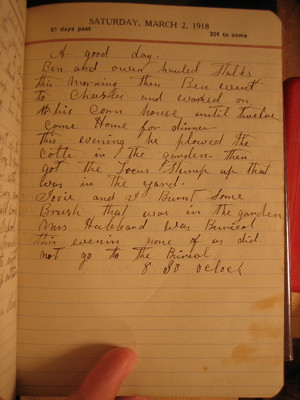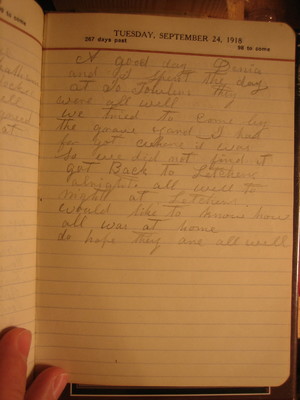 A good day. Denia and I spent the day at Jo Towlers. They were all well.
We tried to come by the grave yard. I had for got where it was so we did not find it.
Got back to Letchers alright. All well to night at Letchers.
Would like to know how all was at home.
Do hope they are all well.
Last edit almost 11 years ago by
Ben Brumfield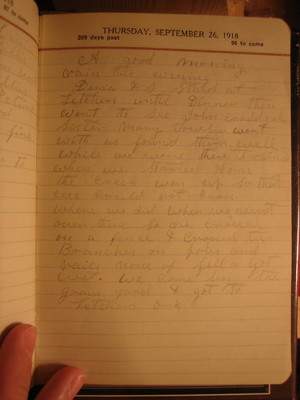 1919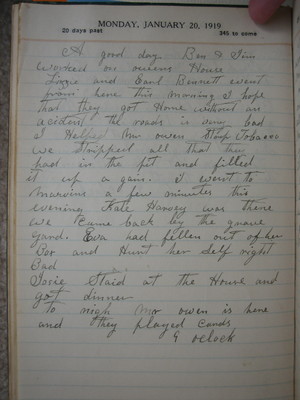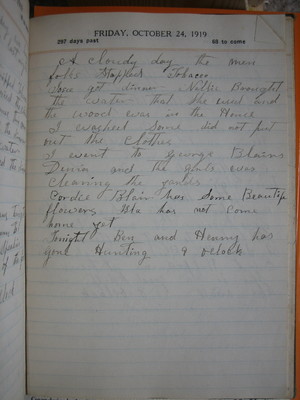 1921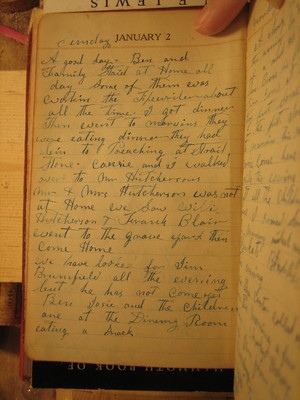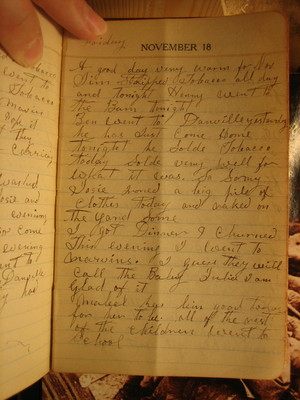 A good day. Very warm for Nov. Jim stripped tobacco all day and tonight. Henry went to the barn tonight. Ben went to Danville yesterday. He has just come home tonight. He solde tobacco today. Solde very well for what it was. So sorry. Josie ironed a big pile of clothes today and raked on the yard some. I got dinner. I churned. This evening I went to Marvins. I guess they will call the baby Julia. I am glad of it. Mabel has bin good today for her to be. All of the rest of the children went to school.
Last edit over 10 years ago by
Linda Tucker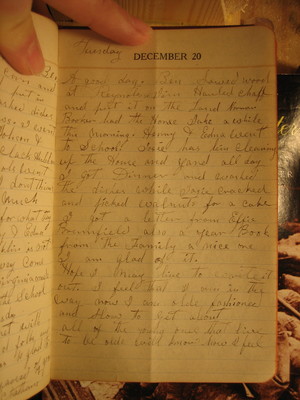 A good day. Ben sawed wood at Reynols. Jim hauled chaff and put it on the land. Norman Booker had the horse Jake a while this morning. Henry & Edna went to school. Josie has bin cleaning up the house and yard all day. I got dinner and washed the dishes while Josie cracked and picked walnuts for a cake. I got a letter from Effie Brumfield. Also a year book from the family, a nice one. I am glad of it. Hope I may live to write it out. I feel that I am in the way now. I am olde fashioned and slow to get about. All of the young ones that live to be olde will know how I feel.
Last edit over 10 years ago by
Linda Tucker
1920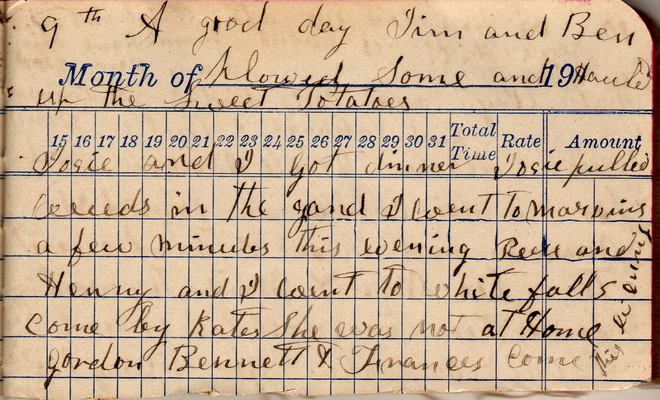 9th A good day. Jim and Ben plowed some and hauled up the sweet potatoes. Josie and I got dinner. Josie pulled weeds in the yard. I went to Marvins a few minutes this evening. Reese and Henry and I went to White Falls. Come by Kates. She was not at home. Gordon Bennett & Frances come this evening.
Last edit over 9 years ago by
Linda Tucker
1922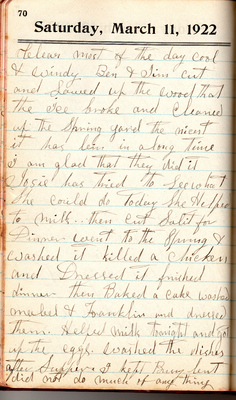 Clear most of the day. Cool & windy. Ben & Jim cut and sawed up the wood that the ice broke and cleaned up the spring yard. The nicest it has bin in along time. I am glad that they did it. Josie has tried to see what she could do today. She helped to milk then cut salit for dinner. Went to the spring & washed it. Killed a chicken and dressed it. Finished dinner then baked a cake. Washed Mabel & Franklin and dressed them. Helped milk tonight and got up the eggs. Washed the dishes after supper. I kept busy but did not do much of any thing.
Last edit about 6 years ago by
mkstewart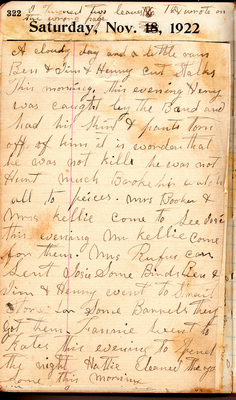 [note at top of page] I turned two leaves and wrote on the wrong page.
A cloudy day and a little rain. Ben and Jim and Henry cut stalks this morning. This evening Henry was caught by the band and had his shirt and pants torn off of him. It is a wonder that he was not kill. He was not hurt much. Broke his watch all to pieces. Mrs. Booker and Mrs Kelie come to see Josie this evening. Mr. Kellie come for them. Mrs Rufus Carr sent Josie some birds. Ben and Jim and Henry went to Strait Stone for some barrels. They got them. Fannie went to Kates this evening to spend the night. Hattie cleaned the yard some this morning.
Last edit over 6 years ago by
Nathani
1923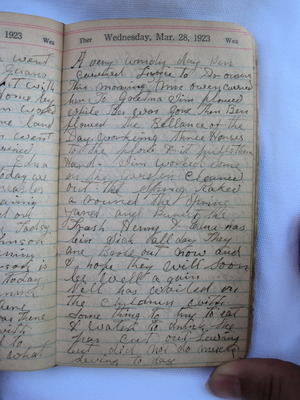 A very windy day. Ben carried Lizzie to Dr. Owen this morning. Mrs Owen carried her to Gretna. Jim plowed while Ben was gone. Then Ben plowed the ballance of the day. Working three horses to the plow and it pulls them hard. Jim worked some on the garden. Cleaned out the spring. Raked around the spring yard and burned the trash. Henry and Edna has bin sick all day. They are broke out now and I hope they will soon be well again. Nell has waited on the children with some thing to try to eat and water to drink. She has cut out sewing but did not do much sewing today.
Last edit about 7 years ago by
Nathani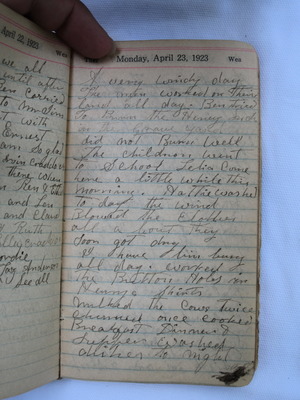 A very windy daty. The men worked on their land all day Ben tried to burn the honey suck in the grave yard. Did not burn well. The children went to school. Lelia come here a little while this morning. Hatie washed today. The wind blowed the clothes all about. They soon got dry. I have bin busy all day.Worked the button holes in Henrys shirts milked the cows twice churned once cooked breafast dinner and supper. Washed dishes tonight.
Last edit almost 7 years ago by
Nathani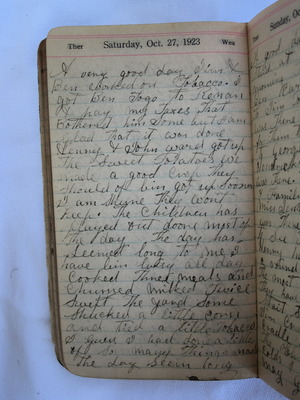 A very good day. Jim and Ben worked on tobacco. I got Ben to go to Renan and pay my taxes. That bothered him some but I am glad that it was done. Henry and John Ward got up the sweet potatoes. We made a good crop. They should of bin got up sooner. I am sure they won't keep. The children has played out doors most of the day. The day has seemed long to me. I have bin busy all day. Cooked three meals and churned. Milked twice. Swept the yard some. Shucked a little corn and tied a little tobacco. I guess I had done a little of so many things [and?] the day seem long.
Last edit about 6 years ago by
Nathani