Search for Posie* "Posey Reynolds" "Posie Reynolds" "Posie Reynolds" Posies* "Posie Reynols's" "Posie Reynols" Posise* "Posie Reynols"
1918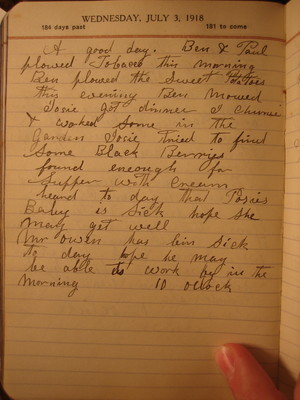 1919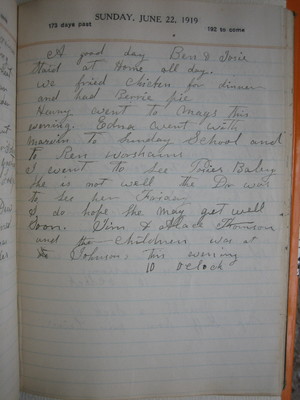 1921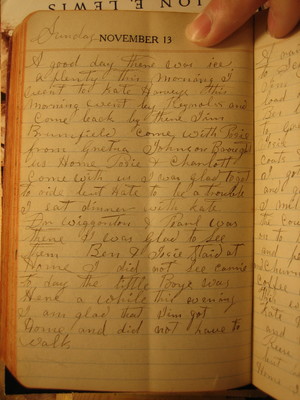 A good day. There was ice a plenty this morning. I went to Kate Harveys this morning. Went by Reynols's and come back by there. Jim Brumfield come with Posie from Gretna. Johnson brought us home. Posie & Charlott come with us. I was glad to get to ride but hate to be a trouble. I eat dinner with Kate. Dr Wiggonton & Pearl was there. I was glad to see them. Ben & Josie staid at home. I did not see Carrie to day. The little boys was here a while this evening. I am glad that Jim got home and did not have to walk.
Last edit over 10 years ago by
Linda Tucker
1920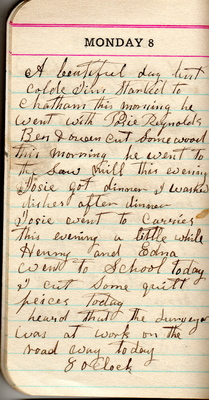 A beautiful day but colde. Jim started to Chatham this morning. He went with Posie Reynolds. Ben & Owen cut some wood this morning. He went to the saw mill this evening. Josie got dinner. I washed dishes after dinner. Josie went to Carries this evening a little while. Henry and Edna went to school today. I cut some quilt peices today. Heard that the surveyor was at work on the road way today.
8 oclock
Last edit about 10 years ago by
Linda Tucker
1922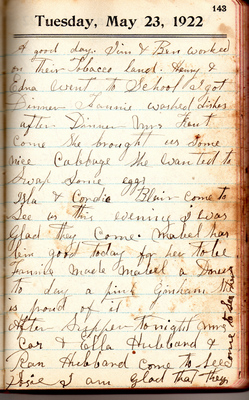 A good day. Jim + Ben worked on their Tobacco land. Henry + Edna went to School. I got Dinner. Tommie washed dishes after Dinner. Mrs Kent come she brought us some nice cabbage she wanted to swap some eggs. Isla + Cordie Blair come to See us this evening. I was glad they came. Mabel has bin good today for her to be. Fannie made Mabel a Dress to day a pink gingham she is proud of it. After supper to night Mrs Cor + Ella Hubbard + Ron Hubbard come to see Posie. I am glad that they came to see her
Last edit over 6 years ago by
Lydia B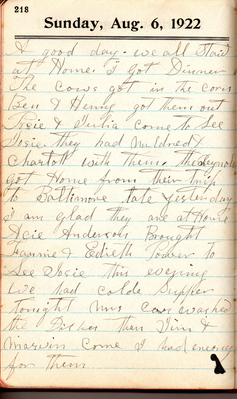 A good day. We all staid at home. I got dinner. The cows got in the corn. Ben & Henry got them out. Posie & Julia come to see Josie. they had Mildred & Charlott with them. The Reynols got home from their trip to Baltimore late yesterday. I am glad they are at home. Acie Anderson brought Fannie & Edith Power to see Josie this evening. We had colde supper tonight. Mrs Car washed the dishes then Jim & Marvin come. I had enough for them.
Last edit about 6 years ago by
mkstewart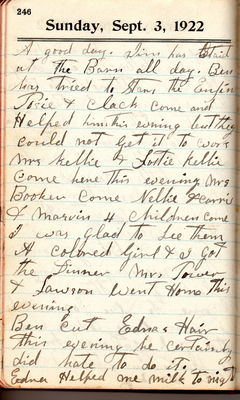 A good day. Jim has staid at the barn all day. Ben has tried to start the [engine?]. Posie & [Clack?] come and helped him this evening but they could not get it to work Mrs Kellie & Lottie Kellie come here this evening. Mrs Booker come. Nellie & Carrie & Marvin & children come. I was glad to see them. A coloured girl & I got the dinner. Mrs Power & Lawson went home this evening.
Ben cut Edna's hair this evening. He certainly did hate to do it. Edna helped me milk to night.
Last edit about 6 years ago by
mkstewart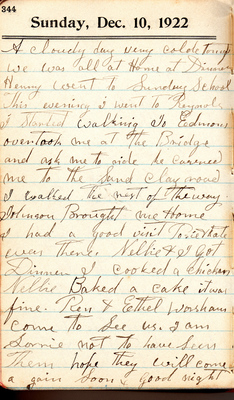 A cloudy day. Very colde tonight. We was all at home at dinner. Henry went to Sunday School. This evening I went to Reynols. I started walking. Jo Edmons overtook me at the bridge and ask me to ride. He carried me to the sand clay road. I walked the rest of the way. Johnson brought me home. I had a good visit. Posie & Kate was there. Nellie & I got dinner. I cooked a chicken. Nellie baked a cake. It was fine. [Ren?] & Ethel Worsham come to see us. I am sorrie not to have seen them. Hope they will come a gain soon. Good night.
Last edit almost 6 years ago by
mkstewart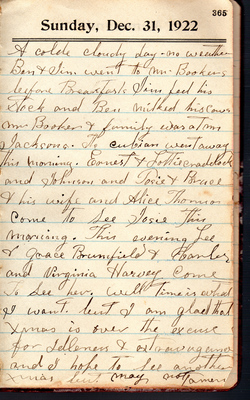 365 Sunday, Dec. 31, 1922 A colde cloudy day - no weather Ben & Jim went to Mr Bookers before breakfast Jim fed his stock and Ben milked his cows. Mr Booker & family was at Mrs Jacksons. The cubian[?] went away this morning. Ernest & Lottie Craddock and Johnson and Posie & Bruce & his wife and Alice Thomson come to see Josie this morning. This evening Lee & Grace Brumfield & Carles and Virginia Harvey come to see her. Well time is what I want. But I am glad that Xmas is over the excuse for idleness & extravagance and I hope to see another Xmas but may not/amen
Last edit almost 6 years ago by
mkstewart
1923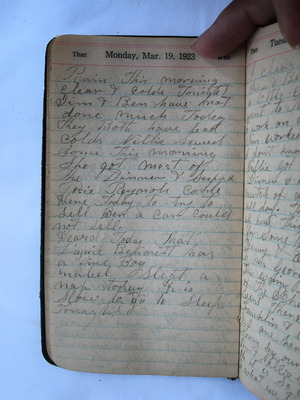 Rain this morning. Clear and cold tonight. Jim and Ben have not done much today. They both have head colds. Nellie sewed some this morning. She got most of the dinner and supper. Posie Reynolds come here today to try to sell Ben a car. Could not sell. Heard today that Lizzie Bennett has a fine boy. Mabel slept a nap today and is slow to go to sleep tonight.
Last edit over 7 years ago by
Nathani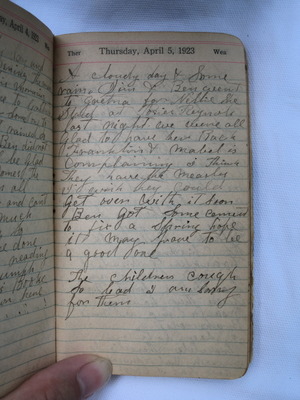 A cloudy day and some rain. Jim and Ben went to Gretna for Nellie. She staid at Posey Reynolds last night. We were all glad to have her back. Franklin and Mabel is complaining. I think they have the measles. I wish they could get over with it soon. Ben got some cement to fix a spring. Hope it may prove to be a good one. The children cough so bad I am sorry for them.
Last edit almost 7 years ago by
Nathani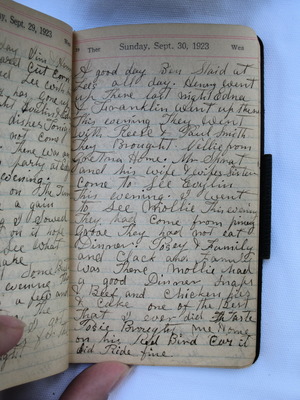 A good day. Ben staid at Lees all day. Henry went up there last night. Edna and Franklin went up there this evening. They went with Reese and Paul Smith. They brought Nellie from Gretna home. Mr. [Sprat?] and his wife and wife's sister come to see Evylin this evening. I went to see Mollie this evening. They had come from Piney Grove. They had not eat dinner. Posey and family and Clack and family was there. Mollie had a good dinner. Snaps and beef and chicken pies and cake. One of the best that I ever did taste. Posie brought me home on his Red Bird car. It did ride fine.
Last edit about 6 years ago by
Nathani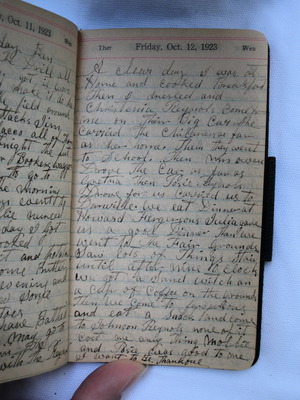 A clear day. I was at home and cooked breakfast. Then I dressed and Christenia Reynols come for me on their big car. She carried the children as far as her house. Then they went to school. Then Mrs Owen drove the car as far as Gretna. Then Posie Reynols drove for us. Carried us to Danville. We eat dinner at Howard Fergersons. Julia gave us a good dinner. Than we went to the fair grounds. Saw lots of things. Staid unitl after nine o clock. We got a sand witch an a cup of coffee on the grounds. Then we come to Fergersons and eat a snack and come to Johnson Reynols. None of it cost me any thing. Mollie and Posie was good to me. I want to be thankful.
Last edit about 6 years ago by
Nathani