Search for steak*
1918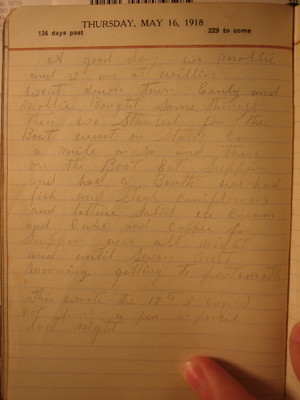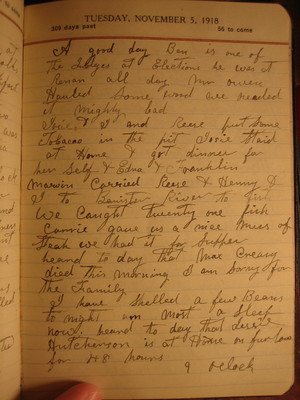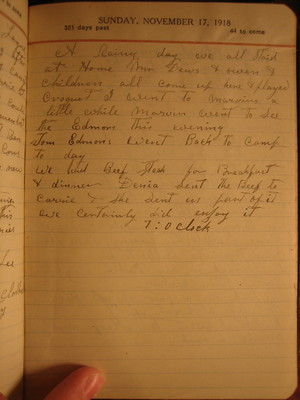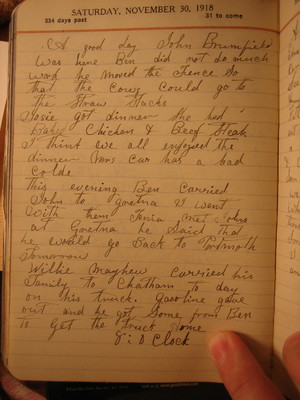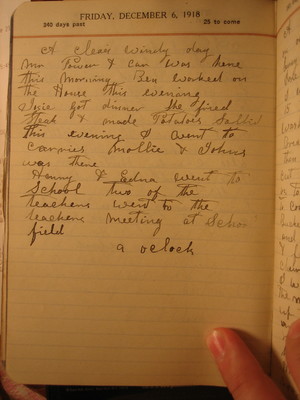 1921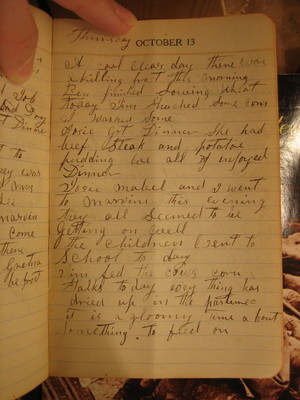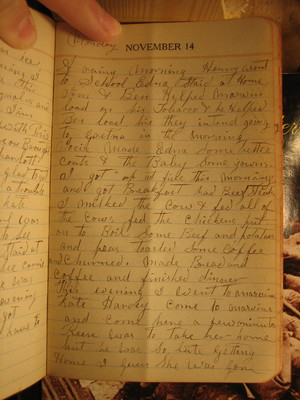 A rainy morning. Henry went to school. Edna staid at home. Jim & Ben helped Marvin load on his tobacco & he helped Ben load his. They intend going to Gretna in the morning. Josie made Edna some pettie coats & the baby some gowns. I got up at five this morning and got breakfast. Had beef steak. I milked the cow & fed all of the cows. Fed the chickens. Put on to boil some beef and potatoes and peas. Toasted some coffee and churned. Made bread and coffee and finished dinner. This evening I went to Marvins. Kate Harvey come to Marvins and come here a few minutes. Reese was to take her home but he was so late getting home I guess she was gone.
Last edit almost 11 years ago by
Linda Tucker
1922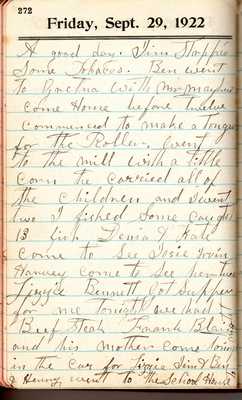 A good day. Jim stripped some tobacco. Ben went to Gretna with Mr Mayhew. Come home before twelve. Commenced to make a tongue for the roller. Went to the mill with a little corn. He carried all of the children and I went two. I fished some. Caught 13 fish. Denia & Kate come to see Josie. Irvin Harvey come to see her two. Lizzie Bennett got supper for me tonight. We had beef steak. Frank Blair and his mother come tonight in the car for Lizzie. Jim & Ben & Henry went to the school house.
Last edit over 6 years ago by
mkstewart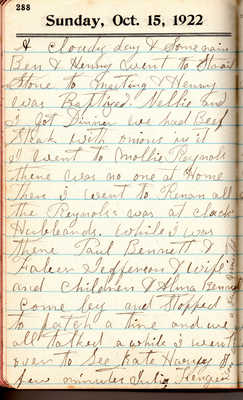 A cloudy day & some rain. Ben & Henry went to Strait Stone to meeting & Henry was baptized. Nellie and I got dinner. We had beef steak with onions in it. I went to Mollie Reynols. There was no one at home. Then I went to Renan. All the Reynols was at Clack Hubbards. While I was there Paul Bennett & Faber Jefferson & wife and children & Alma Bennet come by and stopped to patch a time and we all talked a while. I went over to see Kate Harvey a few minutes. Julia Fergerson come a few minutes.
Last edit over 6 years ago by
mkstewart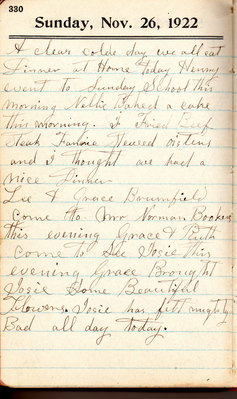 A clear colde day. We all eat dinner at home today. Henry went to Sunday School this morning. Nellie baked a cake this morning. I fried beef steak. Fannie stewed oisters and I thought we had a nice dinnner.
Lee & Grace Brumfield come to Mr Norman Bookers this evening. Grace & Ruth come to see Josie this evening. Grace brought Josie some beautiful flowers. Josie has felt mighty bad all day today.
Last edit over 6 years ago by
mkstewart