Search for party*
1920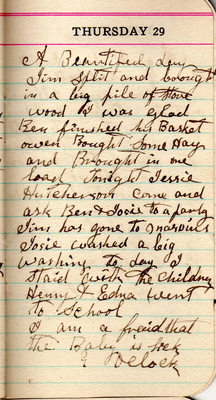 A beautiful day. Jim split and brought in a big pile of stove wood. I was glad. Ben finished his basket. Owen bought some hay and brought in one load. Tonight Jessie Hutcherson come and ask Ben & Josie to a party. Jim has gone to Marvin's. Josie washed a big washing today. I staid with the children. Henry & Edna went to school. I am a fraid that the baby is sick. 9 oclock
Last edit about 10 years ago by
Neil Brumfield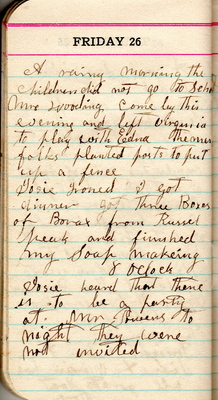 A rainy morning. The children did not go to school. Mrs. Wooding come by this evening and left Virginia to play with Edna. The men folks planted posts to put up a fence. Josie ironed. I got dinner. Got three boxes of borax from Russel Peak and finished my soap makeing.
8 oclock
Josie heard that there is to be a party at Mr Powers to night. They were not invited.
Last edit about 10 years ago by
Linda Tucker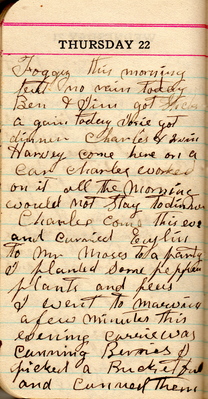 Foggy this morning but no rain today. Ben & Jim got sticks a gain today. Josie got dinner. Charles & Irvin Harvey come here on a car. Charles worked on it all the morning. Would not stay to dinner. Charles come this eve and carried Evylin to Mr Moses to a party. I planted some pepper plants and peas. I went to Marvins a few minutes this evening. Carrie was canning berries. I picked a bucketful and canned them.
Last edit over 9 years ago by
Linda Tucker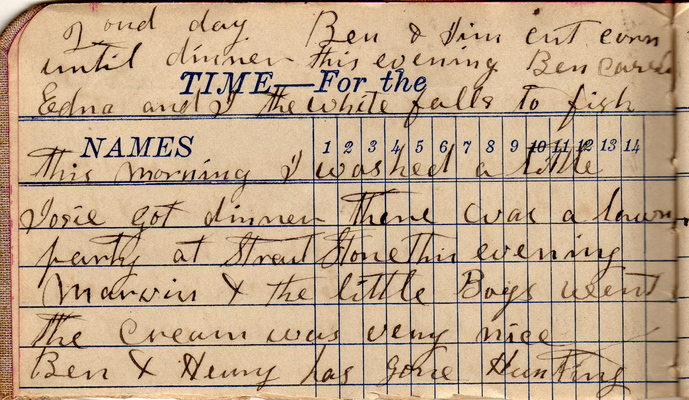 2ond day
Ben and Jim cut corn until dinner this evening. Ben carried Edna and I [to] White Falls to fish. This morning I washed a little. Josie got dinner. There was a lawn party at Strait Stone this evening. Marvin and the little boys went. The cream was very nice. Ben & Henry has gone hunting.
Last edit over 9 years ago by
Linda Tucker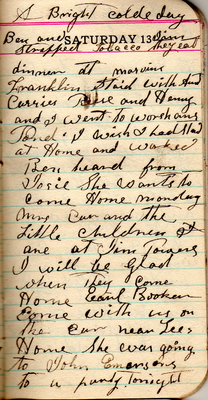 A bright colde day. Ben and Jim stripped tobacco. They eat dinner at Marvins. Franklin staid with Aunt Carrie. Reese and Henry and I went to Worshams Pond. I wish I had staid at home and worked. Ben heard from Josie. She wants to come home Monday. Mrs Car and the little children are at Jim Powers. I will be glad when they come home. Earl Booker come with us on the car near Lees home. She was going to John Emersons to a party tonight.
Last edit about 9 years ago by
Linda Tucker
1922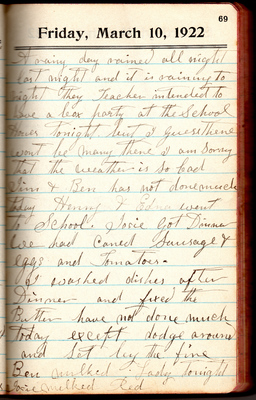 A rainy day. Rained all night last night and it is raining to night. They teacher intended to have a box party at the school houes tonight but I guess there wont be many there. I am sorry that the weather is so bad. Jim & Ben has not done much today. Henry & Edna went to school. Josie got dinner. We had caned sausage & eggs and tomatoes. I washed dishes after dinner and fixed the butter. Have not done much today except dodge around and set by the fire. Ben milked Lady tonight. Josie milked Red.
Last edit about 6 years ago by
Ladybug1492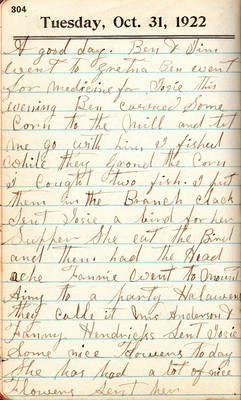 A good day. Ben & Jim went to Gretna. Ben went for medicine for Josie this evening. Ben carried some corn to the mill and let me go with him. I fished while they ground the corn. I caught two fish. I put them in the branch clack. Sent Josie a bird for her supper. She eat the bird and then had the head ache. Fannie went to Mount Ainy[?] to a party. Halawene they called it. Mrs Anderson & Fanny Hendricks sent Josie some nice flowers today. She has had a lot of nice flowers sent her.
Last edit about 6 years ago by
mkstewart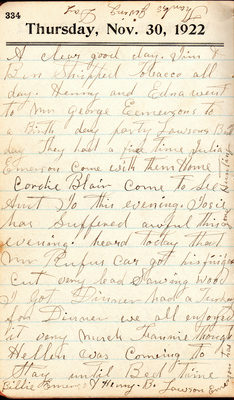 A clear good day. Jim & Ben stripped tobacco all day. Henry and Edna went to Mr George Eemersons to a birth day party. Lawsons birth day. They had a fine time. Julia Emerson come with them home. Cordie Blair come to see Aunt Jo this evening. Josie has suffered awful this evening. Heard today that Mr Rufus Car got his finger cut very bad sawing wood. I got dinner. Had a turkey for dinner. We all enjoyed it very much. Fannie thought Hellen was comeing to stay until bed time. Billie Emerson & Henry & B & Lawson Emerson has gone hunting.
Thanksgiving Day.
Last edit almost 6 years ago by
mkstewart
1923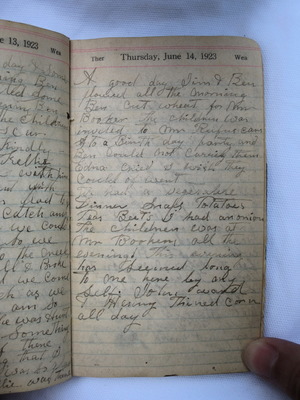 A good day. Jim and Ben plowed all the morning. Ben cut wheat for Mr Booker. The children was invited to Mr. Rufus Carrs to a birth day party and Ben could not carry them. Edna cried. I wish they could of went. We had a vegetable dinner. Snaps, potatoes, peas, beets. I had an onion. The children was at Mr Bookers all the evening. This evening has seemed long to me here by my self. John Ward and Henry thined corn all day.
Last edit over 6 years ago by
Nathani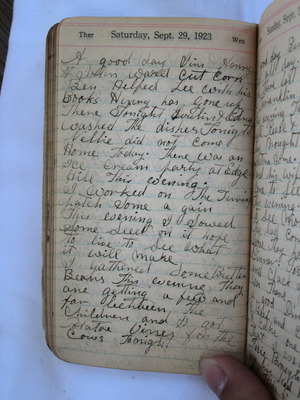 A good day. Jim and Henry and John Ward cut corn. Ben helped Lee with his books. Henry has gone up there tonight. Evelin and Edna washed the dishes tonight. Nellie did not come home today. There was an ice cream party at Edge Hill this evening. I worked on the turnip patch some a gain this evening. I sowed some seed on it. Hope to live to see what it will make. I gathered some butter beans this evening. They are getting a few and far between. The children and I got potatoe vines for the cows tonight.
Last edit over 6 years ago by
Ben Brumfield