Search for Jack* "Jack Harvey" "Jack Harvey"
1921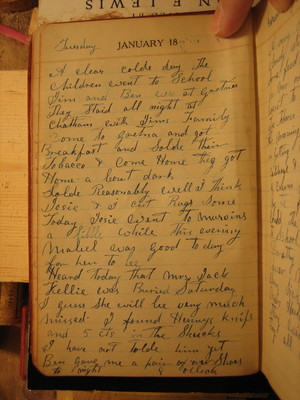 1920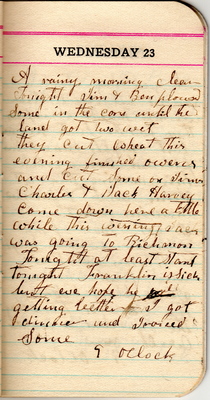 A rainy morning. Clear tonight. Jim & Ben plowed some in the corn until the land got two wet. They cut wheat this evening, finished Owens and cut some on Jims. Charles & Jack Harvey come down here a little while this evening. Jack was going to Richmon tonight. At least start tonight. Franklin is sick but we hope he will getting better. I got dinner and ironed some. 9 oclock
Last edit over 9 years ago by
Linda Tucker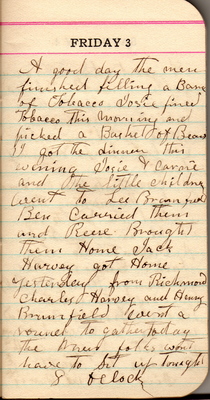 A good day. The men finished filling a bank of tobacco. Josie fired tobacco this morning and picked a basket of beans. I got the dinner. This evening Josie & Carrie and the little children went to Lee Brumfield. Ben carried them and Reese brought them home. Jack Harvey got home yesterday from Richmond. Charles Harvey and Henry Brumfield went a round to gather today. The men folks wont have to sit up tonight. 8 oclock
Last edit over 9 years ago by
Linda Tucker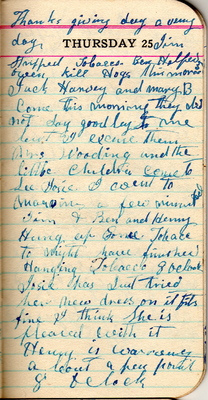 Thanks giving day. A very day. Jim stripped tobacco. Ben helped Owen kills hogs this morning. Jack Harvey and Mary B come this morning. They did not say goodby to me but I excuse them. Mrs Wooding and the little children come to see Josie. I went to Marvins a few minutes. Jim & Ben and Henry hung up some tobaco to night. Have finished hanging tobacco 8 oclock. Josie has just tried her new dress on. It fits fine. I think she is pleased with it. Henry is [?] a bout a pen point. 8 oclock
Last edit about 9 years ago by
Linda Tucker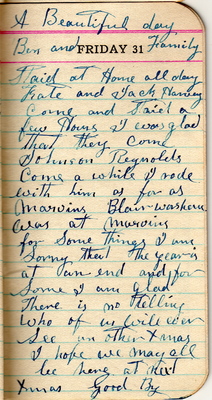 A beautiful day. Ben and family staid at home all day. Kate and Jack Harvey come and staid a few hours. I was glad that they come. Johnson Reynolds come a while. I rode with him as far as Marvins. Blair Worsham was at Marvins for some things. I am sorry that the year is at an end and for some I am glad. There is no telling who of us will ever see an other xmas. I hope we may all be here at next Xmas. Good by.
Last edit about 9 years ago by
Linda Tucker
1922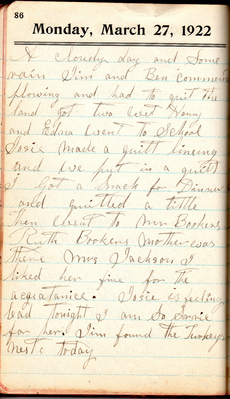 A cloudy day and some rain. Jim and Ben commenced plowing and had to quit. The land got too wet. Henry and Edna went to school. Josie made a quilt lineing and we put in a quilt. I got a snack for dinner and quilted a little. Then went to Mr Bookers. Ruth Brookers mother was there Mrs Jackson. I liked her fine for the acgiatanice[acquaintance]. Josie is feeling bad tonight I am so sorrie for her. Jim found the turkeys nests today.
Last edit over 5 years ago by
mkstewart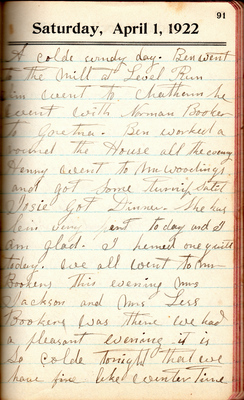 A colde windy day.Ben went to the Mill at Level Run. Jim went to Chatham. He went with Norman Booker to Gretna. Ben worked a round the house all the evening. Henry went to Mr. Woodings and got some turnip salit. Josie got dinner. She has bin very [pert?pent] to day and I am glad. I hemed one quilt today. We all went to Mr. Booker's this evening. Mrs Jackson and Mrs Less Bookers was there. We had a pleasant evening. It is so colde tonight that we have fire like winter time.
Last edit over 5 years ago by
mkstewart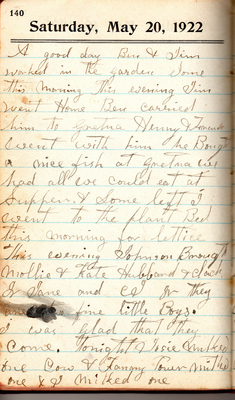 A good day. Ben & Jim worked in the garden some this morning. This evening Jim went home. Ben carried him to [Gaetna?]. Henry & Frank went with him. He bought a nice fish at [Gaetna?]. We had all we could eat at supper & some left. I went to the plant bed this morning for lettice. This evening Johnson brought Mollie & Kate Hubbard and Jack Jr. Jane and [?] Jr. they are two fine little boys.
I was glad that they come. Tonight Josie walked one cow & Fanny [Tower?] milked one & I milked one.
Last edit over 6 years ago by
trickqba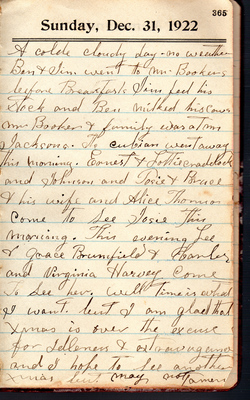 365 Sunday, Dec. 31, 1922 A colde cloudy day - no weather Ben & Jim went to Mr Bookers before breakfast Jim fed his stock and Ben milked his cows. Mr Booker & family was at Mrs Jacksons. The cubian[?] went away this morning. Ernest & Lottie Craddock and Johnson and Posie & Bruce & his wife and Alice Thomson come to see Josie this morning. This evening Lee & Grace Brumfield & Carles and Virginia Harvey come to see her. Well time is what I want. But I am glad that Xmas is over the excuse for idleness & extravagance and I hope to see another Xmas but may not/amen
Last edit almost 6 years ago by
mkstewart
1923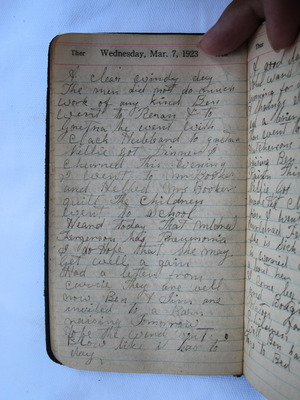 A clear windy day. The men did not do much work of any kind. Ben went to Renan and to Gretna. He went with Jack Hubband to Gretna. Nellie got dinner and churned. This evening I went to Mr. Booker and helped Mrs. Booker quilt. The children went to school. Heard today that Mildred Fergerson has pneumonia. I do hope that she may get well again. Had a letter from Carrie. They are well now. Bend and Jim are invited to a barn raising tomorrow. Hope the wind won't blow like it has today.
Last edit over 7 years ago by
Nathani