Search for pumpkin* pumpkins*
1918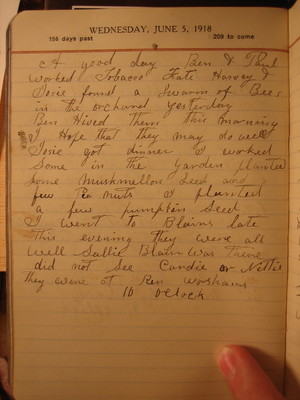 1921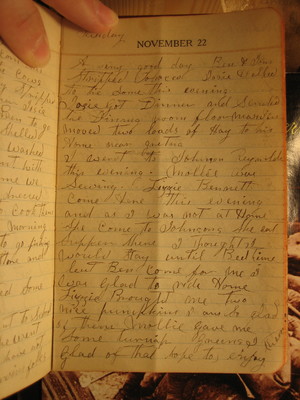 A very good day. Ben & Jim stripped tobacco. Josie helped to tie some this evening. Josie got dinner and scrubed the dining room floor. Marvin moved two loads of hay to his home near Gretna. I went to Johnson Reynolds this evening. Mollie was sewing. Lizzie Bennett come here this evening and as I was not at home she come to Johnsons. She eat supper there. I thought I would stay until bed time but Ben come for me. I was glad to ride home. Lizzie brought me two nice pumpkins. I am so glad of them. Mollie gave me some turnip greens. I glad of that. Hope to enjoy them.
Last edit over 10 years ago by
Linda Tucker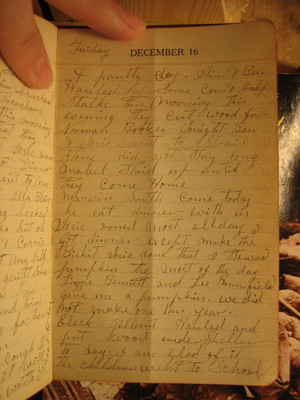 A partly day. Jim & Ben hauled up some corn stalks this morning. This evening they cut wood for Norman Booker. Tonight Ben & Josie went to Strait Stone. Did not stay long. Mabel staid up until they come home. Marvin Smith come today. He eat dinner with us. Josie ironed most allday. I got dinner except make the biskit. Josie done that. I stewed pumpkin the most of the day. Lizzie Bennett and Lee Brumfield gave me a pumpkin. We did not make one this year. Eleck Gilbert hauled and put wood under shelter to day. I am glad of it. The children went to school.
Last edit over 10 years ago by
Linda Tucker
1920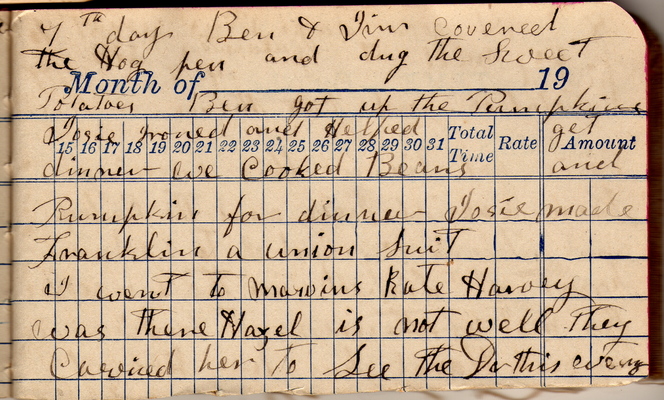 7th day Ben and Jim covered the hog pen and dug the sweet potatoes. Ben got up the pumpkins. Josie ironed and helped get dinner. We cooked beans and pumpkin for dinner. Josie made Franklin a union suit. I went to Marvins. Kate Harvey was there. Hazel is not well. They carried her to see the Dr this evening.
Last edit over 9 years ago by
Linda Tucker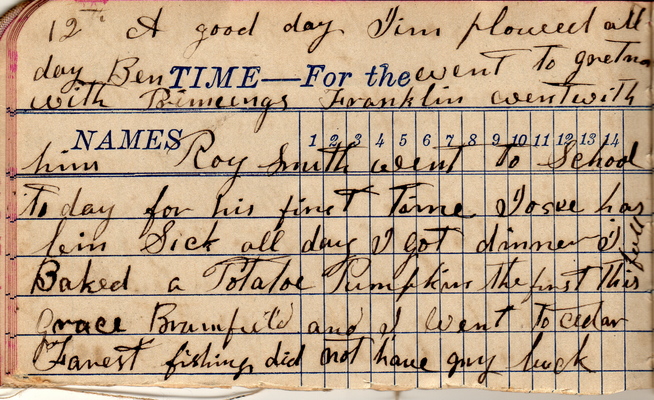 12th A good day. Jim plowed all day. Ben went to Gretna with primeings[?] Franklin went with him. Roy Smith went to school to day for his first time. Josie has bin sick all day. I got dinner. I baked a potatoe. Pumpkins the first this fall. Grace Brumfield and went to Cedar Forest fishing. Did not have any luck.
Last edit over 9 years ago by
Linda Tucker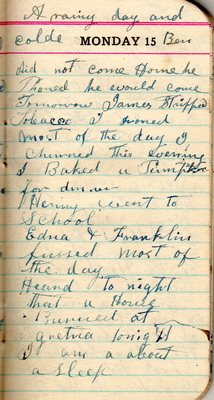 A rainy day and colde. Ben did not come home. He phoned he would come tomorrow. James stripped tobacco. I ironed most of the day. I churned this evening. I baked a pumpkin for dinner. Henry went to school. Edna & Franklin fussed most of the day. Heard to night that a house burned at Gretna tonight. I am about asleep.
Last edit over 9 years ago by
Linda Tucker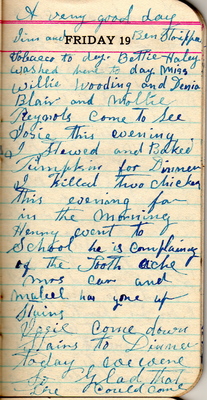 A very good day. Jim and Ben stripped tobacco to day. Bettie Haley washed here to day. Miss Willie Wooding and Denia Blair and Mollie Reynols come to see Josie this evening. I stewed and baked pumpkins for dinner. I killed two chickens this evening for in the morning. Henry went to school. He is complaining of the tooth ache. Mrs Car and Mabel has gone up stairs. Josie come down stairs to dinner today. We were so glad that she could come.
Last edit over 9 years ago by
Linda Tucker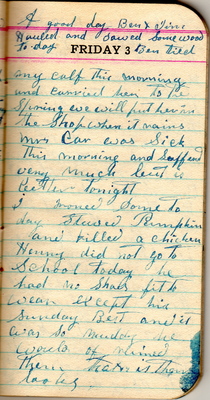 A good day. Ben & Jim hauled and sawed some wood to day. Ben tied my calf this morning and carried her to the spring. We will put her in the shop when it rains. Mrs Car was sick this morning and suffered very much but is better tonight. I ironed some to day. Stewed pumpkin and killed a chicken. Henry did not go to school today. He had no shoes fit to wear except his Sunday best and it was so muddy he would of ruined them [?]
Last edit over 9 years ago by
Linda Tucker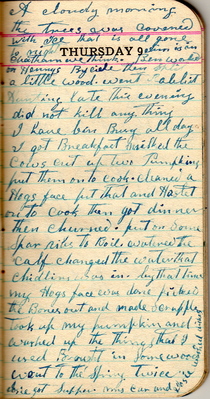 A cloudy morning. The trees was covered with ice that is all gone to night. Jim is in Chatham we think. Ben worked on Henrys bycicle then split a little wood. Went rabbit hunting late this evening. Did not kill any thing. I have bin busy all day. I got breakfast, milked the cows, cut up two pumpkins, put them on to cook, cleaned a hogs face, put that and haslet on to cook then got dinner then churned, put on some spar ribs to boil, watered the calf, changed the water that chidlins was in. By that time my hogs face was done. Picked the bones out and made scrapple. Took up my pumpkin and washed up the things that I used. Brought in some wood. Went to the spring twice. Josie got supper. Mrs. Car and Josie washed dishes.
Last edit over 9 years ago by
Linda Tucker
1923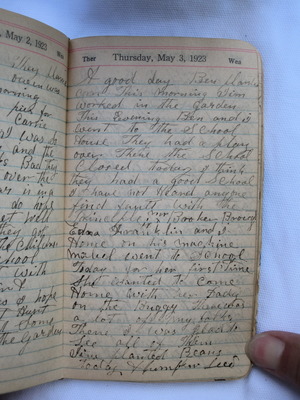 A good day. Ben planted corn this morning. Jim worked in the garden. This evening Ben and I went to the school house. They had a play over there. The school closed today. I think they had a good school. I have not heard anyone find fault with the principle. Mr. Booker brought Edna Franklin and I home on his machine. Mabel went to school today for her first time. She wanted to come home with her dady on the buggy. There was was a lot of my folks there. I was glad to see all of them. Jim planted beans today and pumpkin seed.
Last edit almost 7 years ago by
Nathani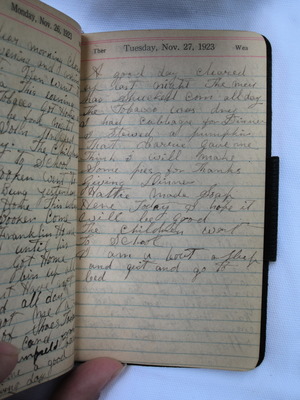 A good day. Cleared up last night. The men has shucked corn all day. The tobacco was dry. I had cabbage for dinner. I stewed a pumpkin that Carrie gave me. Think I will make some pies for Thanks Giving dinner. Hattie made soap here today. I hope it will be good. The children went to school. I am a bout a sleep and git[?] and go to bed.
Last edit about 6 years ago by
Nathani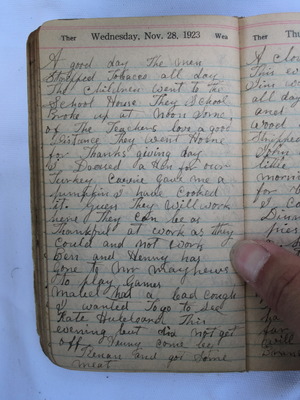 A good day. The men stripped tobacco all day. The children went to the school house. They [sic] school broke up at noon. Some of the teachers li[?]ve a good distance. They went home for Thanks giving day. I dressed a hen for our turkey. Carrie gave me a pumpkin. I have cooked it. Guess they will work here. They can be as thankful at work as they could and not work. Ben and Henry has gone to Mr. Mayhew's to play games. Mabel had a bad cough. I wanted to go to see Kate Hubband this evening but did not get off. Henry come by Renan and got some meat.
Last edit about 6 years ago by
Nathani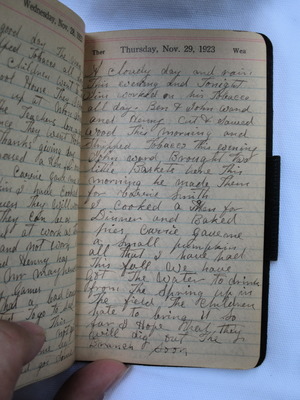 A cloudy day and rain this evening and tonight. Jim worked on his tobacco all day. Ben and John Ward and Henry cut and sawed wood this morning and stripped tobacco this evening. John Ward brought two little baskets here this morning. He made them for Carrie Smith. I cooked a hen for dinner and baked pies. Carrie gave me a small pumpkin, all that I have had this fall. We have got the water to drink from the spring up in the field. The Children hate to bring it so far. I hope that they will dig out the branch soon.
Last edit about 6 years ago by
Nathani