Search for oats*
1919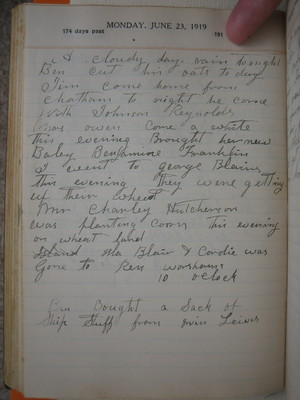 1921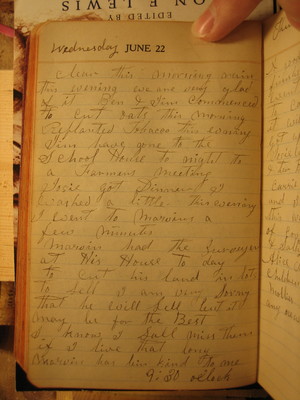 Clear this morning. Rain this evening. We are very glad of it. Ben & Jim commenced to cut oats this morning. Replanted tobacco this evening. Jim have gone to the school house to night to a farmers meeting.
Josie got dinner. I washed a little. This evening I went to Marvins a few minutes.
Marvin had the surveyor at his house to day to cut his land in lots to sell. I am very sorry that he will sell but it may be for the best. I know I sall miss them if I live that long. Marvin has bin kind to me.
9:30 oclock
Last edit over 9 years ago by
Ben Brumfield
1920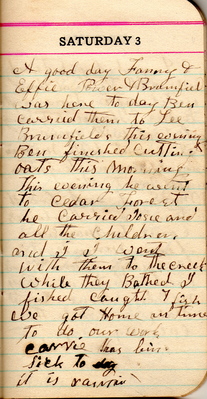 A good day. Fanny & Effie Power & Brumfield was here to day. Ben carried them to Lee Brumfields this evening. Ben finished cutting oats this morning. This evening he went to Cedar Forest. He carried Josie and all the children and I. I went with them to the creek. While they bathed I fished. Caught 7 fish. We got home on time to do our work. Carrie has bin sick to day. It is raining.
Last edit over 9 years ago by
Linda Tucker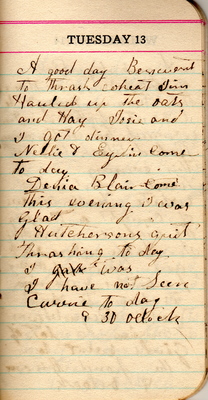 A good day. Ben went to thrash wheat. Jim hauled up the oats and hay. Josie and I got dinner. Nellie & Evylin come to day. Denia Blair come this evening. I was glad. Hutchersons quit thrashing to day. I was I have not seen Carrie to day. 9:30 oclock
Last edit over 9 years ago by
Linda Tucker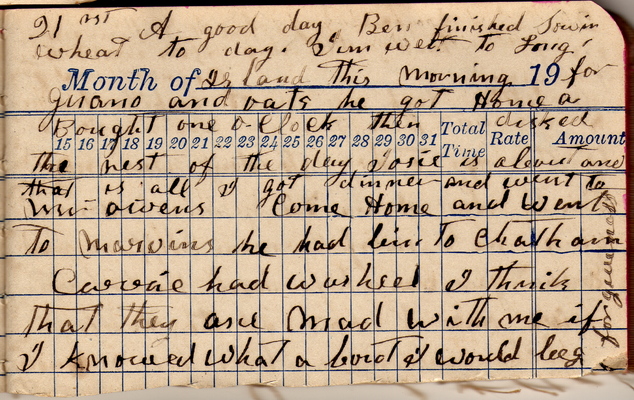 21st A good day. Ben finished sowin wheat to day. Jim went to Long Island this morning for guano and oats. He got home a bought one o-clock then disked the rest of the day. Josie is about and that is all. I got dinner and went to Mr Owens. Come home and went to Marvins. He had bin to Chatham. Carrie had washed. I think that they are mad with me. If I knowed what a bout I would beg forgiveness.
Last edit about 9 years ago by
Linda Tucker
1922
A good day. Ben & Jim finished getting the wheat and cut the oats. They cut a few oats for Mr. Booker. Lizzie & [Loney?] Bennett come to see us today. I was glad that they come. Lenney carried all the children and I to [Renan?]. I went to see Kate a few minutes. Dr. Wigginton & Pearl was there. I was glad to see them. The bees swarmed today. Ben hived them. I am getting vegetables a plenty now. The people around has bin very good to us. I know we are to be pittied. I am olde and give out & Josie is sick and has to be waited on.
Last edit almost 6 years ago by
gutterpeach
A good day. The boys finished getting up hay and oats and commence plowing tobacco. Mrs. Trent and I got dinner. Josie had bin feeling better today. Grace Brumsfield & Lottie Kellie come to see Josie today. Grace brought some apples. Hattie Gilbert washed here today. I am glad to get her to wash. Henry got very mad today because we tied the dog. Mrs. [Eldens?] little baby was buried this morning. Nellie B came this evening. We are glad to have her. My cow is bad off in some way. I don't know what to do for her.
Last edit almost 6 years ago by
gutterpeach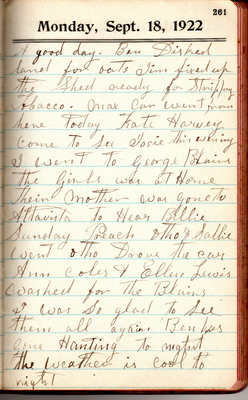 A good day. Ben disked land for oats. Jim fixed up the shed ready for stripping tobacco. Max Car went from here today. Kate Harvey come to see Josie this evening. I went to George Blairs. The girls was at home. Their mother was gone to Altavista to hear Billie Sunday preach. Otho & Sallie went. Otho drove the car. Ann Coles & Ellen Lewis washed for the Blairs. I was so glad to see them all again. Ben has gone hunting to night. The weather is cool to night.
Last edit almost 6 years ago by
mkstewart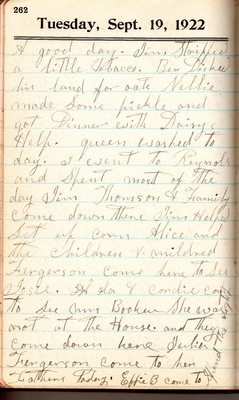 A good day. Jim stripped a little tobacco. Ben disked his land for oats. Nellie made some pickle and got dinner with Daisys help. Queen washed to day. I went to Reynols and spent most of the day. Jim Thomson & family come down there. Jim helped set up corn. Alice and the children & Mildred Fergerson come here to see Josie. [Ila?] & Cordie come to see Mrs Booker. She was not at the house and they come down here. Julia Fergerson come to her fathers today. Effie B come to spend the night.
Last edit almost 6 years ago by
mkstewart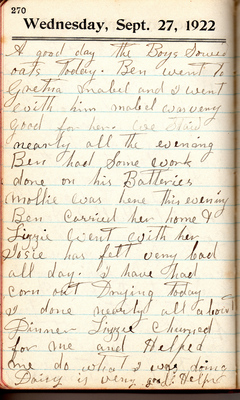 A good day. The boys sowed oats today. Ben went to Gretna. Mabel and I went with him. Mabel was very good for her. We staid nearly all the evening. Ben had some work done on his batteries. Mollie was here this evening. Ben carried her home & Lizzie went with her. Josie has felt very bad all day. I have had corn out drying today. I done nearly all about dinner. Lizzie churned for me and helped me do what I was doing. Daisy is very good help.
Last edit almost 6 years ago by
mkstewart
1923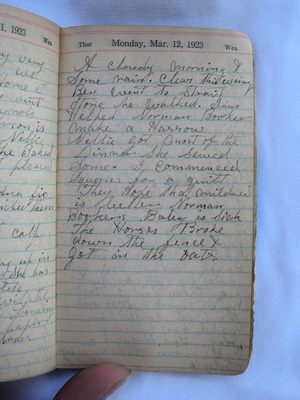 A cloudy morning and some rain. Clear this evening. Ben went to Strait Stone. He walked. Jim helped Norman Booker make a [harrow]. Nellie got most of the dinner. She sewed some. I commenced squares for a quilt. They hope that Mildred is better. Norman Booker's [Baley] is sick. The horses broke down the fence and got in the oats.
Last edit over 7 years ago by
Nathani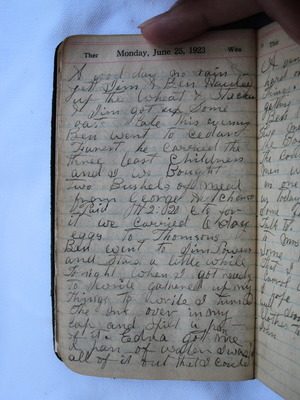 A good day. No rain yet. Jim and Ben hauled up the wheat and stacked and Jim got up some oats. Late this evening Ben went to Cedar Forest. He carried the three least children and I. We bought two bushels of meal from George Hutchenson. Paid #2:20 cts for it. We carried 6 dozen eggs to Thomsons. Ben went to Jim Powers and staid a little while. Tonight when I got ready to write gathered up my things to write I turned the ink over in my lap and spill a [pon? or upon] of it. Edna got me a pan of water. I washed all of it out that I could.
Last edit over 6 years ago by
Nathani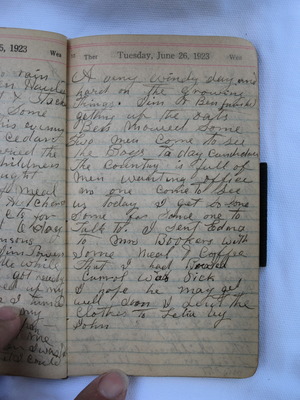 A very windy day and hard on the growing things. Jim and Ben finished getting up the oats. Ben mowed some. Two men come to see the boys today. Candidates. The county is full of men wanting office. No one come to see us today. I get so lone some for some one to talk to. I sent Edna to Mrs. Bookers with some meal an dcoffee that I had roasted. [Carrol?] was sick. I hope he may get well soon. I sent the clothes to Lelia by John.
Last edit over 6 years ago by
Nathani