Search for Jane* "Jane Reynolds" "Cliftons wife" "Jane Reynolds" "Jane Reynols"
1918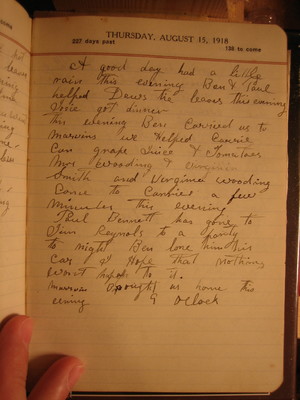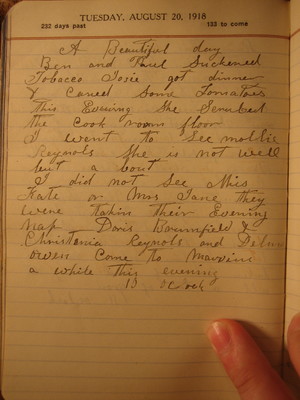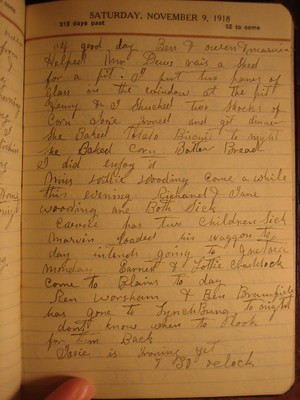 1919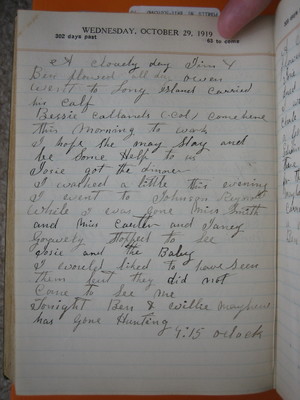 1921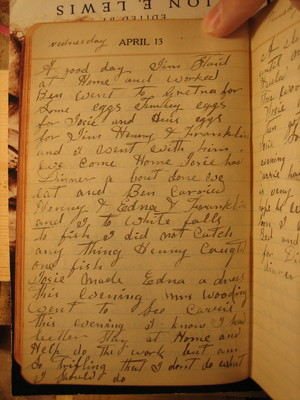 A good day. Jim staid at home and worked. Ben went to Gretna for some eggs. Turkey eggs for Josie and hens eggs for Jim. Henry & Franklin and I went with him.
We come home. Josie had dinner a bout done. We eat and Ben carried Henry & Edna & Franklin and I to White Falls to fish. I did not catch any thing. Henry caught one fish.
Josie made Edna a dress this evening. Mrs Wooding went to see Carrie this evening. I know I had better stay at home and help do the work but am so trifling that I dont do what I should do.
Last edit over 6 years ago by
dy957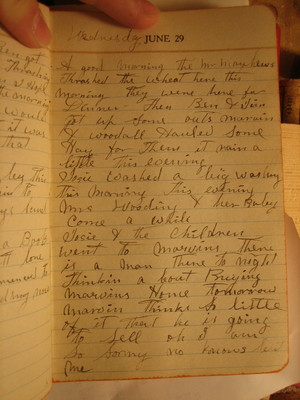 A good morning. The Mr Mayhews thrashed the wheat here this morning. They were here for dinner. Then Ben & Jim got up some oats. Marvin & Woodall hauled some hay for them. It rain a little this evening.
Josie washed a big washing this morning. This evening Mrs Wooding & her baby come a while.
Josie & the children went to Marvins. There is a man there to night thinkin a bout buying Marvins home tomorrow. Marvin thinks so little of it that he is going to sell. Oh I am so sorry. No knows but me.
Last edit over 9 years ago by
Ben Brumfield
1922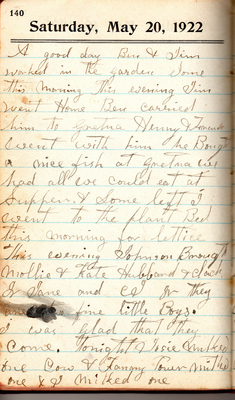 A good day. Ben & Jim worked in the garden some this morning. This evening Jim went home. Ben carried him to [Gaetna?]. Henry & Frank went with him. He bought a nice fish at [Gaetna?]. We had all we could eat at supper & some left. I went to the plant bed this morning for lettice. This evening Johnson brought Mollie & Kate Hubbard and Jack Jr. Jane and [?] Jr. they are two fine little boys.
I was glad that they come. Tonight Josie walked one cow & Fanny [Tower?] milked one & I milked one.
Last edit over 6 years ago by
trickqba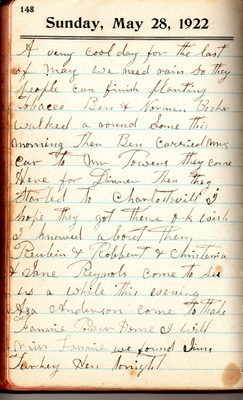 A very cool day for the last of May. We need rain so they people can finish planting tobacco. Ben & Norman [Booker?] walked a round some this morning then Ben carried [mms] Car to Mr. Towers. They come here for dinner then thay started to Charlottsvill. I hope they got there ok. Wish I knowed about them Reubin & Robbert & Christenia & Jane Reynolds come to see us a while this evening Asa Anderson come to thake Frannie Power home. I will miss Fannie. We found Jims turkey here tonight.
Last edit over 6 years ago by
kleind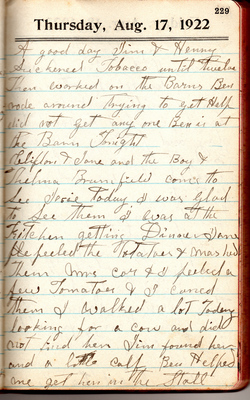 A good day. Jim & Henry suckered tobacco until twelve then worked on the barns. Ben rode around trying to get help. Did not get any one. Ben is at the Barn tonight. [Clifton?] & Jane and the boy & Thelma Brunmfield come to see Josie today. I was glad to see them. I was at the kitchen getting dinner. Jane peeled the potatoes & mashed them. Mrs Car & I peeled a few tomatoes & I caned them. I walked a lot today looking for a cow and did not find her. Jim found her and a little calf. Ben helped me get her in the stall.
Last edit about 6 years ago by
mkstewart
1923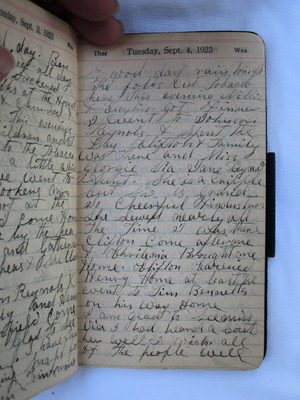 A good day. Rain tonight. The folks cut tobacco here this evening. Nellie and Evelyn got dinner. I went to Johnson Reynols and spent the day. Clifton and family was there and Miss Georgie Via Jane Reynols aunt. She is a cripple but she is grand. So cheerful and industrious. She sewed nearly all the time I was there. Clifton come after me and Christenia brought me home. Clifton carried Henry home. At least he went to Tim Bennetts on his way home. I am glad to see Miss Via. I had hear about her. Well I wish all of the people well.
Last edit over 6 years ago by
Nathani