Search for "Virginia Wooding" "Virginia Wooding"
1921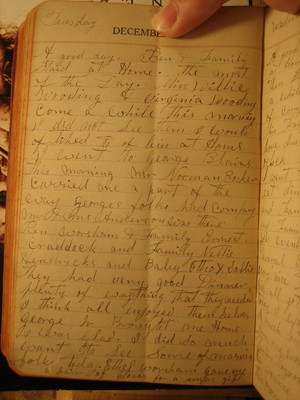 A good day. Ben & family staid at home the most of the day. Miss Willie Wooding & Virginia Wooding come a while this morning. I did not see them. I would of liked to of bin at home. I went to George Blairs this morning. Mr Norman Booker carried me a part of the way. Georges folks had company. Mr & Mrs Anderson was there. Ren Worsham & family, Ernest Craddock and family, Nettie Hendricks and baby, Otho & Sallie. They had very good dinner. Plenty of everything that they needed. I think all enjoyed them selves. George Jr[?] brought me home. I was glad. I did so much want to see some of Marvins folks today. Ethel Worsham gave me a pair of gloves for a Xmas gift.
Last edit over 10 years ago by
Linda Tucker
1920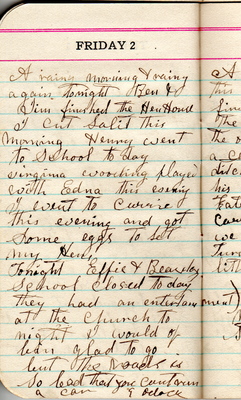 A rainy morning & rainy again tonight. Ben & Jim finished the hen house. I cut salit this morning. Henry went to school to day. Virginia Wooding played with Edna this evening. I went to Carrie this evening and got some eggs to set my hens. Tonight Effie & [?] They had an entertainment at the church to night. I would of bin glad to go but the roads is so bad that you cant run a car. 9 oclock
Last edit about 10 years ago by
Linda Tucker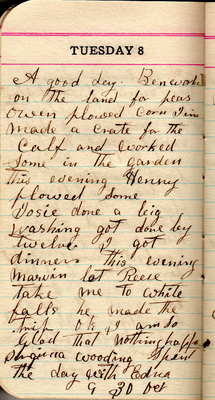 A good day. Ben worked on the land for peas. Owen plowed corn. Jim made a crate for the calf and worked some in the garden this evening. Henry plowed some. Josie done a big washing. Got done by twelve. I got dinner. This evening Marvin let Reese take me to White Falls. He made the trip ok. I am so glad that nothing happened. Virginia Wooding spent the day with Edna. 9 30 ocl
Last edit almost 10 years ago by
Linda Tucker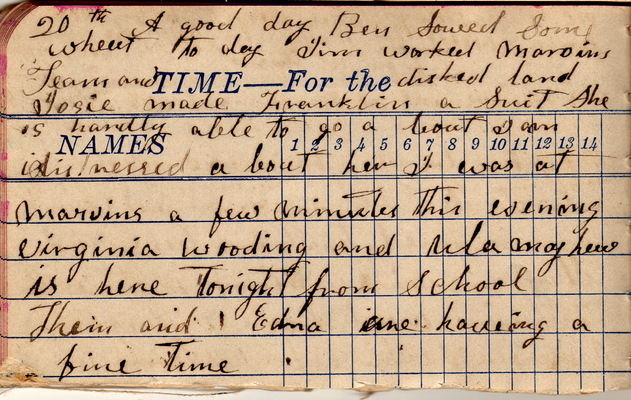 20th A good day. Ben sowed some wheat to day. Jim worked Marvins team and disked land. Josie made Franklin a suit. She is hardly able to go a bout. I am distressed a bout her. I was at Marvins a few minutes this evening. Virginia Wooding and Ula Mayhew is here tonight from school. Them and Edna are haveing a fine time.
Last edit over 9 years ago by
Linda Tucker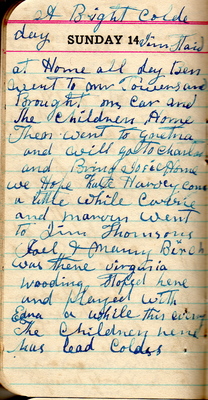 A bright colde day. Jim staid at home all day. Ben went to Mr Powers and brought Mrs Car and the children home then went to Gretna and will go to Charlot and bring Josie home we hope. Kate Harvey come a little while. Carrie and Marvin went to Jim Thomsons. Joel & [?] Birch was there. Virginia Wooding stoped here and played with Edna a while this evening. The children here has bad coldes.
Last edit about 9 years ago by
Linda Tucker
1922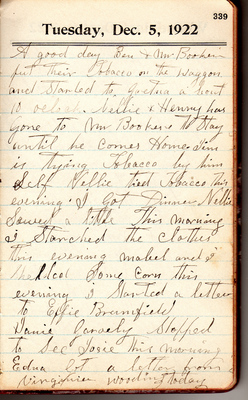 A good day. Ben & Mr Booker put their tobacco on the waggon and started to Gretna a bout 10 oclock. Nellie & Henry has gone to Mr Bookers to stay until he comes home. Jim is tying tobacco by him self. Nellie tied tobacco this evening. I got dinner. Nellie sewed a little this morning. I starched the clothes. This evening Mabel and I [shelled?] some corn. This evening I started a letter to Effie Brumfield. Jamie Gravely stopped to see Josie this morning. Edna got a letter from Virginia Wooding today.
Last edit almost 6 years ago by
mkstewart