Search for "Mrs Hendricks"
1922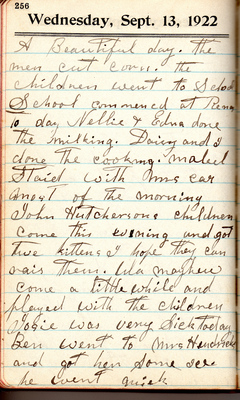 A beautiful day. The men cut corn. The children went to school. School commened at Renan to day. Nellie & Edna done the milking. Daisy and I done the cooking. Mabel staid with Mrs Car most of the morning. John Hutchersons children come this evening and got twe kittens. I hope they can rais them. [Ella?] Mayhew come a little while and played with the children. Josie was very sick today. Ben went to Mrs Hendricks and got her some ice. He went quick.
Last edit about 6 years ago by
mkstewart
1923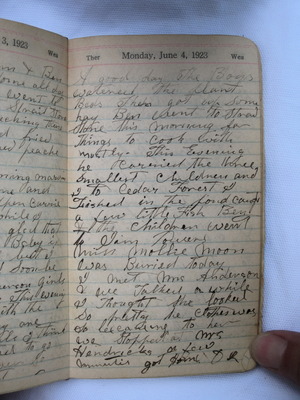 A good day. The boys watered the plant beds. Then got up some hay. Ben went to Strait Stone this morning for things to cook with mostly. This evening he carried the three smallest children and I to Cedar Forest. I fished in the pond. Caught a few little fish. Ben and the children went to Jim Powers. Miss Mollie Moon was buried today. I met Mrs Anderson and we talked a while. I thought she looked so pretty. He clothes was so becoming to her We stopped at Mrs Hendricks a few minutes. Got home ok.
Last edit over 6 years ago by
Nathani