Search for "Mrs Anderson"
1918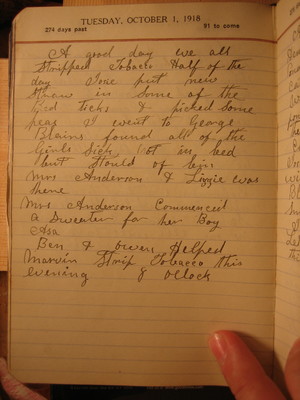 1921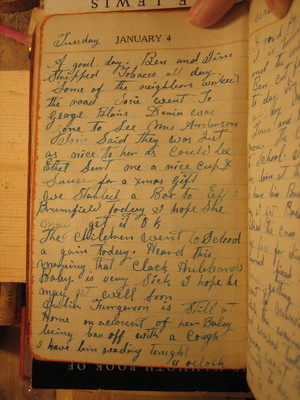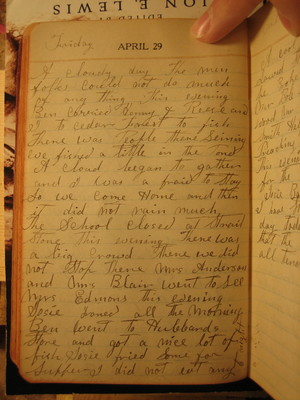 A cloudy day. The men folks could not do much of any thing. This evening Ben carried Henry & Reese and I to Cedar Forest to fish. There was people there seining. We fished a little in the pond. A cloud began to gather and I was a fraid to stay so we come home and then it did not rain much.
The school closed at Strait Stone this evening. There was a big crowd there. We did not stop there. Mrs Anderson and Mrs Blair went to see Mrs Edmons this evening.
Josie ironed all the morning. Ben went to Hubbards store and got a nice lot of fish. Josie fried some for supper. I did not eat any to night.
Last edit over 6 years ago by
dy957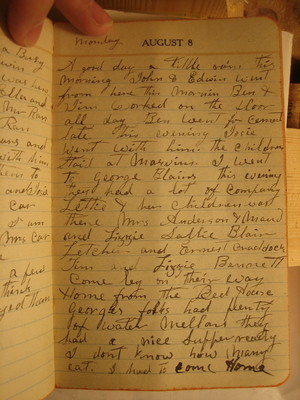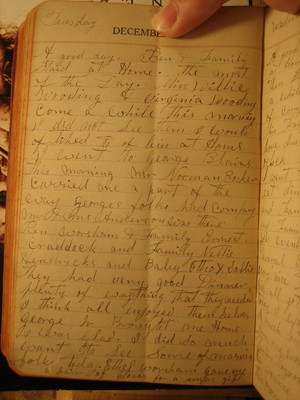 A good day. Ben & family staid at home the most of the day. Miss Willie Wooding & Virginia Wooding come a while this morning. I did not see them. I would of liked to of bin at home. I went to George Blairs this morning. Mr Norman Booker carried me a part of the way. Georges folks had company. Mr & Mrs Anderson was there. Ren Worsham & family, Ernest Craddock and family, Nettie Hendricks and baby, Otho & Sallie. They had very good dinner. Plenty of everything that they needed. I think all enjoyed them selves. George Jr[?] brought me home. I was glad. I did so much want to see some of Marvins folks today. Ethel Worsham gave me a pair of gloves for a Xmas gift.
Last edit over 10 years ago by
Linda Tucker
1922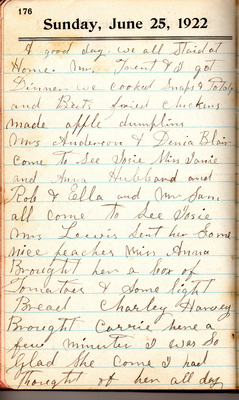 A good day. We all staid at home. Mr. Trent & I got dinner. We cooked snaps & [potatos?] and beets friend chickens made apple dumplings Mrs. Anderson & Denia Blair come to see Josie. Miss Janie and Anna Hubbard and Rob & Ella and Mr. Sam all come to see Josie. Mrs. Lewis sent her some nice peaches. Miss Anna brought her a box of tomatoes & some light bread. Charley Harvey brought Carrie here a few minutes. I was so glad she come. I had thought of her all day.
Last edit about 6 years ago by
gutterpeach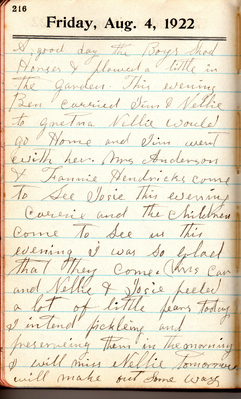 A good day. the boys shod horses 7 plowed a little in the garden. This evening Ben carried Jim & Nellie to Gretna. Nellie would go home and Jim went with her. Mrs Anderson & Fannie Hendricks come to see Josie this evening. Carrie and the children come to see us this evening. I was so glad that they come. Mrs Car and Nellie & Josie peeled a lot of little pears today. I intend pickling and preserving them in the morning. I will miss Nellie tomorrow. Will make out some way.
Last edit about 6 years ago by
mkstewart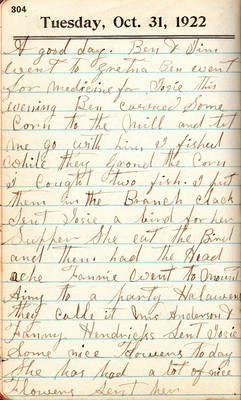 A good day. Ben & Jim went to Gretna. Ben went for medicine for Josie this evening. Ben carried some corn to the mill and let me go with him. I fished while they ground the corn. I caught two fish. I put them in the branch clack. Sent Josie a bird for her supper. She eat the bird and then had the head ache. Fannie went to Mount Ainy[?] to a party. Halawene they called it. Mrs Anderson & Fanny Hendricks sent Josie some nice flowers today. She has had a lot of nice flowers sent her.
Last edit about 6 years ago by
mkstewart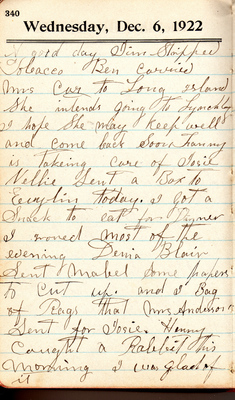 A good day. Jim stripped tobacco. Ben carried Mrs Car to Long Island. She intends going to Lynchley[?]. I hope she may keep well and come back soon. Fanny is taking care of Josie. Nellie sent a box to Evylin today. I got a snack to eat for dinner. I ironed most of the evening. Denia Blair sent Mabel some papers to cut up and a bag of rags that Mrs Anderson sent for Josie. Henry caught a rabbit this morning. I was glad of it.
Last edit almost 6 years ago by
mkstewart
1923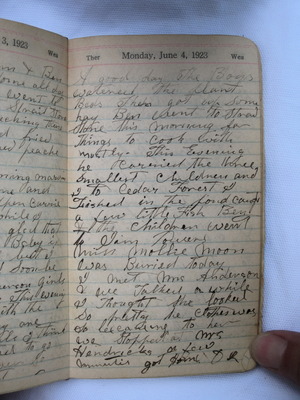 A good day. The boys watered the plant beds. Then got up some hay. Ben went to Strait Stone this morning for things to cook with mostly. This evening he carried the three smallest children and I to Cedar Forest. I fished in the pond. Caught a few little fish. Ben and the children went to Jim Powers. Miss Mollie Moon was buried today. I met Mrs Anderson and we talked a while. I thought she looked so pretty. He clothes was so becoming to her We stopped at Mrs Hendricks a few minutes. Got home ok.
Last edit over 6 years ago by
Nathani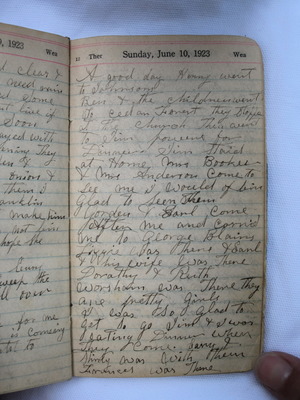 A good day. Henry went to Johnsons. Ben and the children went to Cedar Forest. They stoppe at the church. Then went to Jim Powers for dinner. Jim staid at home. Mrs. Booker and Mrs Anderson come to see me. I would of bin glad to seen them. Gordon and Earl come after me and carried me to George Blains. Lizzie was there and Earl and his wife was there. Dorathy and Ruth Worshan was there. They are pretty girls. I was so glad to get to go. Jim and I was eating dinner when they come. Cary and Shirly was with them. Frances was there.
Last edit over 6 years ago by
Nathani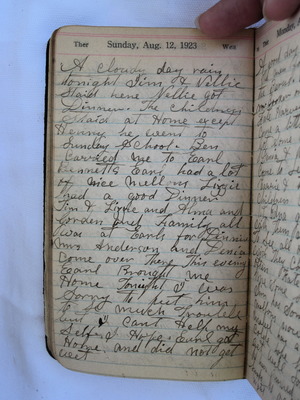 A cloudy day. Rain tonight. Jim and Nellie staid here. Nellie got dinner. The children staid at home except Henry. He Went to Sunday school. Ben carried me to Earl Bennetts. Earl had a lot of nice mellons. Lizzie had a good dinner. Tim and Lizzie and Alma and Gordon and family all was at Earls for dinner. Mrs. Anderson and Denia come over there this evening. Earl brought me home tonight. I was sorry to put him to so much trouble but I can't help my self. I hope Earl got home and did not get wet.
Last edit over 6 years ago by
Nathani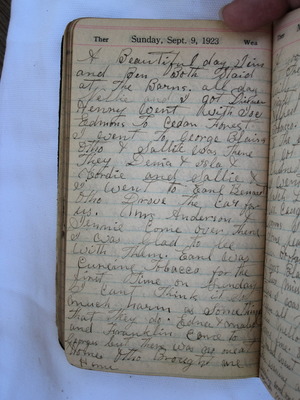 A beautiful day. Jim and Ben both staid at the barns all day. Nellie and I got dinner. Henry went with Joe Edmons to Cedar Forest. I went to George Blairs. Otho and Sallie was there. They [sic] Denia and Isla and Cordie and Sallie and I went to Earl Bennet. Otho drove the car for us. Mrs Anderson and Jennie come over there. I was glad to be with them. Earl was cureing tobacco for the first time on Sunday. I cant think it so much harm as somethings that they do. Edna and Mabel and Franklin come to Georges but there was no one at home. Otho brought me home.
Last edit over 6 years ago by
Nathani