Search for "baked bread"
1918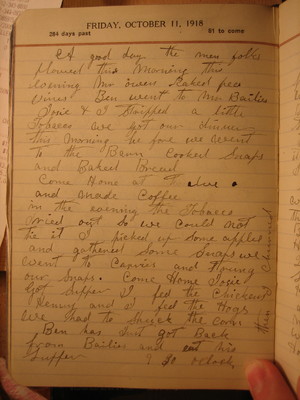 1921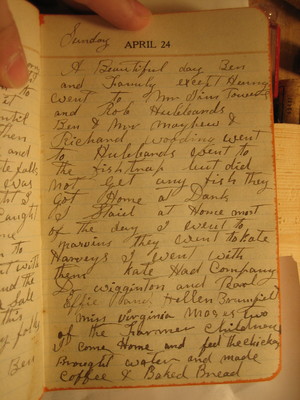 1920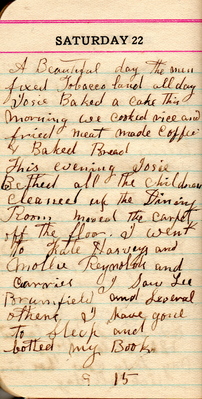 A beautiful day. The men fixed tobacco land all day. Josie baked a cake this morning. We cooked rice and fried meat, made coffee, & baked bread. This evening Josie bathed all the children, cleaned up the dining room, moved the carpet off the floor. I went to Kate Harveys and Mollie Reynolds and Carries. I saw Lee Brumfield and several others. I have gone to sleep and bot[?]ed my book.
9 15 oclock
Last edit about 10 years ago by
Linda Tucker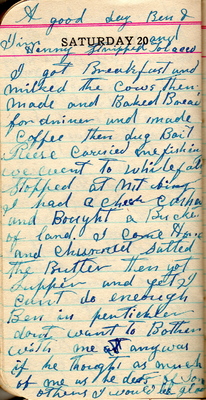 A good day. Ben & Jim and Henry stripped tobacco. I got breakfast and milked the cows then made and baked bread for dinner and made coffee then dug bait. Reese carried me fishing. We went to White falls. Stopped at Mt Airy. I had a check cashed and bought a bucket of lard. I come home and churned, salted the butter, then got supper and yet I cant do enough. Ben in pertickler dont want to bother with me any wa[y]s. If he thought as much of me as he does of some others I would be glad.
Last edit over 9 years ago by
Linda Tucker
1922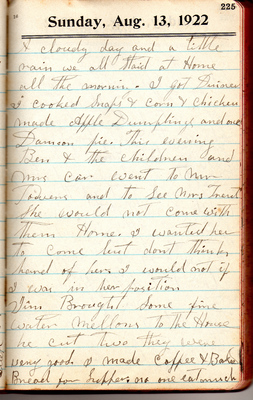 A cloudy day and a little rain. We all staid at home all the morning. I got dinner. I cooked snaps & corn & chicken. Made apple dumplings and one damson pie. This evening Ben & the children and Mrs Car went to Mr Powers and to see Mrs Trent. She would not come with them home. I wanted her to come but dont think hard of her. I would not if I was in her position. Jim brought some fine water mellons to the house He cut two. They were very good. I made coffee & baked bread for supper. No one eat much.
Last edit about 6 years ago by
mkstewart
1923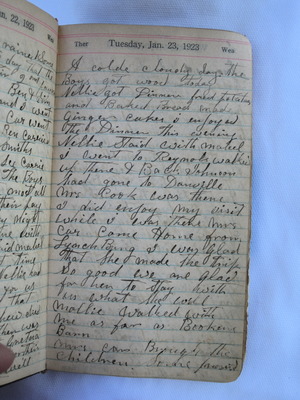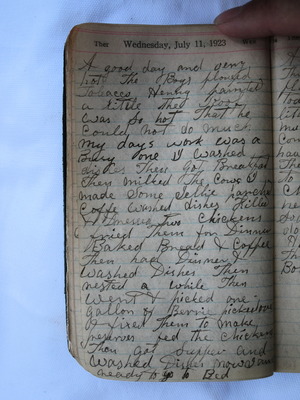 A good day and very hot. The boys plowed tobacco. Henry painted a little. The roof was so hot that he could not do much. My days work was a busy one. I washed dishes. Then got breakfast. Then milked the cows. I made some jellie. Parched coffee. Washed dished. Killed and dressed two chickens. Fried them for dinner. Baked bread and coffee. Then had dinner and washed dishes. Then rested a while. Then went and picked one gallon of berrie. Picked over and fixed them to make preserves. Fed the chickens. Then got supper and washed dishes. Now I am ready to go to bed.
Last edit almost 7 years ago by
Nathani