Search for yoke*
1920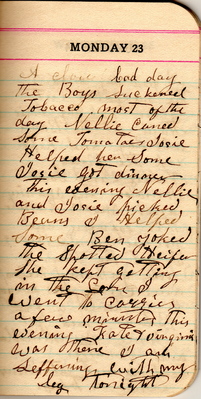 A cloudy bad day. The boys suckered tobacco most of the day. Nellie caned some tomatoes. Josie helped her some. Josie got dinner. This evening Nellie and Josie picked beans. I helped some. Ben yoked the spotted heifer. She kept getting in the corn. I went to Carries a few minutes this evening. Kate & Virginia was there. I am suffering with my leg tonight.
Last edit over 9 years ago by
Linda Tucker
1923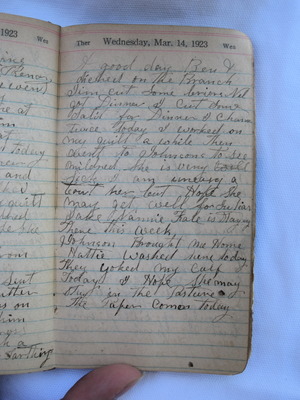 A good day. Ben and [sic] ditched on the branch. Jim cut some briers. Nel got dinner. I cut some salit for dinner. I churned twice today. I worked on my quilt a while. Then went to Johnsons to see Mildred. She is very sick. I am uneasy a bout her but hope she may get well for Julia's sake. Nannie [Fale?] is staying there this week. Johnson brought me home. Hattie washed here today. They yoked my calf today. I hope she may stay in the pasture. The paper come today.
Last edit over 7 years ago by
Nathani