Search for Elsie* "Elsie East" "Elsie East" "Elsie Brumfield"
1921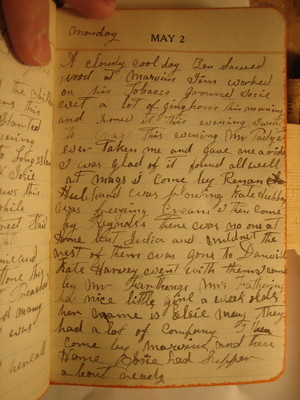 1920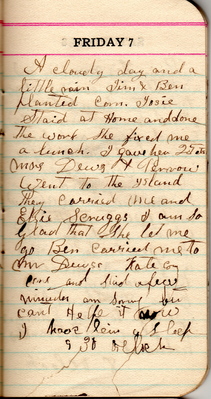 A cloudy day and a little rain. Jim & Ben planted corn. Josie staid at home and done the work. She fixed me a lunch. I gave her 25 cts. Mrs Dews & Terrow [?] went to the island. They carried me and Elsie Scruggs. I am so glad that she let me go. Ben carried me to Mr Dewss. Kate come and staid a few minutes. Am sorry but cant helpe it now. I have bin a sleep.
9 30 oclock
Last edit almost 10 years ago by
Linda Tucker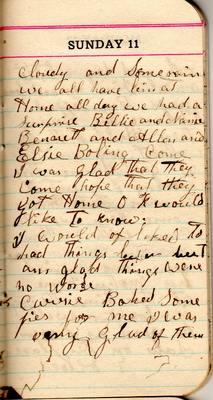 Cloudy and some rain. We all have bin at home all day. We had a surprise. Billie and Nanie Bennett and Allen and Elsie Boling come. I was glad that they come. Hope that they got home O K. Would like to know. I would of liked to had things better but am glad things were no worse. Carrie baked some pies for me. I was very glad of them.
Last edit over 9 years ago by
Linda Tucker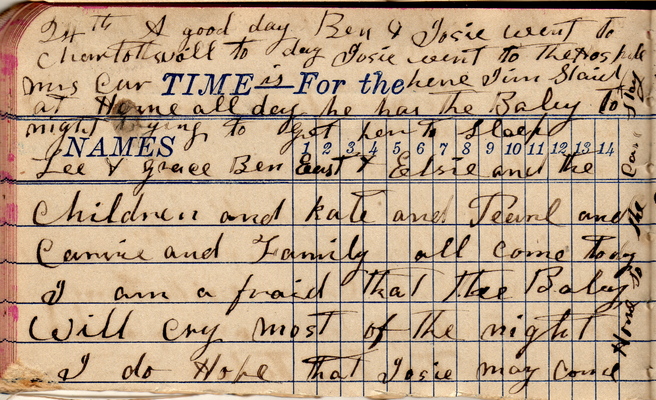 24th A good day. Ben & Josie went to Charlottsvill to day. Josie went to the hospidle [?]. Mrs Car is here. Jim staid at home all day. He has the baby to night trying to get her to sleep. Lee & Grace, Ben East & Elsie and the children and Kate and Pearl and Carrie and family all come today. I am a fraid that the baby will cry most of the night. I do hope that Josie may come so she can stay.
Last edit about 9 years ago by
Linda Tucker
1922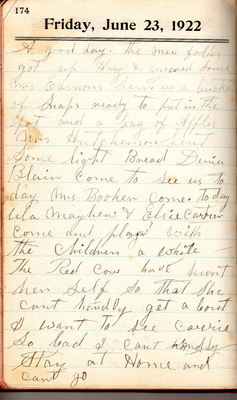 A good day. The men folks got up hay & mowed some. Mrs. Edmons send us a bucket of snaps ready to put in the pot and a bag of apples. Mrs. Hutchenseon sent some light bread. [D__?] Blair come to see us to day. Mrs. Booker come. to day [Lula? Mayhen?] & Elsie [Carter?] come and played with the children a while. The red cow have hurt her self so that she can't hardly get about. I want to see Carrie so bad. I cant hardly stay at home and cant go
Last edit about 6 years ago by
gutterpeach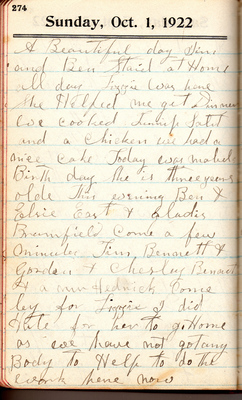 A beautiful day. Jim and Ben staid at home all day. Lizzie was here. she helped me get dinner. We cooked Turnip salit and a chicken. We had a nice cake. Today was Mabel's Birth day. She is three years olde. This evening Ben & Elsie East & Gladis Brumfield come a few minutes. Tim Bennett & Gordon & [Chesley?] Bennett & a Mr Hedrick come by for Lizzie. I did hate for her to go home as we have not got any body to help to do the work here now.
Last edit almost 6 years ago by
mkstewart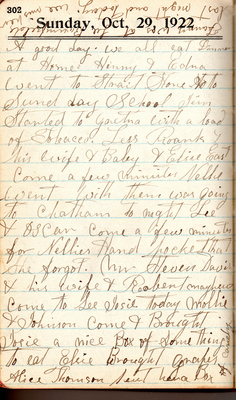 A good day. We all eat dinner at home. Hinny & Edna went to Strait Stone to Sunday School. Jim started to Gretna with a load of tobacco. Less [Ro...k?]& his wife & baby & Elsie East come a few minutes. Nellie went with them. Was going to Chatham to night. Lee & Oscar come a few minutes for Nellie's hand pocket that she forgot. Mr Steven Davis and his wife & Robert Mayhew come to see Josie today. Mollie & Johnson come & brought Josie a nice box of some things to eat. Elsie brought grapes. Alice Thomson brought her a box of candy.
Last edit almost 6 years ago by
mkstewart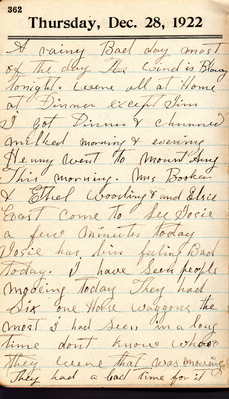 A rainy bad day most of the day. The wind is blowing tonight. Were all at home at dinner except Jim. I got dinner & churned. Milked morning and evening. Henry went to Mount Amy this morning. Mrs. Booker and Ethel Wooding and Elsie East come to see Josie a few minutes today. Josie has bin feeling bad today. I have seen people moveing today. They had six one horse wagons. The most I had seen in a long time. Dont know who they were that was moveing. They had a bad time for it.
Last edit almost 6 years ago by
mkstewart
1923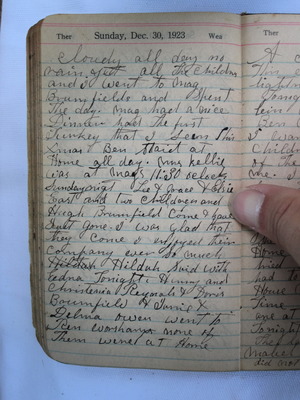 Cloudy all day. No rain yet. All the children and I went to Mag Brumfield's and spent the day. Mag had a nice dinner. Had the first turkey that I seen this Xmas. Ben staid at home all day. Mrs. Kellie was at Mag's. 11:30 o'clock Sunday night. Lee and Grace and Elsie East and two children and Hugh Brumfield come and have just gone. I was glad that they come. I enjoyed their company ever so much. Hildah staid with Edna tonight. Henry and Christenia Reynols and Doris Brumfield and Jamie and Delma Owen went to Ren Worsham's. None of them were at home.
Last edit almost 6 years ago by
Nathani