Search for "Sarah Emerson" Sarah*
1920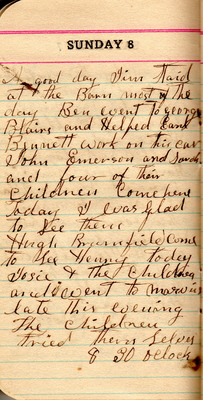 A good day. Jim staid at the barn most of the day. Ben went to George Blairs and helped Earl Bennett work on his car. John Emerson and Sarah and four of their children come here today. I was glad to see them. Hugh Brumfield come to see Henry today. Josie & the children and I went to Marvins late this evening. The children tried them selves. 8:30 oclock
Last edit over 9 years ago by
Linda Tucker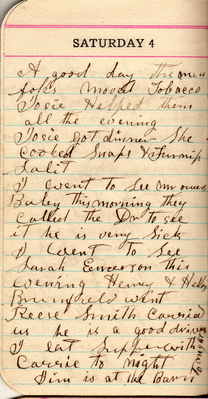 A good day. The men folks moved tobacco. Josie helped them all the evening. Josie got dinner. She cooked snaps and turnip salit. I went to see Mr Owens baby this morning. They called the Dr to see it. He is very sick. I went to see Sarah Emerson this evening. Henry & Hellen Brumfield went. Reese Smith carried us. He is a good driver. I eat supper with Carrie to night. Jim is at the barn tonight.
Last edit over 9 years ago by
Linda Tucker
1922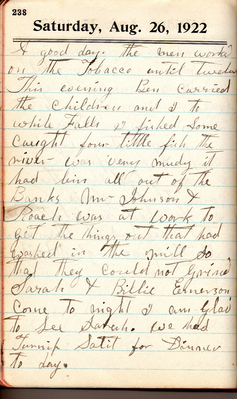 A good day. The men worked on the tobacco until twelve. This evening Ben carried the children and I to White Falls. I fished some. Caught four little fish. The river was very mudy. It had bin all out of the banks. Mr Johnson & Roach[?] was at work to get the things out that had washed in the mill so that they could not grind. Sarah & Billie Emerson come to night. I am glad to see Sarah. We had turnip salit for dinner to day.
Last edit about 6 years ago by
mkstewart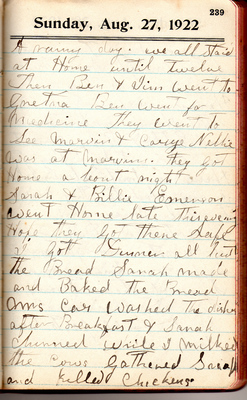 A rainy day. We all staid at home until twelve. Then Ben & Jim went to Gretna. Ben went for medicine. They went to see Marvin & Carrie. Nellie was at Marvin's. They got home about night. Sarah & Billie Emerson went home late this evening. Hope they got there safe. I got dinner all but the bread. Sarah made and baked the bread. Mrs Car washed the dishes after breakfast & Sarah churned while I milked the cows gathered snaps and killed chickens.
Last edit about 6 years ago by
mkstewart
1923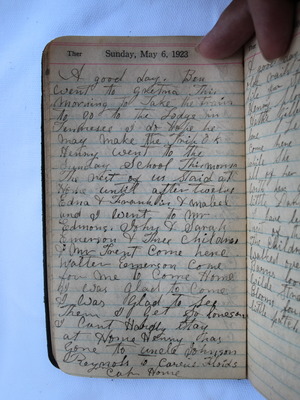 A good day. Ben went to Gretna this morning to take the train to go to the lodge in Tennessee. I do hope he may make the trip o.k. Henry went to the Sunday School this morning. The rest of us staid at home until after twelve. Edna and Franklin and Mabel and I went to Mr. Edmons. John and Sarah Emerson and three children and Mr. Trent come here. Walter Emerson come for me to come. I was glad to see them. I get so lonesome I cant hardly stay at home. Henry has gone to Uncle Johnson Reynols to carrie Floids [cap/car?] home.
Last edit almost 7 years ago by
Nathani