Search for check*
1919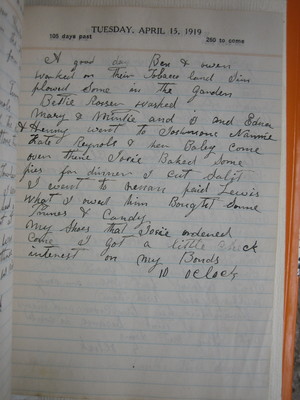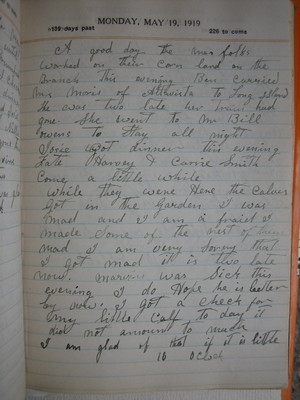 1920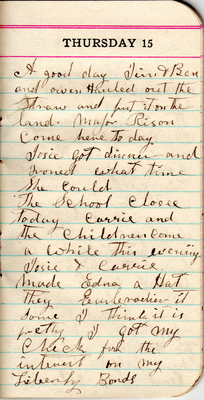 A good day. Jim & Ben and Owen hauled out the straw and put it on the land. Major Rison come here to day. Josie got dinner and ironed what time she could. The school closed today. Carrie and the children come a while this evening. Josie & Carrie made Edna a hat. They embrodier it some. I think it is pretty. I got my check for the interest on my Liberty Bonds.
Last edit about 10 years ago by
Linda Tucker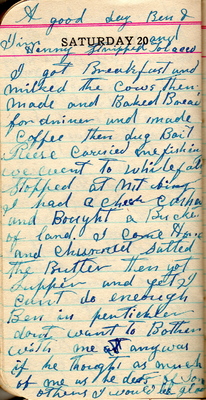 A good day. Ben & Jim and Henry stripped tobacco. I got breakfast and milked the cows then made and baked bread for dinner and made coffee then dug bait. Reese carried me fishing. We went to White falls. Stopped at Mt Airy. I had a check cashed and bought a bucket of lard. I come home and churned, salted the butter, then got supper and yet I cant do enough. Ben in pertickler dont want to bother with me any wa[y]s. If he thought as much of me as he does of some others I would be glad.
Last edit over 9 years ago by
Linda Tucker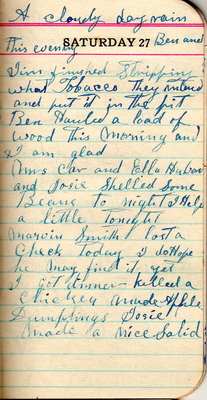 A cloudy day. Rain this evening. Ben and Jim finished stripping what tobacco they intend and put it in the pit. Ben hauled a load of wood this morning and I am glad. Mrs Car and Ella Hubard and Josie shelled some beans to night. I help a little tonight. Marvin Smith lost a check today. I do hope he may find it yet. I got dinner. Killed a chicken, made apple dumplings. Josie made a nice salid.
Last edit over 9 years ago by
Linda Tucker
1923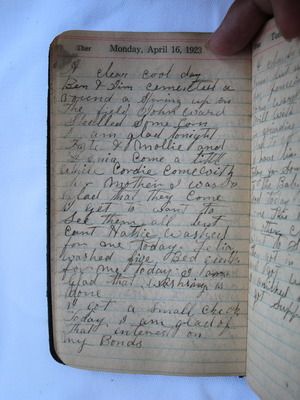 A clear cool day. Ben and Jim cemented a round a spring up in the field. John Ward shelled some corn. I am glad tonight. Fate[?] and Mollie and Denia come a little while Cordie come with her mother. I was so glad that they come. I get to want to see them all but cant. Hattie washed for me today. Lelia washed five bed quilts for me today. I am glad that washing is done. I got a small check today. I am glad of that interest on my bonds.
Last edit about 7 years ago by
Nathani