Search for Ellen*
1918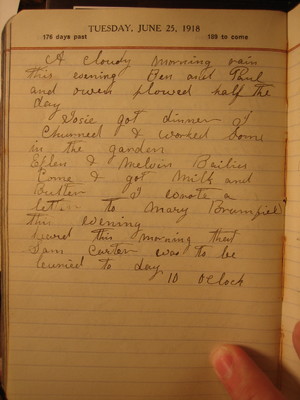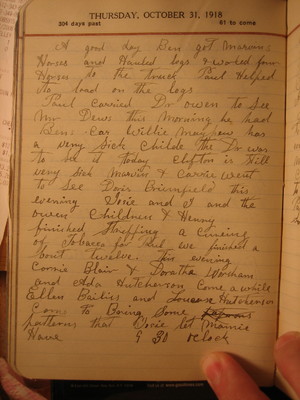 1922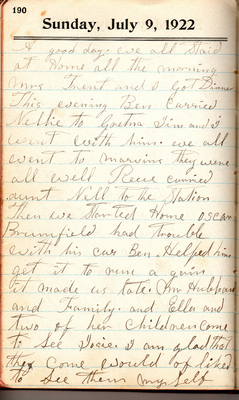 A good day. We all staid at home all the morning. Mrs. Trent and I got dinner. This evening Ben carried Nellie to [gretna?]. Jim and I went with him. We all went to [Marvins?] They were all well. [Reese?] carried aunt Nell to the station. The we started home. Oscar Brumfield had trouble with his car. Ben helped him get it to run a gain it made us late. Mr. Hubbard and Family and Ellen and two of her children cam to see Josie. I am glad that they came. Would of liked to see them myself.
Last edit almost 6 years ago by
kate.collins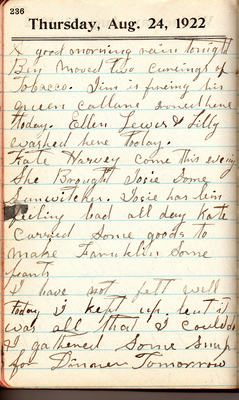 A good morning rain tonight. Ben moved two cureings of tobacco. Jim is fineing his. Queen Callans ironed here today. Ellen Lewes & Lilly washed here today. Kate Harvey come this evening. She brought Josie some sanwitches[sic]. Josie has bin feeling bad all day. Kate carried some goods to make Franklin some [...ants]. I have not felt well today. I kept up but it was all that I could do. I gathered some snap for dinner tomorrow.
Last edit almost 6 years ago by
mkstewart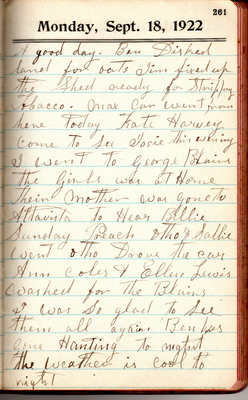 A good day. Ben disked land for oats. Jim fixed up the shed ready for stripping tobacco. Max Car went from here today. Kate Harvey come to see Josie this evening. I went to George Blairs. The girls was at home. Their mother was gone to Altavista to hear Billie Sunday preach. Otho & Sallie went. Otho drove the car. Ann Coles & Ellen Lewis washed for the Blairs. I was so glad to see them all again. Ben has gone hunting to night. The weather is cool to night.
Last edit almost 6 years ago by
mkstewart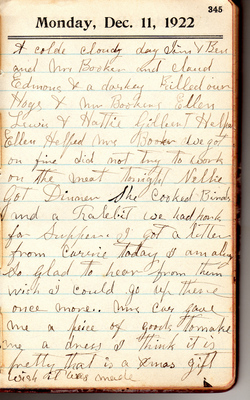 A colde cloudy day. Jim & Ben and Mr Booker and Claud Edmons & a darkey killed our hogs & Mr Bookers. Ellen Lewis & Hattie Gilbert helped. Ellen helped Mrs Booker. We got on fine. Did not try to work on the meat tonight. Nellie got dinner. She cooked birds and a rabbit. We had pork for supper. I got a letter from Carrie today. I am always so glad to hear from them. Wish I could go up there once more. Mrs Car gave me a peice of goods to make me a dress. I think it is pretty. That is a Xmas gift. Wish it was made.
Last edit almost 6 years ago by
mkstewart
1923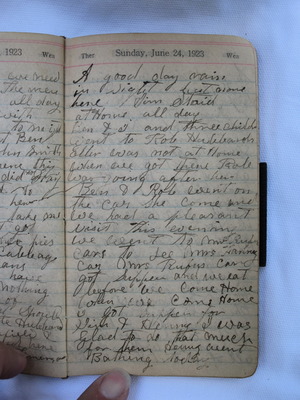 A good day. Rain in sight but none here. Jim staid at home all day. Ben and I and three children went to Role Hubbards. Ellen was not at home when we got there. Role was going after her. Ben and Role went on the car. She come and we had a pleasant visit. This evening we went to Mr. Rufus Cars to see Mrs Fanny Car. Mrs. Rufus Car got supper and we eat before we come home. I got supper for Jim and Henry. I was glad to do that much for them. Henry went bathing today.
Last edit over 6 years ago by
Nathani