Search for letters*
1918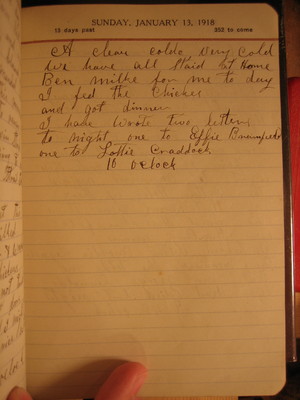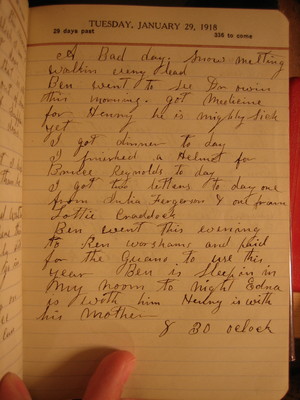 1921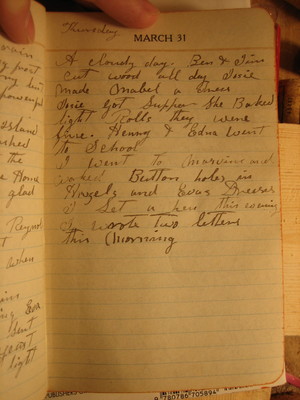 1920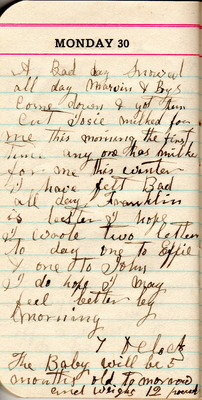 A bad day. Snowed all day. Marvin & boys come down & got their [?] cut. Josie milked for me this morning the first time any one has milked for me this winter. I have felt bad all day. Franklin is better I hope. I wrote two letters to day one to Effie & one to John. I do hope I may feel better by morning.
7 oclock The baby will be 5 months old tomorrow and weighs 12 pound.
Last edit over 10 years ago by
Linda Tucker
1922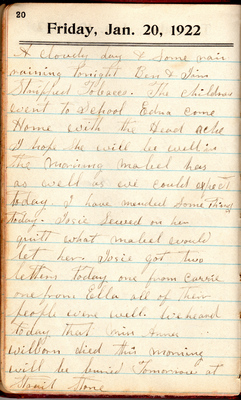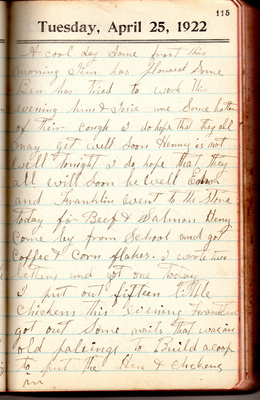 A cool day some frost this morning Tim has plowed some. Ben has tried to work this evening. Him & Josie are some better of their cough. I do hope that they all may get well soon. Henry is not well tonight. I do hope that they all will soon be well. Edna and Franklin went to the store today for beef & salmon. Henry come by from school and got coffee & corn flakes. I wrote two letters and got one today.
I put out fifteen little chickens this evening. Franklin got out some nails that was in old paleings to build a coop to put the hen & chickens in.
Last edit about 6 years ago by
mkstewart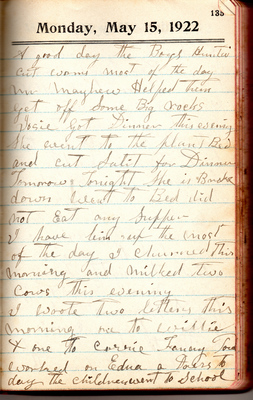 A good day. The boys [hunted?] cut worms most of the day. Mr Mayhew helped them get off some big rocks. Josie got dinner this evening. She went to the plant bed and cut salit for dinner tomorrow. Tonight she is broke down. Went to bed. Did not eat supper. I have [bin?] up most of the day. I churned this morning and milked two cows this evening.
I wrote two letters this morning one to Willie & one to Carrie. [Henry?][?] worked on Edna a [Do?] to day. The children went to school.
Last edit about 7 years ago by
stuartb
1923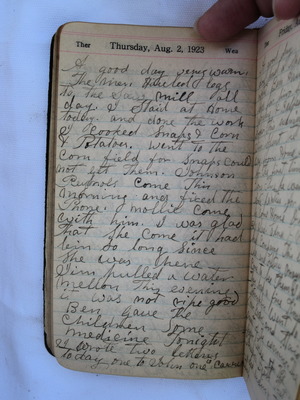 A good day. Very warm. The men hauled logs to the saw mill all day. I staid at home today and done the work. I cooked snaps and corn and potatoes. Went to the corn field for snaps. Could not get them. Johnson Reynolds come this morning and fixed the pohn. Mollie come with him. I was glad that she come. It had been so long since she was here. Jim pulled a water mellon this evening. It was not ripe good. Ben gave the children some medicine tonight. I wrote two letters today. One to John. One to Carrie.
Last edit over 6 years ago by
Nathani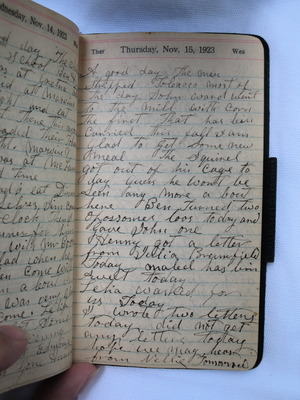 A good day. The men stripped tobacco most of the day. John Ward went to the mill with corn the first that has bin carried this fall. I am glad to get some new meal. The squirrel got out of his cage to day. Guess he wont be seen any more a bout here. Ben turned two opposomes loos today and gave John one. Henry got a letter from Julia Brumfield today. Mabel has bin sweet today. Lelia washed for us today. I wrote two letters today. Did not get any letters today. Hope we may hear from Nellie tomorrow.
Last edit about 6 years ago by
Nathani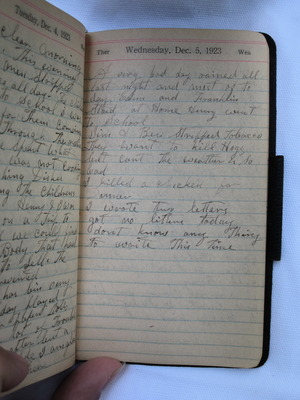 A very bad day. Rained all last night and most of to day. Edna and Franklin staid at home. Henry went to school. Jim and Ben stripped tobacco. They want to kill hogs but can't. The weather is so bad. I killed a chicken for dinner. I wrote two letters. Got no litters today. Don't know any thing to write this time.
Last edit about 6 years ago by
Nathani