Search for "Mrs. Kellie"
1918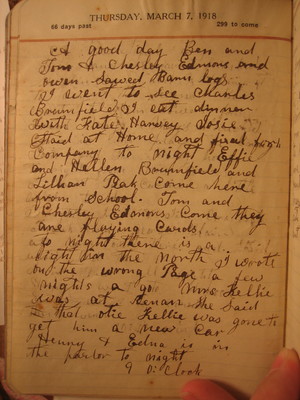 1919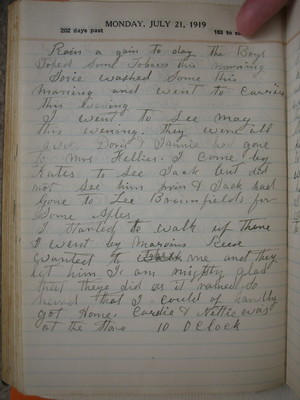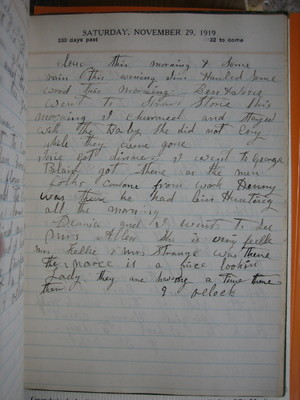 1921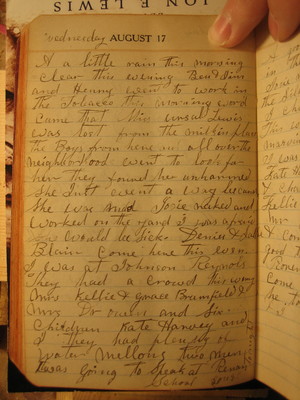 Last edit almost 3 years ago by
Trisha
1922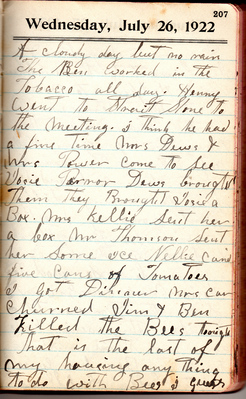 A cloudy day but no rain. The men worked in the tobacco all day. Henry went to Strait Stone to the meeting. I think he had a fine time. Mrs [Dews?] & Mrs Power come to see Josie. Farmor Dews brought them. They brought Josie a box. Mrs Kellie sent her a box. Mr Thomson sent her some ice. Nellie cand[sic] five cans of tomatoes. I got dinner. Mrs Car churned. Jim & Ben killed the bees tonight. That is the last of my having any thing to do with bees I guess.
Last edit about 6 years ago by
mkstewart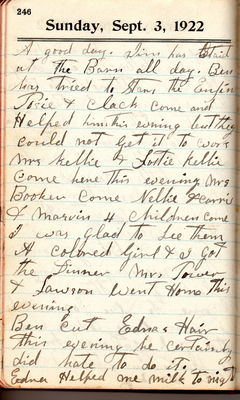 A good day. Jim has staid at the barn all day. Ben has tried to start the [engine?]. Posie & [Clack?] come and helped him this evening but they could not get it to work Mrs Kellie & Lottie Kellie come here this evening. Mrs Booker come. Nellie & Carrie & Marvin & children come. I was glad to see them. A coloured girl & I got the dinner. Mrs Power & Lawson went home this evening.
Ben cut Edna's hair this evening. He certainly did hate to do it. Edna helped me milk to night.
Last edit about 6 years ago by
mkstewart
1923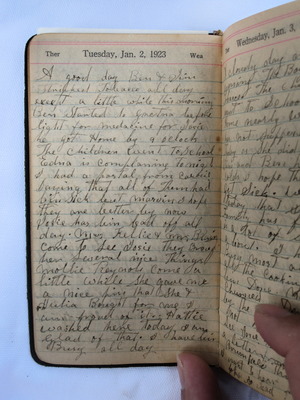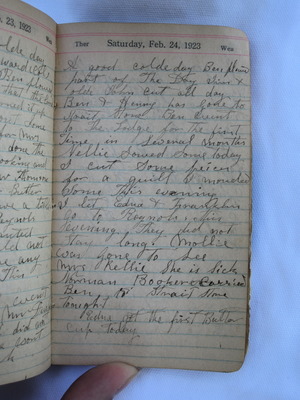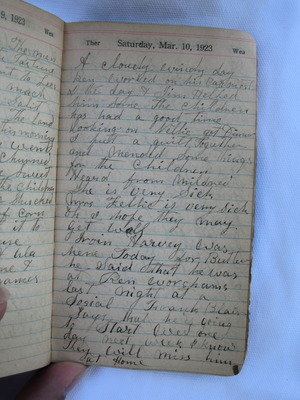 A cloudy windy day. Ben worked on his car most of the day and Jim helped him some. The children has had a good time looking on. Nellie got dinner. I put a quilt together and mended some things for the children. Heard from Mildred. She is very sick. Mrs. [Kellie?] is very sick. Oh I hope they may get well. Irvin Harvey was here today for butter. He said hat he was at Ben Worsham's last night at a sosial. Frank Blair says that he is going to start west one day next week. I know they will miss him at home.
Last edit over 7 years ago by
Nathani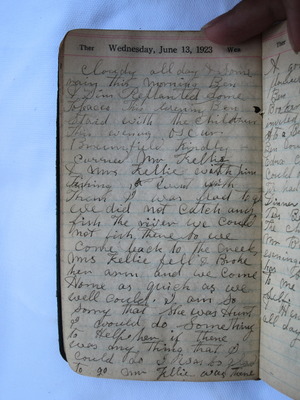 Cloudy all day and some rain. This morning Ben and Jim replanted some tobacco. This evening Ben staid with the children. This evening Oscar Brumfield kindly carried Mr Kellie and Mrs Kellie with him fishing. I went with them. I was glad to go. We did not catch any fish the river. We could not fish there so we come back to the creek. Mrs. Kellie fell and broke her arm and we come home as quick as we well could. I am so sorry that whe was hurt. I would do something to help her if there was any thing that I could do. I was so glad to go. Mr Kellie was there.
Last edit over 6 years ago by
Nathani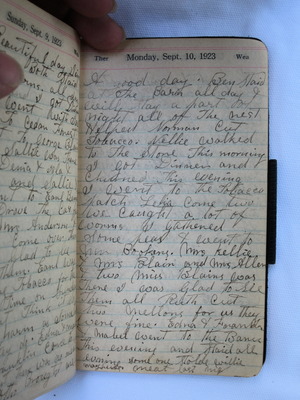 A good day. Ben staid at the barn all day and will stay a part of night. All of the rest helped Norman cut tobacco. Nellie walked to the store this morning. I got dinner and churned. This evening I went to the tobacco patch. Lelia come two. We caught a lot of worms. I gathered some peas and went to Mrs Bookers. Mrs Kellie and Mrs Blain and Mrs Allen and two Miss Blains was there. I was glad to see them all. Ruth cut two mellons for us. They were fine. Edna and Franklin and Mabel went to the barnes this evening and staid all evening. Some one sold Willie Mayhew meat last night.
Last edit over 6 years ago by
Nathani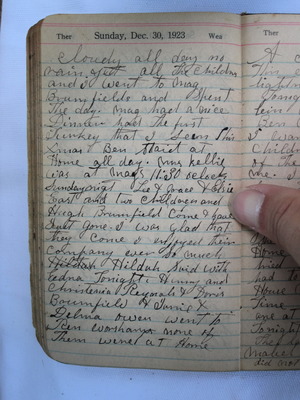 Cloudy all day. No rain yet. All the children and I went to Mag Brumfield's and spent the day. Mag had a nice dinner. Had the first turkey that I seen this Xmas. Ben staid at home all day. Mrs. Kellie was at Mag's. 11:30 o'clock Sunday night. Lee and Grace and Elsie East and two children and Hugh Brumfield come and have just gone. I was glad that they come. I enjoyed their company ever so much. Hildah staid with Edna tonight. Henry and Christenia Reynols and Doris Brumfield and Jamie and Delma Owen went to Ren Worsham's. None of them were at home.
Last edit almost 6 years ago by
Nathani