Search for "put lights" lights* "the light"
1919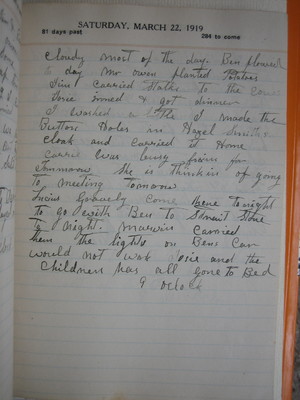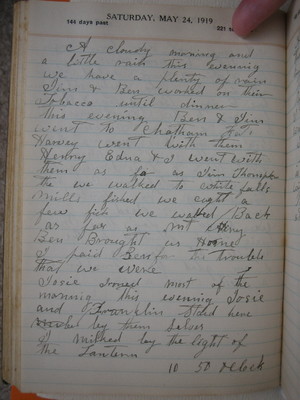 Last edit over 6 years ago by
dy957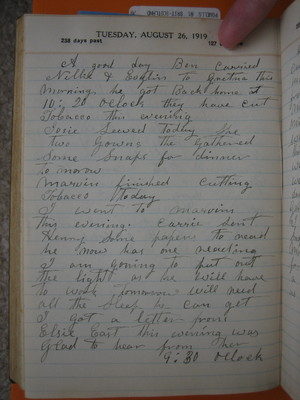 1921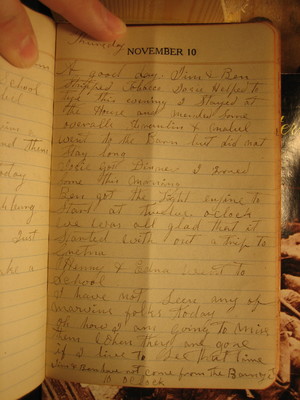 A good day. Jim & Ben stripped tobacco. Josie helped to tye this evening. I stayed at the house and mended some overalls. Franklin & Mabel went to the barn but did not stay long. Josie got dinner. I ironed some this morning. Ben got the light engine to start at twelve oclock. We was all glad that it started with out a trip to Gretna. Henry & Edna went to school. I have not seen any of Marvins folks today. Oh how I am going to miss them when they are gone if I live to see that time. Jim & Ben have not come from the barn yet. 10 oclock
Last edit over 10 years ago by
Linda Tucker
1922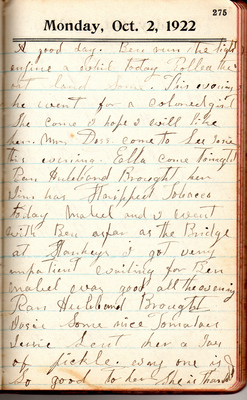 A good day. Ben run the light engine a while today. Rolled the oat land some. This evening he went for a coloured girl. She come. I hope I will like her. Mrs Doss come to see Josie this evening. Ella come tonight. Ray Hubbard brought her. Jim has stripped tobacco today. Mabel and I went with Ben as far as the Bridge at Stankeys. I got very impatient waiting for Ben. Mabel was good all the evening. Ray Hubbard brought Josie some nice tomatoes. Jessie sent her a Jar of pickle. Evry one is so good to her. She is thankful.
Last edit about 6 years ago by
mkstewart
1923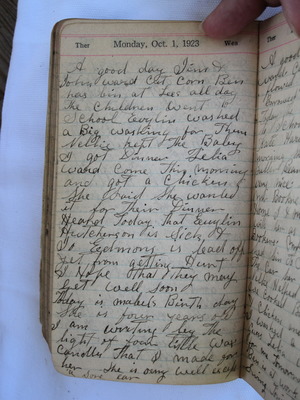 A good day. Jim and John Ward cut corn. Ben has bin at Lees all day. The children went to school. Evylin washed a big washing for them. Nellie kept the baby. I got dinner. Lelia Ward come this morning and got a chicken. She said she wanted it for their dinner. Heard today that Evylin Hutcherson is sick. Jo Edmons is bad off yet from getting hurt. I hope that they may get well soon. Today is Mabels birth day. She is four years old. I am writing by the light of four little wax candles that I made for her. She is very well except a sore ear.
Last edit over 6 years ago by
Ben Brumfield