Search for pepper*
1919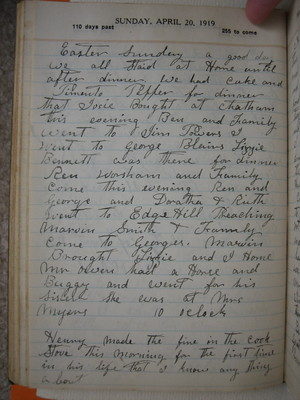 1921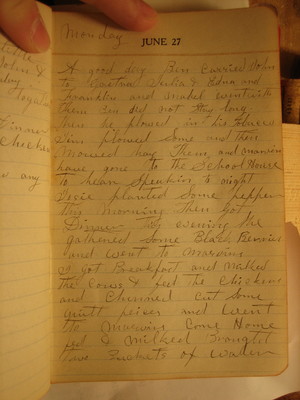 1920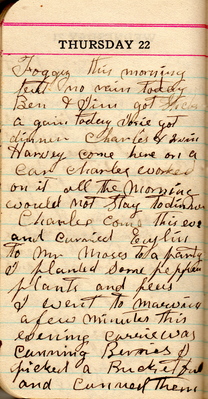 Foggy this morning but no rain today. Ben & Jim got sticks a gain today. Josie got dinner. Charles & Irvin Harvey come here on a car. Charles worked on it all the morning. Would not stay to dinner. Charles come this eve and carried Evylin to Mr Moses to a party. I planted some pepper plants and peas. I went to Marvins a few minutes this evening. Carrie was canning berries. I picked a bucketful and canned them.
Last edit almost 10 years ago by
Linda Tucker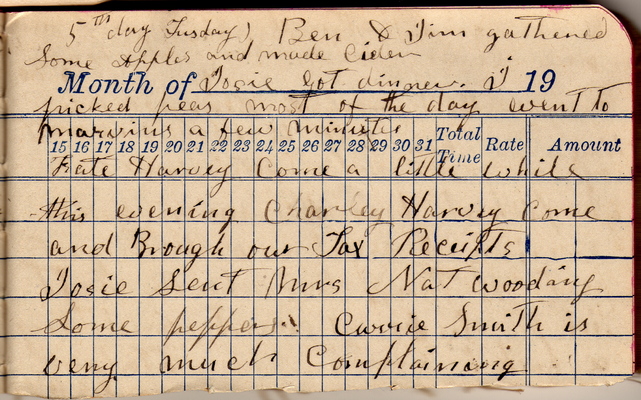 5th day Tuesday
Ben & Jim gathered some apples and made cider. Josie got dinner. I picked peas most of the day. Went to Marvins a few minutes. Kate Harvey come a little while. This evening Charley Harvey come and brough our tax receipts. Josie sent Mrs Nat Wooding some peppers. Carrie Smith is very much complaining.
Last edit over 9 years ago by
Linda Tucker
1923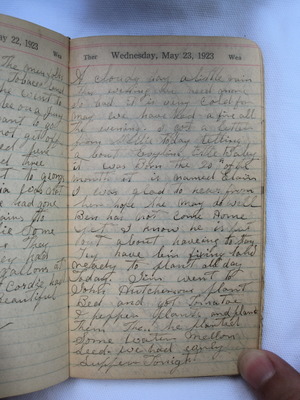 A cloudy day. A little rain this evening. We need more so bad. It is very cold for May. We have had a fire all the evening. I got a letter from Nellie today telling a bout Evylins little baby. It was born the 20th of the month. It is named Elain. I was glad to hear from her. Hope she may do well. Ben has not come home yet. I know he is put out about having to stay. They have bin fixing land ready to plant all day today. Jim went to John Hutchersons plant bed and got tomatoe and pepper plants and planted them. Then he planted some water mellon seed. We had early supper tonight.
Last edit about 7 years ago by
Nathani