Search for waists* "silk waist" waist*
1918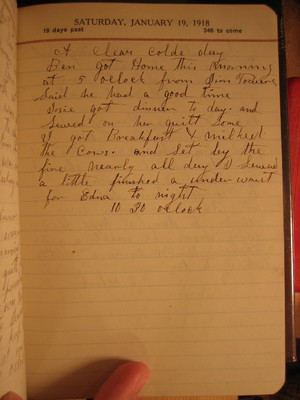 1919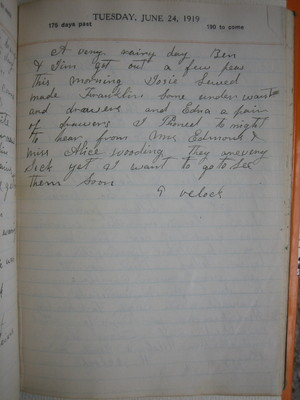 1921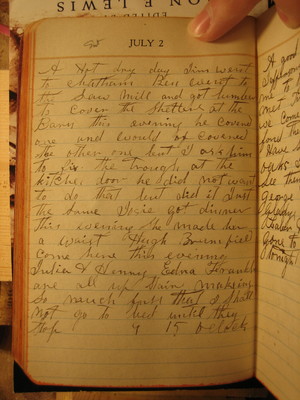 A hot dry day. Jim went to Chatham. Ben went to the saw mill and got lumber to cover the shelters at the barn. This evening he covered one and would of covered the other one but I ask him to fix the trough at the kitchen door. He did not want to do that but did it just the same. Josie got dinner. This evening she made her a waist. Hugh Brumfield come here this evening.
Julia & Henry, Edna, Franklin are all up stairs makeing so much fuss that I shall not go to bed until they stop.
9:15 oclock
Last edit over 9 years ago by
Ben Brumfield
1920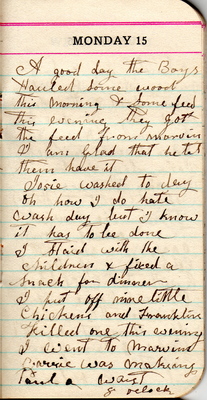 A good day. The boys hauled some wood this morning & some feed this evening. They got the feed from Marvin. I am glad that he let them have it. Josie washed to day. Oh how I do hate wash day but I know it has to be done. I staid with the children & fixed a snack for dinner. I put off nine little chickens and Franklin killed one this evening. I went to Marvins. Carrie was makeing Paul a waist.
8 oclock
Last edit about 10 years ago by
Linda Tucker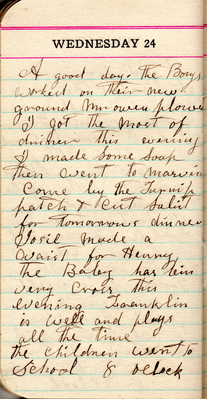 A good day. The boys worked on their new ground. Mr Owen plowed. I got the most of dinner this evening. I made some soap then went to Marvins. Come by the turnip patch & cut salit for tomorrows dinner. Josie made a waist for Henry. The baby has bin very cross this evening. Franklin is well and plays all the time. The children went to school.
8 oclock
Last edit about 10 years ago by
Linda Tucker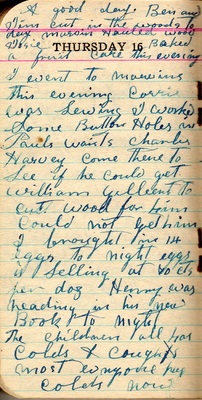 A good day. Ben and Jim cut in the woods to day. Marvin hauled wood. Josie baked a fruit cake this evening. I went to Marvins this evening. Carrie was sewing. I worked some button holes in Pauls waists. Charles Harvey come there to see if he could get William Gilbert to cut wood for him. Could not get him. I brought in 14 eggs to night. Eggs is selling at [?] cts per doz. Henry was reading in his new book to night. The children all has colds & coughs. Most everyone has colds now.
Last edit about 9 years ago by
Linda Tucker
1922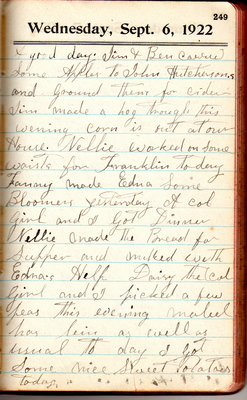 A good day. Jim & Ben carried some apples to John Hutchersons and ground them for cider. Jim made a hog trough this evening. Corn is out at our house. Nellie worked on some waists for Franklin today. Fanny made Edna some bloomers yesterday. A col[oured] girl and I got dinner. Nellie made the bread for supper and milked with Edna's help. Daisy the col[oured] girl and I picked a few peas this evening. Mabel has bin as well as usual to day. I got some nice sweet potatoes today.
Last edit about 6 years ago by
mkstewart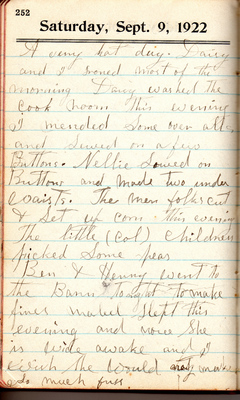 A very hot day. Daisy and I ironed most of the morning. Daisy washed the cook room this evening. I mended some over alls and sewed on a few buttons. Nellie sewed on buttons and made two under waists. The men folks cut & set up corn this evening. The little (col)[sic] children picked some peas.
Ben & Henry went to the barn tonight to make fines. Mabel slept this evening and now she is wide awake and I wish she would not make so much fuss.
Last edit about 6 years ago by
mkstewart
1923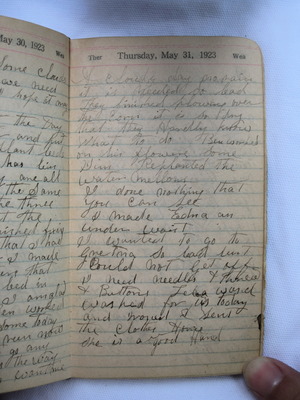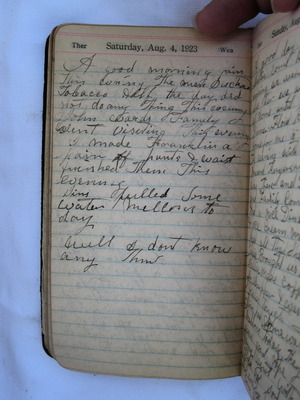 A good morning. Rain this evening. The men suckered tobacco half the day. Did not do any thing this evening. John Wards family went visiting this evening. I made Franklin a pair of pands and [waist?]. Finished them this evening. Jim pulled some water mellons to day. Well I dont know any thing.
Last edit over 6 years ago by
Nathani