Search for vines*
1918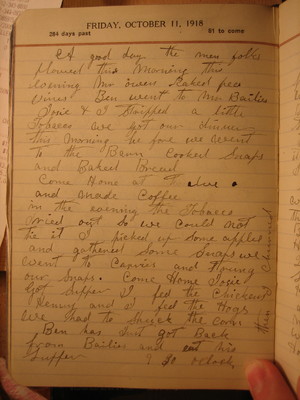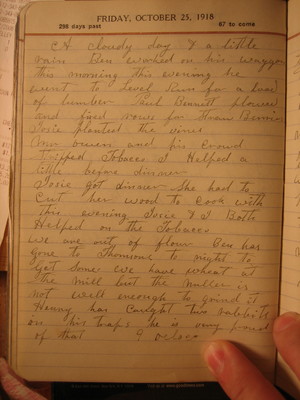 1919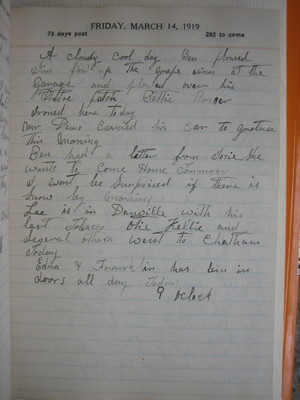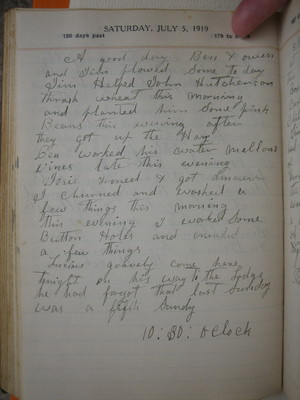 1921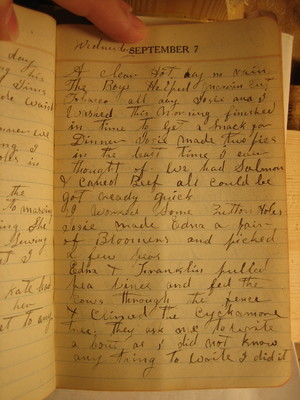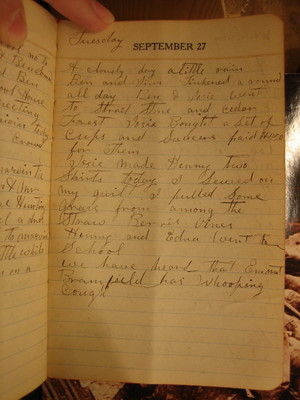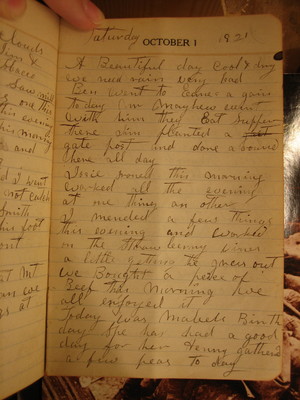 A beautiful day cool and dry. We need rain very bad. Ben went to Eanes a gain today. Mr Mayhew went with him. They eat supper there. Jim planted a gate post and done a round here all day.
Josie ironed this morning. Worked all the evening at one thing an other. I mended a few things this evening and worked on the straw berry vines a little getting the grass out. We bought a peice of beef this morning. We all enjoyed it.
Today was Mabels birth day. She has had a good day for her. Henry gathered a few peas to day.
Last edit over 8 years ago by
Ben Brumfield
1922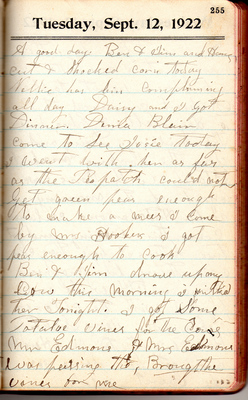 A good day. Ben & Jim and Henry cut & shocked corn today. Nellie has bin complaining all day. Daisy and I got dinner. Denia Blair come to see Josie today. I went with her as far as the pea patch. Could not get green peas eneough to make a [meer?]. I come by Mrs Booker. I got peas eneough to cook. Ben & Jim drove up my cow this morning. I milked her tonight. I got some potatoe vines for the cows. Mr Edmons & Mrs Edmons was passing. They brought the vines for me.
Last edit about 6 years ago by
mkstewart
1923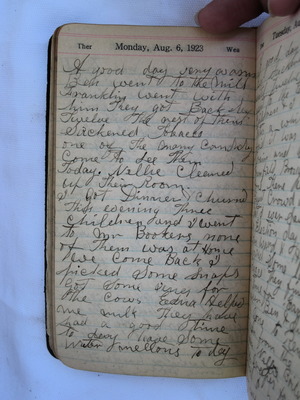 A good day. Very warm. Ben went to the mill. Franklin went with him. They got back by twelve. The rest of them suckered tobacco. One of the [Mary or many] [Candidy?] come to see them today. Nellie cleaned up their room. I got dinner and churned this evening. Three children and I went to Mr Bookers. None of them was at home. We come back. I picked some snaps. Got some vines for the cows. Edna helped me milk. They have had a good time to day. Have some water mellons to day.
Last edit over 6 years ago by
Nathani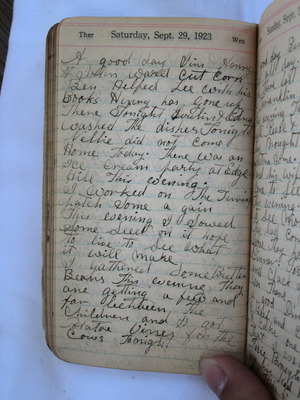 A good day. Jim and Henry and John Ward cut corn. Ben helped Lee with his books. Henry has gone up there tonight. Evelin and Edna washed the dishes tonight. Nellie did not come home today. There was an ice cream party at Edge Hill this evening. I worked on the turnip patch some a gain this evening. I sowed some seed on it. Hope to live to see what it will make. I gathered some butter beans this evening. They are getting a few and far between. The children and I got potatoe vines for the cows tonight.
Last edit over 6 years ago by
Ben Brumfield