Search for "Mr Walter Carr" "Mr Carr" "Walter Carr" "Mr Walter Car"
1918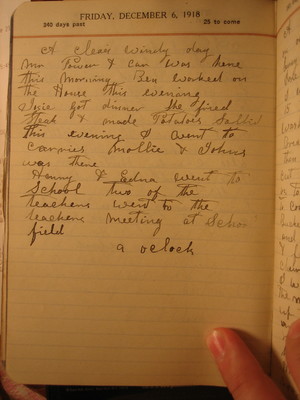 1922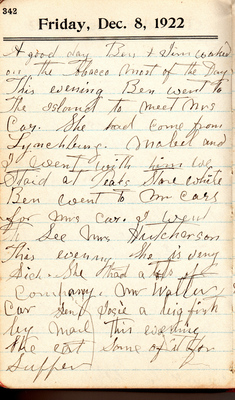 A good day. Ben & Jim worked on the tobacco most of the day. This evening Ben went to the island to meet Mrs Car. She had come from [Lynchburg?]. Mabel and I went with him. We staid at Peaks store while Ben went to Mr Cars for Mrs Car. I went to see Mrs Hutcherson this evening. She is very sick. She had a lot of company. Mr Walter Car sent Josie a big fish by mail this evening. She eat some of it for supper.
Last edit almost 6 years ago by
mkstewart
1923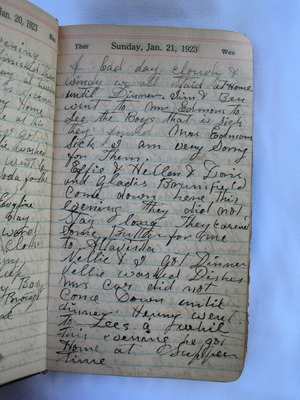 Last edit over 7 years ago by
Nathani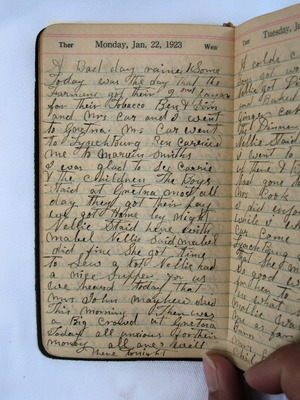 A bad day. Rained some. Today was the day that the farmers got their 2nd pay ? for their tobacco. Ben and Jim and Mrs. Carr and I went to Gretna. Mrs Carr went to Lynchburg. Ben carried me to Marvin Smith's. I was glad to see Carrie and the children. The boys staid at Gretna most all day. They got their pay. We got home by night. Nellie staid home with Mabel. Nellie said Mabel did fine. She got time to sew a lot. Nellie had a nice supper for us. We heard today that Mrs. John Mayhew died this morning. There was a big crowd at Gretna today, all anxious for their money. All are well here tonight.
Last edit almost 6 years ago by
mkstewart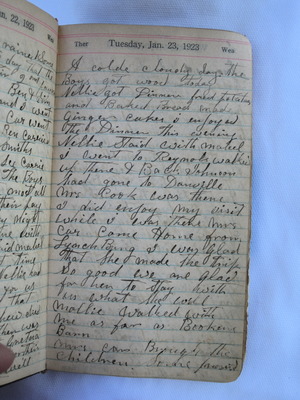 Last edit over 7 years ago by
Nathani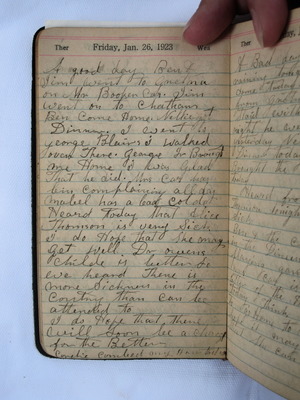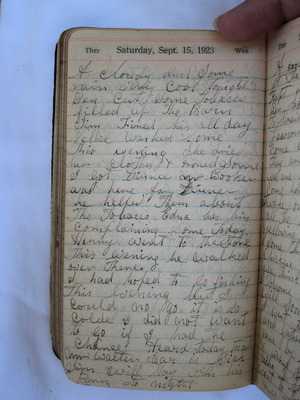 A cloudy and some rain[sic]. Very cool tonight. Ben cut some tobacco. Filled up the barn. Jim fired his all day. Nellie washied some. This evening she dried her clothes and ironed some. I got dinner. Mr. Booker was here for dinner. He helped them about the tobacco. Edna has bin complaining some today. Henry went to the store this evening. He walked over there. I had hoped to go fishing this evening but I could not go it is so colde. I did not want to go if I had the chance. Heard today that Mr. Walter Car is sick. Jim will stay with his barn to night.
Last edit over 6 years ago by
Nathani